Calling on Cal: The past, present, and future of Cal Anderson Park
May 28, 2021 | Kylin Brown - SGN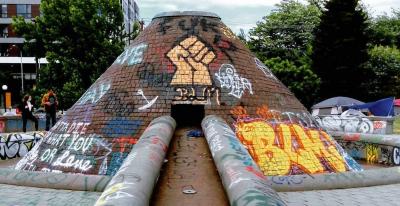 A breeze whisps through new leaves on trees as young Seattleites clink their IPAs, greeting the end of the day's work. The setting is May 2021 in Cal Anderson Park, a beautifully landscaped hub for recreation and socialization on Capitol Hill.

A newcomer might move into the mint high-rises off adjacent Nagle Place and look out over this greenery from above without ever knowing of John H. Nagle, the German settler who first claimed the 160 acres of Indigenous land that would later become the Pike-Pine area of Capitol Hill.

And visitors to the park might never know of the sit-ins and blast balls, the relentless SPD megaphones, or the community that formed there just last summer. Early in June of 2020, protestors for racial equality sat outside of the East Precinct and gathered on nearby park grounds. Their demands were loud and clear: justice for George Floyd must be served, police brutality must end, and Seattle's First People must be repaid.

This was not the first time that the land we know as Cal Anderson Park saw resistance, however, and the aesthetic changes of the last year are only the latest chapter of this story.

Historically disputed land
Seattle lies upon the unceded land of the dx?d?w?aba, or the Duwamish people. According to historian Warren KingGeorge, Cal Anderson Park is located where there was once a marshy forestland called "s.ts'p'alich."

In 1855, the Duwamish people signed over 54,000 acres to the city of Seattle via the illegitimate Treaty of Point Elliott. This treaty and others following it remain highly disputed and led to many small wars between Seattle and several area tribes, as forced relocations and incarceration began.

Today, several organizations work alongside tribal advocates to undo the financial wrongs of our city's past. Real Rent Duwamish, for example, enrolls monthly donors to pay "rent" for living on Duwamish land. Because the tribe remains federally unrecognized, their approximately 600 enrolled members do not receive financial or social support from the US government and never have.

It was John H. Nagle, for whom Nagle Place is named, who then cleared out forests for farmland in the 1850s. He was one of the first 170 settlers to the area and took on this land in his early twenties to become a cattleman.

In 1874, Nagle was sent to the Washington Hospital for the Insane at Fort Steilacoom (where he would later die of "exhaustion due to acute mania," according to a letter declaring his death). Upon his institutionalization, David Denny became entrusted with Nagle's property. This name might sound familiar: the Denny party, along with a Holgate, Boren, and Yesler, were the major landowners upon Seattle's original settlement in the 1850s.

Changing community
After Nagle's death, the City of Seattle bought about 12 acres of his property to be "used as the site for a water reservoir," according to newspapers. This would become Lincoln Reservoir, an infrastructure response by the city following the Great Seattle Fire of 1889.

Seattle's population tripled from 1900 to 1910. What many knew as "Millionaire's Row" began to develop near Volunteer Park, and Broadway became one of the city's premier urban commerce districts.

The acreage surrounding Lincoln Reservoir became an official playfield and served as a public events space throughout the 1900s. The park would go on to host public expositions and athletic meets that would sometimes garner thousands of spectators.

Organized resistance to segregation in the most urban areas of Seattle began in the 1940s. However, Capitol Hill still remained informally segregated until almost the '70s, after the assassination of Dr. Martin Luther King, Jr. led to massive unrest in the Central District and beyond, finally setting in motion the open housing ordinance of 1968.

Park pitched
Cal Anderson Park as we know it now started with an idea in the early 1990s, when Seattle got its "grunge" label. Amazon was just a bookstore, AIDS treatments were becoming available, the peak of the epidemic had passed, and a Gay man named Cal Anderson had been elected to the state legislature.

Anderson served Washington's 43rd Legislative District, having been appointed as a representative in 1987, then a senator in 1995, shortly before he died after a long battle with non-Hodgkin's lymphoma, a complication of AIDS. He was a champion for LGBT rights, consistently fighting an uphill battle for state civil rights laws to include the Queer community, all while receiving death threats for being Gay himself.

During his time in office, Anderson established annual LGBTQ town halls to garner community participation and input, and he was a strong proponent of the federal Hate Crimes Sentencing Enhancement Act of 1993, which included harsher penalties for hate crimes based on sexual orientation, disability, and gender.

Dewey Potter, a former co-worker and friend of Anderson's, recalled in a 2005 interview with the SGN his rare advocacy for parks and open spaces during a time of fast-paced urbanization in the district.

Lincoln Reservoir, while celebrated at the turn of the century, had become an eyesore by the 1990s. Reflecting a lack of maintenance following the Great Depression, one 2004 article by the Daily Journal of Commerce called it an "ugly-duck Capitol Hill park."

"It was like a prison yard; it was seven acres of lifeless, colorless, inaccessible dreariness," said Kay Rood, a member of the Cal Anderson Park Alliance in conversation with the journal.

Rood has long been an advocate for the park, calling for a more appropriate use of the land since 1993, when she was driven to begin tackling the reservoir's unsightly overgrowth of thistles herself. She began to organize alongside other community members and co-founded a neighborhood organization, Groundswell Off Broadway.

Groundswell became involved with city decision-making and launched the first enhancements the Lincoln Reservoir site and affiliated playfield had seen since its outdoor lighting and tennis courts were added by the Works Progress Association in the late 1930s. "We started the ball rolling by saying, 'We really need a park, and this ain't it,'" said Rood.

Groundswell Off Broadway was successful in gathering community input. They unearthed what Cal Anderson's neighbors wanted their park to look like or feel like, and they set it into motion.

The city began planning to cover the reservoir, making four additional acres of the park available for safe public usage. Designers contributed to the now-luscious hills and landscaping designs of the park and began to pitch name ideas.

Rood recognized Cal Anderson as soon as he was nominated for working "tirelessly on behalf of the disenfranchised." She and others in the planning committee for the park considered his name to be ideal, bringing the community a "pride of place."

Since its grand reopening, the park has maintained its spot in local history and beyond. It promised to be a world-class park, even in this densely populated neighborhood, and to be a nationally recognized site of resistance that celebrates diversity. Since the 1970s, when it informally hosted the first Seattle-area Pride festivals and marches to the 2010s' BLM marches and Trump-era protests for LGBTQ rights, DACA recipients, etc., Cal Anderson Park has surely proved itself a fit legacy for its namesake and served its community however they needed it to.

Change and legacy
Capitol Hill is always changing, I've learned, and its umbilical park is no exception. The topical and aesthetic modifications in the past year and beyond reflect a rapidly transformed Seattle and world. Correct usage of this space is constantly redefined and invented by the community. Nevertheless, it endures as an asset to the community in a variety of dynamic ways, and Cal Anderson's legacy in his ever-so-civically-inclined 43rd District would make him proud.

The park named after him is the hub of the Hill right now, affording nearby school and recreational sports leagues various facilities, including the Bobby Morris Playfield, and offering shoppers and residents alike a proper place to sit down and enjoy the scene.

The park serves as a place where community gathers. It offers the city's most densely populated neighborhood access to safe outdoor recreation, and it fulfills the legacy of its namesake.

Capitol Hill Pride Festival is hoping to have a police-free march and rally this June. Meanwhile, protests calling for racial justice, defunding the SPD, and protecting Black lives continue near Cal Anderson in light of the anniversary of George Floyd's murder this week.

Seattle Parks Superintendent Jesús Aguirre told the Seattle Times on April 4, "It's a neighborhood park, a regional destination park, and it's at the core of our civil rights movement. It evolves, but it's doing what it's supposed to be doing."