Faculty, staff, students, and alumni eagerly await SPU board response
May 1, 2021 | Josephine Baird - SGN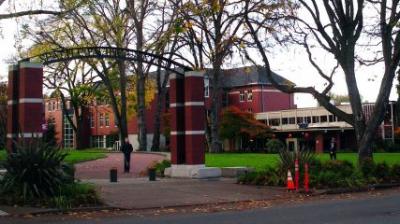 On Friday, April 23, Seattle Pacific University students, faculty, staff, alumni, and community members gathered to protest in response to the SPU Board of Trustees' decision to uphold the hiring policy that excludes LGBTQ+ individuals from becoming full-time employees.

The policy has received more scrutiny this year, due to a recent lawsuit filed by Jéaux Rinedahl after being denied a full-time position in SPU's nursing program last summer, due to his status as a Gay man, which conflicts with two university policies on sexuality.

The first of those policies is SPU's Statement on Human Sexuality (2005): "We believe it is in the context of the covenant of marriage between a man and a woman that the full expression of sexuality is to be experienced and celebrated and that such a commitment is part of God's plan for human flourishing. Within the teaching of our religious tradition, we affirm that sexual experience is intended between a man and a woman" (para. 5).

The second is SPU's list of "Employee Lifestyle Expectations," which views sexual behavior that is not consistent with biblical standards as immoral.

Frustration, anger, and support
The decision to uphold these policies has frustrated and angered many. It prompted a no-confidence vote from faculty, which garnered 70% approval from the 90% that voted. In their statement, the faculty included four concerns: the board's lack of engagement with the community, the decision's misalignment with the perspective of the community majority, the apparent dismissal of harm, and the legal, financial, and psychological ramifications.

In order to create a community of support for LGBTQ+ students and faculty and their allies, several SPU students have led the charge. Event organizers Reena Sidhu, Laur Lugos, Sierra Choe, Leah Duff, and Raegan Figgins spearheaded Friday's rally, as well as a candlelight vigil the week before. According to the organizers, the goal of this event and others has been to motivate the board to "remove the discriminatory clauses within the statement of human sexuality and the related hiring practices at SPU" by May 1.

Figgins said, "The majority of people at SPU support this movement. It is just the few in charge who don't. Which is frustrating, because they take an oath to listen to the majority, and instead they are refusing to listen without explanation."

While the board's decision has discouraged many Queer students and their allies, on the other hand, seeing the response by faculty and staff has done the opposite. Beau Denton, a graduate student in SPU's MFA program, said, "My experience here has not been represented by this decision. Everybody has been affirming since day one, [though] I was kind of nervous coming here because I'm a gay man." While the board's decision has been disappointing to him, events such as this rally have encouraged him. "I hope this is an energy that can be sustained until this issue is resolved," he said.

Lawsuits mount
The discrimination lawsuit filed by Rinedahl is not the only one involving SPU these days. SPU alum Spencer Vigil has recently joined a nationwide class-action lawsuit by the Religious Exemption Accountability Project, which aims to hold accountable those religious institutions that receive federal funding but deny LGBTQ+ individuals Title IX rights.

Spencer decided to add his name to the list that includes students and alumni from religious academic institutions across the US, in order to hold SPU accountable for the mistreatment and discrimination he claims he faced in 2019, his senior year at SPU, when he came out as Transgender. Spencer was also in attendance for Friday's event and continues to be an alumni leader on this subject.

A unique year spurs change
This issue has been a topic of great concern for students attending SPU in the 2020-2021 academic year and has impacted the already unique year on campus, due to the oddities created by the pandemic.

Student body president José Flores, a communications and theology senior, said, "There has definitely been a big culture shift this year. In the past, we've been discouraged by the 'no.' Now we are impassioned by it." Although there are many lessons to be learned, José said this was the biggest of all: "Don't mess with students who love one another. Even though this might not fully affect each of us the same way, we are all working to dismantle it."

Student leaders have been working closely with supportive faculty and staff, as well as with alumni, who they believe might have more rank to pull at this point in time.

A decision was reached
Protest organizers were hoping that the board would change the policy in light of the faculty vote of no confidence.

While they were eagerly awaiting the board's decision before May 1, it didn't take that long. Instead, the board responded within a couple of days after an emergency meeting on Saturday, just a day after the rally. The result was what organizers and supporters feared - a refusal to change.

Cedric Davis, SPU board chair, sent an email to faculty on Monday to alert them of the decision. He said that despite the fact that the board will not change the decision, "The Board cherishes this institution and sincerely regrets that we appear out of touch to so many."

The email didn't go into detail on the decision because of "the existence of active litigation against the University has a significant impact on what the Board can share."

Some see the lack of further comment as a cop-out, due to the fact that, according to an article in SPU's student newspaper (April 27), "Jeaux Rinedahl's representatives have offered the University a deal that would assure [that] nothing the University shares with the community regarding the lawsuit will be used against them in court" (para. 4).

Next steps
Event organizer Raegan Figgins was frustrated by the response and said, "What made it worse is that we didn't have our hopes up; we had our defenses up. I think we knew it would be a no." But that doesn't mean they weren't disappointed.

Even though the board has already responded to the vote of no confidence, the SPU Alumni Coalition is still asking that the University's Statement on Human on Sexuality be removed by May 1. If it isn't, the Alumni Coalition has the following plan of action: "to continue to encourage our vast alumni and community networks to withhold contributions to the University; to not recommend SPU as a safe, educational environment for future generations of students, and so will begin an active campaign to discourage enrollment" (SPU Alumni for LGBTQIA+ Instagram, April 26).

Although many members of the SPU community are saddened by the decision, they are prepared to fight for this issue that is near and dear to so many on campus and beyond. As Figgins said, "The decision hurts, but we're still working on it."