Immersive "Imagine Van Gogh" exhibit coming to Tacoma
April 20, 2021 | Josephine Baird - SGN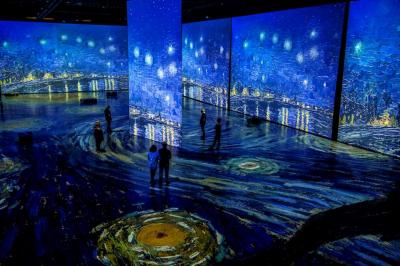 Tickets for the Tacoma stint of the highly anticipated "Imagine Van Gogh," an immersive experience of the works of Van Gogh, are now on sale. The event, which brings to life more than 200 of the Dutch artist's paintings, will make its West Coast debut at the Tacoma Armory on S. Yakima Ave. on December 18.

The exhibition, first held in Paris in 2017, was an instant hit with those familiar to Van Gogh's works and newbies alike. It made its way across Canada in 2020, where it sold over 500,000 tickets. It has so far captivated audiences all over the globe, and the coordinators hope that it will do the same for PNW locals.

The concept of "Imagine Van Gogh" is unique in itself. According to imagine-vangogh.com, the exhibition, held in partnership with Tandem Expositions and Encore Productions (France), is the creative brainchild of Annabelle Mauger and Julien Baron, who are well known for their collaboration on and creation of immersive events at the Cathédrale d'Images in Les Baux-de-Provence, using the Image Totale concept conceived by Albert Plécy. They used the advanced technologies of multi-projection and immersive audio in order to "add emotional depth to each image, allowing us to live and feel the creative energy of the esteemed artist."

Visitors are given a rare chance to wander among giant versions of one of history's most famous artists, affording them an opportunity to explore every detail of some of his best-known works, all painted between 1888 and 1890 in Provence, Arles, and Auvers-sur-Oise, France. According to the website, "Immersed in an extraordinary experience where all senses become fully awakened, viewers will be truly moved by such spectacular beauty."

After a year of canceled events and staying home, this exhibit will be a great option for those ready to experience some much needed culture in a safe way, because it is by design set up as a contactless experience. It will be held in a space large enough to host a setup that requires 24,000 square feet, and the number of guests will be limited and allowed in on a timed-entry basis. Hand sanitizer stations will be provided, six feet of physical distancing will be required, and masks will be mandatory.

With the safety of guests, employees, and the community at large as the highest concern for the administrators, the exhibit will not open until December in order to remain in accordance with the public safety efforts of Pierce County and Washington State.

There has been some confusion about the event and its ticketing process, even prompting the Better Business Bureau to issue a warning on March 10. According to the Seattle Times, the warning was issued due to nearly 200 complaints against a ticketing company, Fever, that is coordinating a similar event, called "Immersive Van Gogh." Confused customers who accidently purchased tickets for that have been frustrated with the company's no-refund policy.

To avoid making this understandable mistake, those interested in "Imagine Van Gogh" should purchase tickets directly from imagine-vangogh.com.

The exhibit will run from December 18, 2021, until January 20, 2022, at the Tacoma Armory. Tickets start at $41.00 (including service fees). This is expected to be a popular exhibit, so those interested in attending should consider buying tickets as soon as possible.