Inslee expands vaccine eligibility ahead of COVID's fourth surge
April 11, 2021 | Hannah Saunders - SGN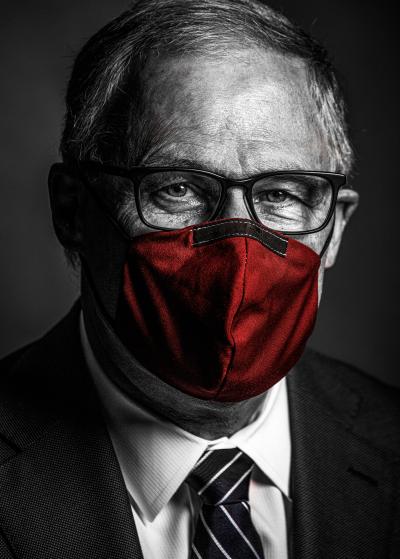 On Wednesday, March 31, Gov. Jay Inslee announced that all Washington residents aged 16 and older will be eligible to receive a COVID-19 vaccine beginning on April 15. This announcement came as an effort to stem a recent surge in statewide cases.

"Current COVID-19 trends across the state are concerning, and we must do everything possible to ensure we keep cases down. Now is the time to stay diligent. We're not out of the woods yet. Opening up full eligibility will be another crucial tool in our fight against this virus," said Inslee in a tweet. Another weet described how 3.3 million Washingtonians have received their first dose of the vaccine, 1 million of which are fully vaccinated. Inslee also touched on the continued use of mask wearing and social distancing.

On the same day, Seattle Mayor Jenny Durkin announced that the City of Seattle would be partnering with the Seattle Visiting Nurse Association and North Seattle College to open a community vaccination hub. The hub at the college plans to initially administer 1,170 doses per week, but if supply increases, they will be able to administer 6,400 doses per week.

Currently, the demand for vaccinations outweighs what the state can supply. As a result, vaccination appointments can be hard to come by. A slow rollout of vaccinations overseas has led to increased cases and sent France back into full lockdown; the recent surge in coronavirus cases throughout the United States shows that this nation might be headed in the same direction, unless vaccines can get into as many arms as quickly as possible.

How is COVID impacting King County?
"This week's forecast shows increasing storm clouds on the horizon. Over the past week, 250 new cases were reported daily, up 26% from last week and almost 80% from when the latest rise began in February," stated Health Officer Jeff Duchin during his pandemic press conference on April 2.

Cases are increasing across all age groups under 75 years old, predominantly among 18- to 24-year-olds. There has been a significant drop in cases among long-term healthcare facilities, but an increase in retail, childcare, and manufacturing settings. Cases linked to travel have also doubled since the last surge. An increase in cases is also linked to events such as weddings and family get-togethers.

In addition, COVID variant 14-29 (first identified in California) is currently the variant of most concern in King County.

"At the moment the virus is spreading more quickly than we can vaccinate," stated Duchin, who went on to explain how the combination of travel, activities, and variants has been a huge propellant in the number of cases we are now seeing.

To prevent COVID spread and illness, Duchin emphasized the continued use of masks and social distancing, increasing ventilation, and avoiding crowded spaces. Most importantly, people should get vaccinated as soon as they become eligible.

Why should I get the vaccine?
The benefits of receiving a coronavirus vaccine greatly outweigh the negatives. All three vaccines on the US market were authorized for emergency use by the Food and Drug Administration. The vaccines reduce extreme symptoms of the virus, reduce the risk of hospitalization (which takes a load off of our healthcare heroes) and death, and are effective at preventing recipients from contracting the virus. In general, the vaccines increase the number of those protected from getting COVID, making it harder for the virus to spread.

Types of vaccines
There are three authorized COVID-19 vaccines being distributed in Washington: Pfizer-BioNTech (Pfizer), Moderna, and Johnson & Johnson (J&J). The Pfizer vaccine provides 95% protection from COVID; the Moderna vaccine provides 94% protection; the J&J vaccine provides 74% protection. The single-dose J&J vaccine requires recipients to be 18 years of age or older, while the Pfizer and Moderna vaccines require recipients to be 16 years or older. Full protection against the virus occurs two weeks after the second vaccination dose (or for J&J, the one and only dose).

How do they work?
The Pfizer and Moderna vaccines are MRNA vaccines, and both require two doses. The vaccine teaches the body's cells to produce a harmless COVID spike protein, which triggers an immune response, which allows the body to create antibodies. The recipient of the vaccine is then able to build antibodies without first getting sick with the virus.

J&J is a viral vector vaccine, which means that a weakened version of a virus - not the virus that causes COVID - is used to help produce a COVID spike protein, thus triggering the immune response that helps create COVID antibodies.

Where do I begin?
It's important to know that COVID-19 vaccines cost $0, and you do not need health insurance to receive a vaccination dose. Appointments can be scheduled by visiting

https://vaccinelocator.doh.wa.gov/

A vaccine can only be received when one is eligible, but by April 15, eligibility should no longer be an issue for Washingtonians.