Mounting calls for Sheriff Johanknecht's resignation
May 5, 2021 | Kylin Brown-SGN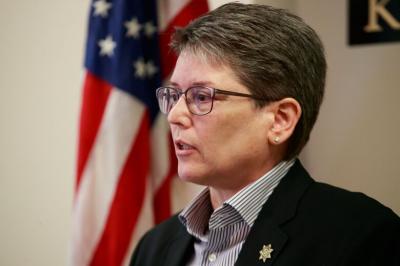 After serving in the King County Sheriff's Office for 32 years and running against incumbent John Urquhart, Mitzi Johanknecht made history in King County in 2017 as the first woman and openly Gay person to be elected to the position of sheriff, a sensational moment for the LGBTQ+ community.

However, Johanknecht is now facing numerous demands from King County officials to resign.

A recently surfaced internal email sent by the sheriff has put her fitness to lead the KCSO into question. The message regards her response to the $5 million settlement between her office and the family of Tommy Le, a 20-year-old Vietnamese American student who was shot and killed by then-deputy Cesar Molina on the day Le was set to graduate from South Seattle College's Career Link program.

Major discrepancies still remain between the KCSO's internal investigation, eyewitness testimonies, and an analysis of the evidence by the Le family's legal team. Deputy Molina and his partner allege that Le was wielding a weapon, thought to be a knife, when they arrived at the scene. Crime scene photos indicate no presence of any potential weapon, other than a ballpoint pen on the ground over 20 feet away from the victim.

An external investigation of the case previously found that Le was shot from behind and likely was falling or already down when he was fatally shot.

On March 24, the Le family held a press conference announcing their settlement with the KCSO. Within hours, Sheriff Johanknecht emailed employees of the office, stating, "This case is not a reflection of how I view the actions of Deputy Molina in this incident," adding that she "just spoke with Deputy Molina."

"He made the tough decisions that sometimes must be made in our profession. Deputy Molina attempted using other means of protecting the civilians who called for help, before he fired his weapon that day," the email reads.

Those calling for Johanknecht's resignation believe this response was wholly inappropriate.

County Councilmember Joe McDermott represents District 8, where the shooting occurred. His 2010 election was similarly as empowering for the community when he became the first openly Gay person to be seated on the council.

McDermott's press release said, "This was a tragedy, and a tragedy that too many communities of color know too well," adding that Johanknecht's email "ignored this reality and was, in the most charitable light one might muster, disrespectful to the young person who was killed, to his family, and to our entire community."

Via Zoom call, McDermott told the SGN that he felt he and Johanknecht had "a solid foundation for building a relationship upon common ground" when she was elected because of their Gay identities. He believes they have both been able to benefit the LGBTQ+ community in their positions.

Despite sharing these identities, McDermott said that the sheriff's response demonstrates "complete disregard and lack of understanding of what we expect in policing," and that he has lost confidence in her because of it.

McDermott called for comprehensive improvements to oversight and accountability in the Sheriff's Office overall, especially in regard to BIPOC communities and police violence.

"Officer accountability and equitable policing practices are paramount," he said. "We need to have better-equipped people as the first responders to crisis, people with awareness of community need and public safety."

Several other councilmembers agree with McDermott's call for the Sheriff to resign. King County Executive Dow Constantine has reportedly "urged [Johanknecht] to consider retiring immediately" as well [www.seattletimes.com/seattle-news/king-county-executive-dow-constantine-urges-sheriff-mitzi-johanknecht-to-retire], and the Le family's legal team has communicated their agreement.

These officials are the latest to join in this demand, following the lead of Not This Time! - "a community organization focused on reducing fatal police shootings, reducing violence, changing the laws that govern the use of force, and rebuilding trust between our communities and the police" - who say they are asking for "the resignation of Sheriff Mitzi Johanknecht, based upon her failure to treat racism with the seriousness it requires in her position."

Johanknecht's intentions to decrease disparities in public safety, reporting, and police relations for the LGBTQ+ community and immigrant communities were covered by the SGN in 2018 [www.sgn.org/sgnnews46_15/page3.cfm]. In contrast, her hollow response to this high-profile tragedy, as well as her walking out of a 2020 Council meeting regarding the 2017 police killing of Mi'Chance Dunlap-Gittens, as reported by The Emerald [https://southseattleemerald.com/2021/04/01/a-failed-leader-momentum-builds-in-demands-for-sheriff-johanknechts-resignation], are indicative of notable deficiencies in her equity priorities.

The sheriff's term is set to end this winter, and she currently says she will not be resigning. Johanknecht could also likely be the last elected sheriff in King County after last November's vote to make the position an appointed one.