Nikkita Oliver speaks about running for a citywide Seattle City Council position
April 26, 2021 | Renee Raketty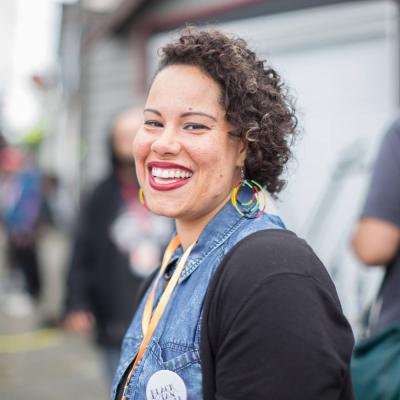 Nikkita Oliver (who uses "they" pronouns) was introduced to Seattle voters in 2017 when they ran unsuccessfully for Seattle mayor. They finished a narrow third in the race, garnering almost 17% of the vote. However, confronting racial and economic injustice meant far more than stump speeches and campaign positions - these were things they confronted in their personal and professional life.

Oliver was born to biracial parents in Indianapolis, Indiana. Their father was in and out of the criminal justice system for failure to pay child support. While attending Seattle Pacific University, they began community organizing for justice and equity. It was here that they say they became "radicalized," according to a 2016 profile in SPU's Response Magazine, and where they "began to see racism, sexism, classism, capitalism, neoliberalism, homophobia, etc." They also came to be involved with the Black Lives Matter movement in Seattle.

In the wake of the death of George Floyd, Oliver called upon city leaders to engage with protesters and minority communities to seek solutions to the racial and economic disparities that had become so pervasive that many Seattleites failed to realize they exist. Oliver even met with Seattle Mayor Jenny Durkan and Police Chief Carmen Best. Although those efforts were less than fruitful, their words took on new life as the COVID-19 pandemic and its financial impact further threw the issues into stark relief.

Since moving to Seattle in 2004, Oliver has served as a community support and cultural worker with Urban Impact, the Union Gospel Mission's Youth Reach Out Center, the Urban Youth Leadership Academy, the Seattle Urban Academy, Who's Next?, Year Up, and Writers in School. Currently, they are the executive director of Creative Justice, an arts-based restorative justice program for at-risk youth, and adjunct faculty at the Seattle University School of Law.

Oliver earned a degree in sociology in 2008 from Seattle Pacific University. In 2015, they were awarded a juris doctor from the University of Washington. In 2016, they earned their master's of education from the University of Washington College of Education. Oliver was also recognized by the City of Seattle's Human Rights Commission in 2015, when they received the Artist Human Rights Leader Award, and by Seattle Magazine, which named Oliver one of Seattle's Most Influential Seattleites in 2017.

While Oliver has not been embraced by Seattle's political establishment, they have gained the endorsements of powerful local politicians, such as Seattle City Councilmember Tammy Morales (Pos. 2), former Seattle City Councilmember Mike O'Brien, and several members of the state House of Representatives.

The Seattle Gay News partnered with Malcontent News to bring you this interview with Oliver, who identifies as both Queer and nonbinary. In the interview, they express their views on a wide array of issues, such as HIV/AIDS and hate crimes, and those specific to LGBTQIA youth; Transgender; and Black, Indigenous, and people of color.

They are seeking the citywide Seattle City Council Position 9.

A recording of this interview aired during the Malcontent News program "Happy Hour" earlier this week, which is available on Facebook, YouTube, and Twitch or at MalcontentNews.com. Renee

Raketty: The rate of HIV infections among Black, Indigenous, and people of color in King County, especially among men who have sex with men and people who are Transgender, remains high when compared to the general population. How would you as a member of the city council help to reduce these rates? Nikkita

Oliver: I think the first thing is destigmatizing the conversation. I have family members in my own family who have HIV and have been afraid to talk about it with our family and have seen firsthand how stigmatizing folks in our communities who have HIV actually pushes people closer toward dying from HIV.

How can we destigmatize, open the conversation, [and] make this something that we understand we're able to engage in community - at the dinner table - so that people actually can access the resources that [are] available? As a case manager, I worked with lots of young people and actually took them to places like Gay City to get tested and have seen the value that institutions that are already doing this work play or put into our community.

How can we be investing in and expanding those resources? Our city has had billboards up recently in the last year or two, trying to expand that conversation, bringing cultural normativity to it. I think that's really powerful. I think we could do more.

How are we having conversation in such a way that people not only know that this is a conversation we can have that destigmatizes it but also know that there are resources available, and then really thinking about how are we as a city invested in seeing full-spectrum, gender-affirming healthcare available to everyone?

The county does have some investments in healthcare - be that in our schools and in some other community-based health clinics. I think the city needs to partner with the county to see that become more of reality within the city and then find ways to make sure that those resources are better known, better supported, and really be doing the work.

I cannot emphasize this enough - just because of my own personal experience with my family. We have to destigmatize this conversation. This is a real thing, and it's happening, but there are also lifesaving drugs and lifesaving opportunities that folks living with HIV can access. So long as we live in a place where we treat this like it's something that we have to be quiet about, we're causing people to actually reach their deaths rather than receive lifesaving medical care and supports that do exist and we could actually be better investing in.

Raketty: As you know, Transgender individuals such as myself face hate and hostility on a regular basis. Last year was the deadliest year on record for the Transgender community, especially Black, Indigenous, and people of color women who are Trans. How would you address this as a member of the city council?

Oliver: So this is something that I feel really passionate about and also am very honored to be in relationship with the Black Trans Task Force. Prior to announcing our campaign, we already knew that talking about Trans liberation is a key part of the work we want to do. We can't talk about Black liberation without talking about Trans liberation.

And to be honest, we can't talk about a world beyond prisons and police without also talking about Trans liberation. When we think about Stonewall, which was a riot against police, it was led by Marsha P. Johnson and Sylvia Rivera. So [we understand] that the fight to have safe communities is something that our Transgender community members have been doing for a very long time. We have been building and in conversation with the Black Trans Task Force, hearing [about] what the needs are.

What could be the policy solutions? What are the budget allocations that need to happen? What are the changes within the city that would make our city a space for Trans liberation - not only to see our Transgender community be safer and feel safer but also have authoritative leadership roles in the way that we do things? I deeply believe that those most impacted by an issue should not just simply be bringing their intellectual capital to us, to tell us the solutions, but to actually be in the leadership roles implementing those solutions.

In the next few weeks we will actually be rolling out a document outlining some ideas and commitments and some visions that have been built in partnership with conversations with the Black Trans Task Force - understanding that when Black Trans women are safe and well cared for, that actually means that all Trans folks will be safer and well cared for.

&A few things that have come up is visibility of Transgender community members, whether that's in media or in leadership in the city. Visibility is a really important way to shift the culture and be gender affirming, and to do that in leadership roles. So ensuring that our Transgender folks have leadership roles in our city - making decisions about the way that we work as we move toward a city that is making different investments in public safety, centering Transgender voices in that process - is going to be key to seeing a city that actually is built on an agenda of Trans liberation.

Another idea that has come up has been about how we have safe places for young people. What would it look like if the city actually started talking about having some way of certifying [that] places are safe for Transgender folks. Some of the things we've heard from [the] Black Trans Task Force is having trainings that folks have to go through - ensuring that people have to go through yearly certifications, [and] challenging issues around employment.

What would it look like for the Office of Labor Standards and Office of Civil Rights to actually do more enforcement around ensuring that Transgender folks are safe in employment spaces and addressing the fact that we already know that [they] face so much brutality in employment spaces, in everyday life, and moving through our city.

What would it look like to actually have a way of saying here are safe spaces and, if you want to be a safe space, these are the things that you need to do? These are the trainings you need to go through; this is the proof that has to happen. That has been one idea that's come up as a way of building some structure around ensuring the safety of our Transgender loved ones.

Raketty: As you know, an independent press is vital to a free democracy, yet local newspapers are being swallowed up by large corporations. And community newspapers, such as the Seattle Gay News, are facing unprecedented financial pressure as a result of the pandemic. What can be done on the city level to strengthen and encourage our independent press in Seattle?

Oliver: First of all, I love our independent press. I have to shout out folks like Converge and the South Seattle Emerald, that have amplified the stories of communities that often do not get told or amplify the fact that there are good things happening in South End. It's not just what you see on mainstream media. I am very appreciative of our independent papers and the ones that are neighborhood based that really amplify the stories that are happening on the ground.

I think ways that we can continue to support that is by amplifying those voices, acknowledging those journalists. I think that sometimes elected officials or folks in spaces of power do not always receive those requests for comment or reach out to our independent media as platforms that actually have viability in places that we can be speaking to. So, actually doing those interviews, having those conversations, is one way to help amplify and support.

I think there are ways that the city could also be investing in our local journalism. One way I see those investments happening is [for] the Seattle Youth Employment Program or other programs that help young people get into future careers or partnering with our local journalism groups to actually get young people internships or opportunities in those spaces that are paid, so that they can be learning the craft of being a local journalist and helping build up these papers. I think young people getting into this work, telling their own stories is a really powerful way to create that access. Youth are also the ones that are accessing so much media online. So I think that that will draw attention and engagement. It also provides an educational opportunity. We also have the Seattle Promise Program that moves through our Seattle Community College network.

I'm thinking about apprenticeships. So not just in terms of this area of the question, but also thinking about our trades. There are so many opportunities that we could be building space into industries that young people, especially young Black and Brown people, low-income youth, could be getting into that I think would then make those industries thrive even more, because we would see a strong workforce developing in those spaces.

So I think getting young people involved, continuing to support and show up - amplifying those news agencies - and also doing interviews are great ways to support our independent media and journalism.

Raketty: I know that you use they/them pronouns. I wanted to give you an opportunity to express why it's important for you to use those and what role that you see yourself playing in the LGBTQIA community - if you associate with that label?

Oliver: I absolutely associate as a part of the LGBTQIA+ community, as a part of the Queer community, and also a part of our nonbinary community.

Gender has actually been a real journey for me. I grew up in Indianapolis, Indiana. I was born and raised in a very religious household. To this day, I still cringe when I think about coming out to my mom and having to have a conversation with her about my pronouns and& hearing her sharing with me the reflections that she and my family have: reading articles that use they/them pronouns and the questions that she gets. It still kinda makes me cringe a bit, just in the sense that I know where I grew up.

At the same time, I also know the person that I am, and growing into feeling able to be open about my identity has been just a very significant and powerful but also painful thing.

I identify with our Queer, nonbinary community and what it means to have to navigate a world that isn't necessarily built to receive you as you know yourself, as you experience yourself, and to move through how do you present yourself in the world. What clothes do I put on my body? What makeup or jewelry or whatever is acceptable for me to wear? Am I nonbinary enough? Am I Queer enough? These have all been things that I have moved through.

One thing that I hope to bring is just space for folks to know how divine and wonderful we are. I think seeing people being open and honest and authentic about our identities is really empowering for one another. I've already had lots of young folks reach out to me and say how inspiring it is to see someone using they/them pronouns, being public about who they are.

Honestly, that makes me feel even more passionate about just being myself and feeling less and less of that question of "Am I enough?" I really deeply want to be a listener though. It does not fly over my head that I'm light-skinned or that I have a lot of educational credentials that afford me lots of privilege. It also means that I do get to walk in the world with a sense of privilege in certain spaces.

I have also experienced the hate mail - people sending me really horrible emails about my gender. I just don't understand how you have time at 2:00 a.m. to send that.

I want to be able to balance the privilege and the experience of oppression and be in a space of connectivity and relationship and listening with our LGBTQIA+, Trans, nonbinary, gender-fluid community, to be able to hear all the experiences that we're having. We don't all experience this world the same way. We have intersectional identities.

How can I be willing to take steps back and be a listener rather than always be the voice, which I think is a challenge. Anytime you run for office, people expect that you have all the answers. I think one way that we could actually make politics better is by saying, "I don't have all the answers." I do share some lived experience. I'm also here to listen. I think is really important.

Raketty: Seattle is facing an ongoing crisis related to unhomed peoples. Washington state experienced a 6.2% increase in homelessness during 2019 and 2020. King County spends over one billion dollars per year in public and private investment in support of approximately 12,500 houseless people with disappointing results. If you are elected to the City Council, what would you advocate and support to address this crisis?

Oliver: [We] have a lot of work to do. We've been in a state of emergency around the housing crisis and supporting our loved ones who don't have homes since 2015.

A major part of the crisis is we just simply have not built enough housing. We have not actually invested ourselves in that. While we might be spending, in our region, lots of money on services, if we provide services but have nowhere for people to come inside who want to, then what we're doing is basically saying, "We'll give you some services to survive, but we're not going to support you getting into housing where you'll have opportunities to thrive."

A huge priority is looking at Seattle's comprehensive plan for 2024 and addressing issues around exclusionary zoning. The fact [is] that we've only been developing density on 12% of the land. And we need to address the fact that single-family zoning - as the way our city is set up now - is not going to allow us to develop enough housing in order to ensure that our loved ones who want to come inside can and to be able to provide enough housing for the missing middle. Displacement and gentrification is also a part of the crisis that we're facing.

This is the reason why we spend money but it continues to be ineffective. Some answers to this is Seattle getting into housing - actually building social housing that is affordable, that is also nice. People want to live in nice homes [that meet] the needs of our community members. So [we have to continue] to make more investments in social housing. We can't continue to rely upon the private market to be our answer to the housing crisis. There's just not a real incentive for the private market to actually respond to the need.

So we need to be willing to actually drive some of the development if we're going to build $400 million a year for 10 years of affordable housing. We need to figure out how our regional plan really works. I think for a lot of folks, they felt like Seattle saying we are part of a regional plan has been a little bit of a cop-out, and putting the majority of the work on the county or other cities to respond.

I think the city needs to level up. We have a $6.2 billion budget. We have over 800,000 residents. It is time that we really take accountability and responsibility for the ways in which development and our city and growth have actually been a part of exacerbating the housing crisis.

We also need to deal with the fact that our tax structure - the way in which we generate revenue - is very regressive. It ends up putting the burden of the cost of this new development and the services that we absolutely need to be providing on the backs of those who already pay the most in taxes. Those who pay the least, and honestly have benefited the most from the development and growth, continue to not really have to be invested in seeing our city become the healthiest city that it can be.

We are also, probably, going to face a massive eviction crisis. So in addition to the crisis we were already in - COVID-19, the recession, and many people not being able to pay rent or mortgages - [this] means that we also need to figure out how we stabilize folks who are still in their homes but may be facing eviction. Continuing to find ways to either cancel rent or do rental support or mortgage support to keep people in their homes - there is going to have to be a combination of responses that come from the city.

This is going to require us to really think about our priorities as a city. Are we willing to prioritize people being able to stay home and stay healthy? The way that we do that is going to be investing in things that keep people from losing their homes and investing and building housing rapidly. I know that it's been a challenge for our city to prioritize this in the past but I think that - with the right folks committed to seeing the interest of our city as a whole be served, we can actually move in that direction.

Raketty: As a result of the ongoing COVID pandemic, economic recovery and development - as well as addressing Seattle's crumbling transit infrastructure, such as the West Seattle Bridge - is of great importance. Moreover, some are expressing concern that businesses are leaving Seattle and workers will not return post-COVID. The question then is: How does the council address crumbling infrastructure and aid in economic recovery and development as we move beyond COVID? What concerns do you have about the loss of businesses, both large and small, and a loss of jobs in Seattle?

Oliver: I think what we really have to grapple with as a city is that we cannot recover back to normal. We actually need to grapple with the fact that our social and economic safety net for most people is ineffective. As a result, that's why we are seeing such a huge economic crisis, because we have not ensured that all people have access to healthcare. We have not ensured that all people have access to affordable housing, and we have really failed to ensure that workers are protected.

So [we have to] really think about how we ensure that any employment that the city is involved in are union, prevailing-wage jobs, [think] about the contracts we have, not just in terms of development and construction but also expanding the conversation about prevailing wages and unionization to other industries that touch the city. There are tons of industries that we do contract work with that we could be pushing& to actually treat workers right, to have the right working conditions, hazard pay, and to ensure that people have high-wage jobs.

This is a really important part of knowing that disasters are going to come. This is not the last time that we'll see this. As a result, if we're going to build a social and economic safety net that works for everyone, anything that the city is invested in needs to push contractors or industries that we work with to make sure that people have high-wage jobs that pay healthcare and benefits. That's just thinking forward in terms of protecting us, protecting people, protecting workers, when additional an crisis does come.

The West Seattle Bridge and other bridges, other infrastructure in our city, is of huge concern. The Move Seattle levy expires in 2024. This was a 2015 levy, and in many ways, it's actually fallen short of the promises that taxpayers voted for.

So the first thing that I think the city actually has to do when it comes to our crumbling infrastructure is explain why that levy did not fulfill the promise that we made to voters. That explanation [should be] a pathway toward saying, "Is it possible to continue this levy? Will you all vote for it again? Here's the explanation of why it fell short. Here's how we will address those shortcomings in the future."

Getting our infrastructure up to par is important for a number of reasons. It's not just about safety& it's also understanding that if we want to be able to keep our maritime and port industries healthy - which are significant jobs in our region and also an important part of moving goods, not just through Seattle but to other regions in Washington state, including& the eastern part of the state, the fruit basket - then we need to ensure that the infrastructure around the port is solid so that freight can move in and out without issue.

This is also about our environment. When freight is backed up and not able to move through the port in a timely manner, we're seeing way more pollution, both in terms of exhausts [and] also noise pollution in neighborhoods that already face some of the highest levels of pollution. So this is also a health concern.

Addressing our crumbling infrastructure touches a myriad of areas of life, from environment [and] industry and economic well-being to the health of communities that many of these industries are moving through.

&It's not just the West Seattle Bridge. It's also thinking about North Seattle and east-west buses, and sidewalks for safety. It's looking at the bridges in other areas of our city that are also deteriorating. We don't want to see them in the same situation that the West Seattle Bridge is, where it's been closed down for almost a year.

Then, we need to [think] about how this impacts our transit infrastructure. The transit infrastructure also plays a major role in thinking about the well-being of workers, [and] the ability to move through the city or in and out of the city in a way that doesn't require you to spend two hours of your day doing that. Most of our families cannot afford to do that.

We have to understand that transit and the accessibility of our city is also tied to the economic well-being of folks. My concerns are about many of our small businesses, small businesses that are owned by Black, Indigenous, and people of color who really have suffered through the pandemic without having access to all of the things that allow their businesses to [be sustained].

I'm also thinking about folks who are freelancers, some of whom have been able to get access to unemployment, but for many of whom it took a very long time to get that access to unemployment. So maybe they've become backed up on rent or other types of bills that they're later going to have to find ways to pay. This is where canceling rent or having rental support programs, finding ways that maybe mortgages can be canceled or mortgage support programs, having rent stabilization on commercial properties is going to be huge.

The city has taken emergency measures that have been really significant in allowing small businesses to continue to function. One of these is folks being able to run their small businesses out of their homes if they have particular detached units. This is a creative option that has not been allowed to exist prior to the pandemic.

One thing the pandemic has shown us is that there are things that we could have done long before that we didn't do because we said we couldn't. Then we found out that in a state of emergency that we could. Sustaining some of those measures is going to be key to ensuring that small businesses and freelancers are able to thrive.

Then, moving forward, how are we ensuring that our folks that work in tech - I'm thinking about our Uber drivers or folks that are delivering food, who are a part of our gig economy - what are we doing to ensure that those folks are able to get access to healthcare and benefits? We've seen through the pandemic that has not been possible for a lot of folks. We need to keep talking about what it looks like to have a gig-workers package that ensures those safety measures: hazard pay, healthcare benefits. So that again, when disaster does come again - because this is not going to be the last thing we face, the climate catastrophe is really upon us - we need to make sure that people are prepared and they have access to the social and economic safety nets at work.

Raketty: As a result of protests related to the murder of George Floyd, police violence, and ongoing racial inequality, Seattle has earned a national reputation as crime ridden, dirty, and unsafe. At one point, the city was labeled by the previous presidential administration as an anarchist jurisdiction. Do you agree with this view?

Oliver: I do not agree with this view. I think in many ways this view is created by mainstream media outlets not telling the whole story. I think it's really important that we tell whole stories, acknowledge what's really been happening in our city - which is actually drastically different than that. I'm not sure if you want more detail but I certainly have lots of thoughts in that area.

Raketty: Absolutely. We want to know, how are we going to shift perceptions?

Oliver: We shift perceptions by building the city we want to see. We don't control mainstream media, but what we do control is the way in which our city continues to move and develop.

Some of our elected officials need to actually take accountability for statements that they made during the protest that were then leveraged by media outlets, both locally and nationally, to paint a picture of a city in crisis. That's not what was happening in our city.

I understand that there were things that happened in CHOP that caused a lot of pain for people. In fact, those things were happening in other areas of our city - in terms of folks being shot and killed. When we make that issue about just one area of our city, we actually miss the underlying issues that are the reasons why certain types of gun violence are happening. These are economic reasons. These are social reasons.

We have areas in Seattle that have been redlined historically, that have experienced exclusionary zoning, are overpoliced, and lack social services. Many of them are also food deserts. They're not what we would call - in the urban development sphere - communities of opportunity. I mean, these neighborhoods are lacking economic opportunity, educational opportunity, and the services that ensure that people can thrive.

So while some areas of our city are growing into these urban villages that have grocery stores that have great produce or [afford] access to medical facilities, and access to social services, there are other areas of our city that are being inequitably developed and are not receiving that same attention and growth to ensure that we do the things that actually prevent violence.

This is not conjecture, and it's not me just making up a story. We know that through social science, when people have their basic needs met and they have access to economic and educational opportunity, then violence decreases substantially.

We have communities, though, who have been historically and currently disenfranchised from the access to that opportunity, while the wealth of white folks and our region has continued to grow. Those communities continue to have access to higher-earner jobs. The wealth of Black communities has actually continued to decrease. There is a huge gap between who is gaining in the areas of income and wealth.

Poverty has an extreme impact upon the likelihood of violence or "crime" in an area. So if we really want to be about public safety, if we really want to be about addressing historical racial trauma and harm and anti-Black policies, then what we will do is figure out how to uproot and undo the issue of poverty. We will invest in communities. We'll invest in Black communities. We will invest in Native communities in the ways in which we know actually begin to alleviate and end the crisis of poverty.

That's what we need to be willing to address if we want to get to a safer, healthier, more holistic Seattle. That's the vision I have for Seattle. One where we grapple with racism and white supremacy and one where we do the work of dismantling, addressing, and uprooting poverty so we can have that safe Seattle we envision.

Raketty: When compared to the West Coast cities of Portland, San Francisco, San José, Sacramento, Oakland, and San Diego, Seattle has the second-highest cost per police officer, tied with Oakland, and the second-highest number of officers per capita, behind San Francisco. Additionally, the average officer makes $153,000 a year before benefits, according to the Seattle Times. Despite this large force and supporting budget, Seattle Police report slow response times and claim the issue is a lack of staff. The budget was cut approximately 18%, and staffing levels were adjusted to support roughly 1,325 officers. How would you define "defund the police," and what is your position? How, as a member of the city council, do you restore community trust in the SPD?

Oliver: "Defund the police" is also "invest in community." I think it's really important not to separate those two from each other.

I think it's also important to acknowledge that our current system of public safety does not create safety for everyone. In fact, there are many communities that are actually less safe when they call the police. There are communities that are actually afraid to call the police when they're actually in need of support.

I think we also have to acknowledge that we do not have the myriad of services that we need to ensure that people are safer. Police are not typically doing what we think. I think a lot of folks have it in their minds, maybe from movies or TV, that police are all day responding to violent crime and violent calls. The reality is that a lot of what police officers are doing is responding to things involving property or maybe parking issues or even noise complaints. That is the majority.

In Seattle, I think 1.3% of the calls that come through 9-1-1 are "violent crime." So that's actually a very small percentage. I think we've also seen - and I know you've seen this, having been out at the protests - there will be an obscene [number] of police officers at the protest, and then later we'll find out that something else was happening in the city, but the Seattle Police Department will say that they had very slow response times. I would wonder how are they prioritizing what's important for their presence to be at.

That being said, I do have to go back to the underpinning thing here: our system of public safety is not one that works for everyone. We've heard this time and time again; it's not new information. It's not new as of 2020. In fact, these are conversations that people have been having for a long time about public safety and what really makes community safe.

An 18% defund of a police department that has one of the highest budgets in the entire United States really is not that much. The SPD's budget prior to this last budget cycle was $410 million. They often actually spent over that budget and would [ask] the council for additional dollars, in addition to receiving money from groups like the Seattle Foundation [that gave] dollars to the Police Foundation that then gave money to the department to buy more equipment. There's also additional dollars, including federal dollars, that come into the SPD on a regular basis. So I don't believe that they're actually hurting for money.

What is hurting for financial resources are community-based responses to intervening [in] harm and responding to harm when it happens. I'm thinking about what people do when they're in domestic violence situations and they do not believe that calling the police is going to make it safer. This was my own life at one point in time with a partner of mine. I did not feel like I could call the police for support because - at the time - I was dating a six-foot-seven Black man and did not think that calling the police was going to make our situation any better. In fact, it worried me that something might happen to him and his life if I did that, and is that a burden I wanted to carry?

I am not the only Black person who has ever been in that situation and thought about that. I'm certainly not the only person. There are families who also are afraid to call the cops when their loved ones are having mental health crises. We know that this is happening. We also know that the police are ill equipped to respond to these types of situations. Why aren't we investing more of our public safety budget in ensuring that we have the resources that can meet a multiplicity of needs, knowing that most of the things that people call 9-1-1 for actually do not need an armed officer to come to the door?

My goal - my hope as a city council member - is that we can actually continue building upon the things that we know work: mental health supports, people who can respond to mental health crises. I'm thinking right now about Tommy Le, whose family just received a big settlement but will never receive Tommy back, who was in the midst of a mental health crisis. Charleena Lyles was in the midst of a mental health crisis. Charleena could still be here with us if we had had the right support.

How are we doing the work of learning from these tragedies to actually doing the things that we know work for community members? That's my goal - prioritizing our public safety budget to actually do the things that make community safe in terms of our ability to respond to mental health crises, domestic violence, to intervene and stop violence before it occurs - because that would be the ideal. This is the last part of this. Police are often called after harm has already occurred. So it is already a reactionary measure to public safety.

What would it look like if we had a city where we built the priorities of our public safety system around preventing and intervening in harm, rather than responding once it's already happened? We could actually keep a lot of people out of the criminal punishment system, which is a broader system that needs to be addressed in relationship to policing. We could prevent a lot of harm to families and people in our city if we approach public safety from that place instead.

Raketty: I'm glad you brought up mental health. Let's talk about that for a second, because I do think it's an important issue. One of many things that COVID has shed light on is the ongoing mental health crisis in this country. Seattle is not exempt from this of course. Recently, a man in the throes of a mental health crisis was fatally wounded by the SPD near the Seattle waterfront. Washington state has consistently ranked toward the bottom for public health services for the mentally ill. What would you do as a member of the city council to address this mental health crisis?

Oliver: The incident you mentioned hits close to home because he was a student at Seattle University, where I teach. I think people read these stories and they forget that folks are actually in our communities that are having crisis and then have deadly encounters with police.

What can we do? So as we continue the work around defunding and investing - divesting and investing in structures that work - we can actually invest in mental health professionals and intervention services that actually work. I've had to call for a county mental health professional before, and it's taken 24 hours before that MHP has been able to respond to the crisis that I've been in with a client. Often what this means is that I or family members of this person ended up having to stay with them 24/7, and in some instances, following them around the city to try to keep them safe or avoid an interaction with police. Sometimes it still ends up in an interaction with police.

The fact that we invest so much money in a system that is not able to actually respond to the needs we know are most emergent is not only fiscally irresponsible but also socially irresponsible. So I think finding ways financially to beef up our mental health professional options - [like] looking at programs like Crisis Assistance Helping Out On The Streets. I'm not saying specifically CAHOOTS, because that model was developed in a particular context, and all models that develop one place cannot just be transferred to another place. We need to be thoughtful about how we develop more mental health supports in the city.

That's what defunding is actually about. It is about finding the thing to invest in that actually will do the work that we need. We know that mental health has always been something that people need response to, but the recession and the pandemic have certainly exacerbated the mental health crisis that we're facing.

We do have organizations that are able to support folks in crisis, but we certainly don't have enough of them. When you have to wait 24 hours or more before someone is able to meet you, what that likely means is that your loved one has probably spun out much farther than they were 24 hours prior. It's even harder to do the work of mitigating harm and ensuring that that person gets support.

The other thing is I think we need to work better with our hospitals. I've gone to the hospital with folks wanting to admit themselves for support. The process of doing that comes with a lot of stigma. It's a very cumbersome process. You often have to prove that you are suicidal or other things that will make them want to bring you into the hospital. So we need to change that process. If someone comes to you saying they need help, we should just get them help.

The third issue that is attached to that, though, is that we just simply do not have enough beds, mental health professionals, or mental health supports in our region. So when people do go to the hospital saying they would like to get support, they're often told there isn't a bed for them. How can we be providing more of those spaces within the city using the budget we have to do that and actually investing in the things that work. The last thing I would say, I keep coming back to healthcare, but we don't have full spectrum healthcare for some folks. As a result, when they seek out mental health supports, they're not able to pay for it. Is there a way for the city - and I would put the county in there to partner, because the county does do a lot of public health work& can we be developing ways that people can access mental health supports prior to being in crisis that doesn't require them to have health insurance? [We know] that ultimately, when we can get people mental health supports early on, we actually make everyone, including that person, much safer.

Raketty: Housing affordability is a major problem for Seattle. Eight-eight percent of Seattle's land that is zoned for housing is zoned for single-family units. Over the last five years, most of the new construction has been centered in the 12% that supports high-density housing. Developers and builders are focused on small-footprint properties with minimal parking and luxury appointments.

Oliver: I know most people probably wouldn't believe this, but this is actually one of the issues I'm most excited to work on. I think a lot of folks see me as just the police person.

To be honest, our legacy of exclusionary zoning is contributing to so many of the problems that we're facing in the city. There's a book called The Color of Law that really digs into how housing is a determinant of how people thrive. It's a determinant of whether or not communities experience high rates of violence. It's a determinant of whether or not communities are overpoliced. Housing plays a big role in that. We have really chosen not to turn and face our legacy of exclusionary zoning.

Our current zoning pattern has created a bifurcated city. Two-thirds of our residential land is not accessible to any but those who have the highest incomes, which is a serious issue. So we need to be changing our zoning as we approach this 2024 comprehensive plan, to be building a mix of housing and residential patterns that allows more people to live in more places throughout the city.

There are a number of reports that have come out that have actually recommended us addressing our zoning issues. I think it's very important that we do it. There are examples of cities like Portland, which has a residential infill project, in which they have basically relegalized the missing middle or missing-middle housing citywide. This allows for a diversity of housing structures to exist in the city.

Seattle has committed itself, in a lot of ways, to building urban villages. So we need to both expand our current urban villages but also be strategic about the places where we build new ones. There is transit infrastructure being built throughout the city, and there are areas that need more transit infrastructure. Those would be areas that would be right for urban villages, but it cannot continue to happen on the same 12% of land. We have 85% of the developing happening on 12% of the land, which is just really unacceptable.

We also cannot do it in our industrial lands. There's been some talk about building affordable housing in our industrial lands. There are place-based industries that happen in those spaces that cannot happen anywhere else. So it doesn't make sense to build there, not to mention our industrial land areas are also very much food deserts. We don't know about the toxicity of [these areas] and the long-term impacts that would have on folks.

I'm really excited to work on our comprehensive plan for 2024. It is a huge chance to do zoning reform, to make significant strides on housing affordability. It is also an opportunity to address our climate crisis. With all the new housing that we would build, we can build it green. We can be thinking about our sustainable infrastructure. We can be building transit in a way that helps us reach our climate goals. Having more people being able to travel within the area that they live - by foot or by bike or by bus or by light rail - will make a significant decrease in the things that we're facing with the climate crisis.

So I'm really excited to work on this particular issue... This is something, again, we have to grapple with: [housing] has been highly racialized based on who is getting the wealth and income gaines in our city, who's getting access to high-earner jobs.

The last part of this is also anti-displacement and anti-gentrification strategies that ensure that people can stay in place. I'm thinking about our seniors who, as property taxes increase, cannot afford to keep their homes. I'm thinking about young people who have grown up here, who may not be getting into those pipelines in the higher end of jobs and, as a result, will either spend the rest of their life as renters - though many of them cannot afford that - or will never get to have any type of home ownership.

So we also need to think about co-op models, community land trust, as ways of ensuring that people can also build equity. Equity is how a lot of white folks have been able to build their legacies, and send their children to college. Many Black, Native, and Latinx folks have been excluded from building equity through home ownership. So thinking about co-ops and community land trust is also a huge opportunity to be able to open up that opportunity for equity and wealth-building that many communities based on race have been excluded from.

Raketty: Do you support changing zoning rules for ADUs and more dense construction to alleviate the housing crisis? How dense, and where would you support ADU development?

Oliver: ADUs are an opportunity to build [more] diversity of housing and build housing for the missing middle, but that cannot be our only answer. There has to be a [greater] diversity of housing options that we're doing the work of presenting. So, you know, [I'm] thinking of quadplexes and other things that can be built.

I know that a lot of folks then will push back and say, "What about the character of our communities?" I understand that, and also we're in the midst of a huge affordability and housing crisis. If we continue to allow things to go the rate we're going, then we're going to be building a city just for a few and then excluding the many.

Accepting that density is going to be something that equitably needs to be taken on by all neighborhoods is just a really important factor in building our city in a just and equitable way that is accessible to everyone. Having areas that are just fully excluded for some people is not acceptable. That's not an inclusive city. That is not a city that has a race and social justice initiative.

We need to be reckoning with the fact that our very first comprehensive plan that was put in place in the 1920s was done so in collaboration with someone by the name of Harland Bartholomew. Harlan Bartholomew was a known segregationist and basically helped us develop our first version of these exclusionary zones that went in place. And then in the 1980s, we did a huge down-zone that then prevented even more families moving into certain places. So if we're going to have a city that makes it so everyone who works here can live here, then we're going to have to take density on equitably.

Raketty: How do you combat gentrification while meeting housing needs?

Oliver: I think it's about how you build, and it is about acknowledging who doesn't have access to the housing. There are anti-displacement strategies we can put in place. This is where co-op models and community land trusts are important.

This is also where the city getting into housing is key. We have many reports: the Seattle Growth Strategy white paper and the Neighborhoods for All executive summary actually all outlined for us that we know which neighborhoods are most at risk of gentrification and displacement. Yet we still have started our building, the places that we build density, we have built there first. So our strategy is off. We need to be starting in spaces where we know we will have the least amount of impact while simultaneously doing those things that help keep people in place. This is where thinking about our seniors and the rising cost of property taxes is really important.

What are we doing to help folks on fixed incomes be able to maintain their homes? How are we doing one-to-one replacement of housing? So if we tear down a building that is affordable, are we putting up that one-to-one ratio of affordable units and ensuring that people can come back?

Now, that is also really challenging. I know they've said at Yesler Terrace that there's a 100% rate of people returning, but that's of those who wanted to return. Many people, when they left Yesler Terrace, when we literally sold off public land - which I don't think we should have done - had to move. You know that they'd already moved somewhere else, started living in that place, and then chose not to move back because it wasn't necessarily the best decision for them at that time.

So really thinking about when we tear down buildings that are affordable, are we doing our best job to ensure that folks have a real ability to move back into that space? Are we preserving our public lands so that we, as a city, can continue to get involved in that? Are we doing the anti-displacement work of addressing rising property taxes and supporting people staying in their homes?

Again, this is where the development needs to be taken on more equitably. We know where folks are living that are most at risk of being displaced. Why do we as a city continue to build density in those areas first, rather than prioritizing other areas of the city where, when development is received, people likely won't be displaced?

Raketty: Seattle has a reputation for having high taxes compared to other Washington cities. A number of initiatives through the years have added incremental taxes to fund transit, homeless programs, education, and the general fund. These taxes are small on paper. A number of one-tenth-of-one-percent taxes have been passed by voters and supported by the Council as an example. Most of these taxes are regressive, due to Washington state's tax structure. Will you pledge no new taxes on the citizens of Seattle? What programs would you want to see cut if you are on the Council?

Oliver: I don't think I can 100% pledge no new taxes on all of the citizens of Seattle - or all of the residents, I should say. There are wealthy folks in our communities that don't pay their fair share in taxes. There are corporations that don't pay their fair share in taxes. I think that there are taxes to be put in place. I think it's important for those folks to be paying.

What I can commit to is doing the work of not putting more taxes on those who already pay more and finding ways to eliminate our regressive tax structure, which requires that the City of Seattle actually be a part of pushing our state legislature to make those changes, but also do it in a way that doesn't remove the ability of cities or localities to continue to put in place their own taxes on big business or the wealthy.

Our tax structure is very regressive, and the wealthiest amongst us pay anywhere from zero to 2% in taxes. Those who have the least pay somewhere from zero to 17%. I just don't think that that is acceptable. We need to do the work of addressing our regressive tax system. There are taxes that we can continue to address around big business that could be augmented or grown. I think we should grow those taxes, because our city does need to generate more revenue to meet the immense number of social needs that exist. We know that when we meet those social needs, our city as a whole will be safer.

Raketty: Nikkita, I want to thank you so much... I'm so glad that our [readers] will have a chance to hear your positions, understand them more fully, and be able to make a decision in this election.

Oliver: Thank you. I appreciate sharing space with you. Thank you so much.