Catholic Archdiocese of Seattle and St. James Cathedral Embrace Sustainability for First Hill Property Redevelopment
March 29, 2022 | Publisher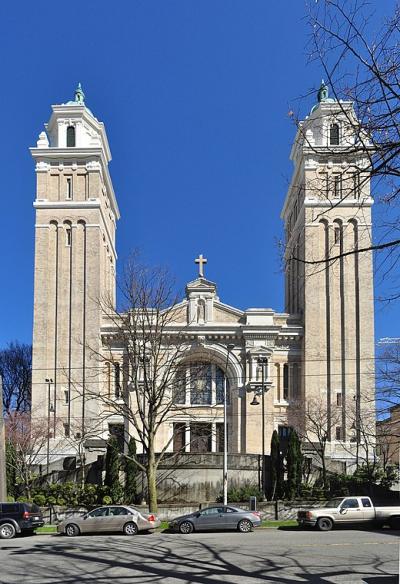 SEATTLE--(BUSINESS WIRE)--Today, the Archdiocese of Seattle and St. James Cathedral announced plans to sell and redevelop four properties on First Hill with Westbank, a global developer recognized for its long-term commitment to sustainable building. The vision is to create an inspiring carbon-neutral community that enhances the future of the First Hill neighborhood, while also supporting the continued mission of the Catholic Church.

"Currently we have our employees in four separate buildings, which is not only costly to maintain, but also inefficient and an impediment to collaboration among archdiocesan staff"


"Creatively thinking about how we can better use our properties to achieve the mission of the Church is exactly what we need to do as good stewards of God's gifts," said Archbishop Paul D. Etienne. "Redeveloping our real estate in a very efficient and sustainable way not only reflects our Catholic value of caring for our common home, but also provides us with resources to carry out our greater mission of bringing Christ to others. This significant project is an investment in the First Hill community and in our future, ensuring we can continue the good work of the Catholic Church."

The Archdiocese of Seattle and St. James Cathedral will sell four properties for development including St. James Cathedral's Pastoral Outreach Center at 907 Columbia Street and the Archdiocese of Seattle's buildings at 710 Ninth Avenue (Paul Pigott Building), 907 Terry Avenue (old Chancery Building), and 1104 Spring Street (Connolly House). As part of the agreement with Westbank, the historic Connolly House will be preserved.

Commitment to the Environment

As announced in 2021, Westbank and its affiliate Creative Energy have partnered with Swedish Health Services on First Hill in Seattle. Swedish—an affiliate of Providence Health—is working with Creative Energy to modernize its campus infrastructure. As part of this project, Swedish will be able to divert excess heat from its First Hill Campus to an energy sharing platform. Through this platform, Swedish will be able to share excess heat, which becomes a source of heating for other buildings connected to the platform, dramatically reducing the overall carbon footprint of the neighborhood. This infrastructure investment is part of the commitment Swedish and Providence have made to be carbon negative by 2030.

As part of the redevelopment of the older Archdiocesan and St. James Pastoral Outreach Center buildings, Westbank plans to create upwards of 1,300 residential homes across the housing continuum, connected to the district energy system.

"It's a pleasure to be working with our partners at the Archdiocese of Seattle, to realize our shared vision for First Hill," said Westbank founder Ian Gillespie. "Our initiative will create low-carbon housing, infrastructure and amenities that will serve Seattle for generations to come. We're looking forward to continuing our work with the Archdiocese of Seattle and the team at Swedish Health Services, to not only contribute to the long-term vitality of this community but help First Hill significantly reduce its carbon footprint and demonstrate leadership globally in responding to climate change."

"Recognizing all of nature as the handiwork of God, Pope Francis calls us to do all we can to protect the earth from further destruction," said Archbishop Etienne. "Minimizing our impact on the earth is our responsibility as Catholics. Working with sustainability experts like Westbank and Creative Energy will ensure that the redevelopment uses green building techniques, processes and materials, while alleviating future environmental impacts with the district energy plan."