Durkan tells CHOP: Time to go home
June 26, 2020 | Renee Raketty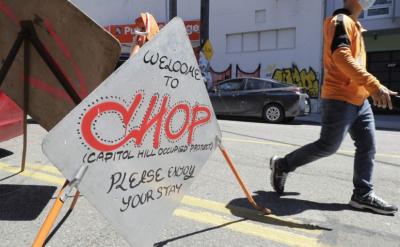 Seattle Mayor Jenny Durkan and Police Chief Carmen Best held a press conference on Monday [June 22, 2020] at City Hall. Their message for the Capitol Hill Organized Protest [CHOP] was clear. "It's time for people to go home," said Durkan.

"For nearly two weeks, people have been gathering on Capitol Hill. Many are there to continue their protests, build community and change," added Durkan. "Over the days, tens of thousands of people have peacefully gathered or visited Capitol Hill. During the day, there have been no major incidents but we know it is very different at night, particularly in recent nights."

"The impacts have increased and the safety has decreased& That increasing violence has concerned me, Chief Best, residents and businesses and the greater community. All of Capitol Hill has been impacted."

Capitol Hill has seen several shootings in recent days, including the death of one 19-year-old Lorenzo Anderson, and various crimes in and around the CHOP. "We have heard from people on Capitol Hill and across the City that the gun violence unfolding at night is not only wrong but it also is undermining and distracting from the message for change that we are hearing in the streets&", concluded Durkan.

Durkan also wanted to return Capitol Hill to the region's Lesbian, Gay, Bisexual and Transgender Community, which Durkan claimed has been a "refuge" and "sanctuary."

"Capitol Hill& is of deep, deep, importance to the LGBTQ community — particularly during June, the month of Pride," she said. "That is where we have centered our fight for equality and found sanctuary. Cal Anderson Park is named for the first Gay legislator& who sponsored a bill to give protections for Gays & It was not until last week, in 2020, that the Supreme Court finally made it the law of the land and extended nondiscrimination laws to the LGBTQ community."

Jacy Yoder has spent every day off camping overnight in the CHOP and spends most days there, too. She said she questions Durkan's sincerity. "You can support Black Lives Matter and also support Pride — support equality. That's what this is all about," she explained. "She was going off saying it was a 'summer of love.' She's blind. She's not seeing the point."

Durkan added that Capitol Hill businesses "need to open" and have "barely survived" the COVID-19 shutdown. "They and their employees are ready to get back to work and they should be allowed to do so," she said. "We also need to open those blocks for businesses, employees, visitors and residents."

Durkan committed to submitting a budget rebalancing plan that included another five million dollars for mentoring and summer learning programs for Black youth and cutting $20 million from the Seattle Police Department budget for the remainder of this year. She also committed to expediting the transfer of city property in the Central District neighborhood, the historical home of the city's Black community, to Black organizations.

Best spoke of the importance of returning to the East Precinct to reduce response times and to address community safety concerns. "Our officers need to get back in that East Precinct," she said. "There has to be an end of the chaos that has been celebrated by some. I talk to people in that community all the time. They are telling me it is getting worse every single day."

Louise Chernin, President & CEO of the Greater Seattle Business Association — the state's LGBT chamber of commerce, stood alongside Durkan and Best on Monday. "It is hopeful to see tens of thousands of people in the street but it is very frightening when you realize there is so much anguish and anger. It is rightfully there," she said. "As part of the LGBT community, we know about police violence also. We know police violence is real and that the police have a long way to go to become part of the community that is part of public safety and not only about arms and control."

Chernin responded to critics who charge that the city prioritizes property over human life. "Small businesses are not property. Small businesses are community," she clarified. "They are the employers of the people in the community. They are donors for the non-profits. They are the donors you see in the streets."

On Wednesday, many in the CHOP were packing-up and getting ready to leave. The CHOP medics, security and communications tent are gone. However, others say they have invested too much time and energy into the CHOP to leave now.

"The people who pushed the [police] barrier did it out of love," said Rooks, an organizer and CHOP community leader. "The narrative is still justice, equality and freedom. Come on down here and check it out for yourself."

"This is a deep investment. This isn't just emotional. This is physical; financial. This is everything& You had to use part of yourself that you didn't even know you had in you. No, we just can't go.

However, Rooks admits that the odds are against him and the others who remain at the CHOP. He says the fight against racial, social and economic injustice must continue. "If we do leave, we are not going to stop protesting," he said.

Yoder plans to become a teacher and says she looked forward to sharing her experiences. "It is amazing how we achieved all this. The cops had this blocked off& they were launching tear gas," she said. "I'm going to be teaching about this 20 years from now. I'm going to be telling my students that I participated: made signs, walked in the marches; did what I could to help make change. I think it is important to be here, no matter what."