[ICYMI] Bruce Harrell Wants to Be Your Next Mayor
October 15, 2021 | Anthony Greer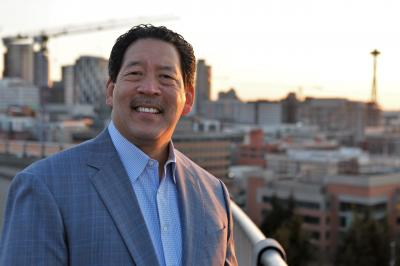 Three-term Seattle City Councilmember Bruce Harrell discussed his holistic approaches to the homelessness crisis, institutional racism, police reform, and small business revitalization, and why he's best suited to become Seattle's next mayor.

"I think that this is going to be the most important era in Seattle in the last 30 years," Harrell explained. "The strategies that we put in place now will define the city for the next 20 years."

As the son of a Black father and a Japanese mother, Harrell was raised to respect both where he came from and to believe in what was possible.

"While Seattle has its history of discrimination and racist and oppressive laws, it was much different than where my Black and Japanese grandparents had left," Harrell says. "I saw Seattle as a young person as a city that I wanted to give back to. I would do the things I wanted to do in life but make sure that those who come after me were awarded the same opportunities. I saw politics as a way to achieve that end."

Harrell's Achievements

Some of Harrell's biggest accomplishments include the following:

Sustainable race and social justice legislation that changed how the City of Seattle views its policies and budget decisions
Serving as a lead negotiator and the "unsung hero" of the minimum wage increase
Spearheading the City of Seattle's first tuition assistance program formally known as the 13th Year, which is now part of the Seattle Promise Program

As a mayoral candidate, Harrell believes he has the best narrative of truly being a positive leader. "While I hear others talk about collaboration, vision, and unity, I think I have the strongest track record of being as such. I also think my life experiences lend themselves to creating a vision that is quite different from my opponents... it not only speaks to lived experiences, but also my strong and clear legislative records reflecting those values."

The Homelessness Crisis and Low-Income Housing:

The homelessness crisis has been one of Seattle's biggest problems for years. Despite increased spending year over year, the number of homeless Seattleites remains roughly the same.

"Our state legislature, our federal legislators, and our local legislators need to all work zealously on recognizing that we as a country have created a subclass of poverty and people with housing insecurity," Harrell added. "This problem is much more complex than one city council or one state legislative body."

To solve the crisis, Harrell stresses that we need a more holistic, data-driven approach.

"I think the data will show that predictors of people who may be homeless in five, ten, fifteen years from now can be analyzed. My focus will not just be on housing the homeless but also looking at the predictors early in their lives as to where systems fail," he said. "Causation is very complex. It's not just about treating someone who, for example, has drug and alcohol dependency problems, but to try and figure out how that developed earlier in their life."

Harrell also believes that low-income housing is of critical importance. "I will aggressively implement a housing levy to double down on low-income housing. We will continue to aggressively look at our zoning laws to see where there are great opportunities around transit, light rail, arterials, where it continues to make sense to create as much density as possible.

"We will also look at the employer community as to what their corporate social responsibility (CSR) objectives are and if they can invest in affordable housing options for their employees. In short, we will do everything and use every tool state legislation has given us to achieve density and affordable low-income housing."

Institutional Racism and the Race and Data Initiative

"We need to defeat institutional racism, including but not limited to police reform," Harrell said. "But our work cannot stop there. In our communities, we still have disparities in job opportunities and health outcomes and housing opportunities. Our work has to address those disparities as well."

Harrell is introducing the Race and Data Initiative to take a closer look at the causes of job, housing, and prosecutorial discrimination, as well as sentencing disparities in the judicial system.

"We will do a deep analysis of the causes and effects, and we will implement policies accordingly," he said.

"Institutional racism is often hard to see with the naked eye. Years ago, I examined why streetlights failed in what seemed to be poorer parts of the city. The city didn't have an intentionally racist policy in place. Their policy on repairing street lights was that, when people complained, they would take it upon themselves to have the lights repaired by a certain time across the board," Harrell explained.

"What they didn't take into consideration is that communities complain differently. Many communities come from immigrant or refugee life, and were not quick to call the government to complain.

"We changed our policy on how we replace streetlights, based not on a complaint system but on a quadrant system — by dividing the city into quadrants and recognizing that we could mathematically tell the life-cycle of, at that point, a high-pressure sodium streetlight. We took out what turned out to be an institutional practice that had a [disparate] impact [by] race, even though there wasn't a person saying, 'Let's perpetuate a racist policy.'"

Harrell believes the Race and Data Initiative can be used to identify many other intentional and unintentional institutionally racist practices.

Police Reform

Harrell explained that his life experiences lend themselves to creating a vision that differs from his opponents with regards to police reform.

"It's hard to talk about why police reform matters so much when you haven't experienced unkindness from police," Harrell sayssaid. "It's hard to talk about changing the police culture when you haven't cross-examined police officers on the stand as I have.

"I believe the only way we truly achieve policy reform is through cultural change in the police department. We've already had citizen review panels, use-of-force guidelines in place, and we are under federal consent decree," he said. "Under my leadership, the officers will break the code of silence, we will reestablish what behavior is acceptable and what is not tolerated, and we will be the leaders in this country in DE-escalation.

"I will bring in a team of people to help me, and we will change the narrative with respect to our police department. It will be re imagined and realigned, and we will ask the fundamental question: Does a gun and badge need to be going into places they're currently going in? I will truly change the culture of the police department. It will take a lot of work, but I'm going to do it."

Small Business Revitalization

The pandemic had a devastating toll on many of Seattle's small businesses. Many that have been around for 20 or 30 years will likely never return, and e-commerce has exacerbated the vulnerability of small brick-and-mortar stores.

"The City of Seattle has to optimize its ability to support small business employers and employees to figure out what a 2022 city should look like in the world of ecommerce," Harrell said. "I am creating a Seattle jobs center as one means toward this strategy.

"A Seattle jobs center will allow small business employers to find employees. Most importantly, it will allow potential employees to find resources, grant opportunities, and training opportunities to align themselves with the field of employment they would like to enter. With the Seattle jobs center, we are going to allow people to pursue their dreams and employers to find the talent they need.

"That should be the city's role: to be the biggest evangelizer of the jobs market," Harrell added. "Post-pandemic, there will be winners and losers in the jobs war. The cities that figure out how best they can win the jobs war will be the better cities in this country."

To learn more about Bruce Harrell, visit www.bruceforseattle.com.