[ICYMI] Queer Books from Before the Last Pandemic
October 8, 2021 | Vincent Kovar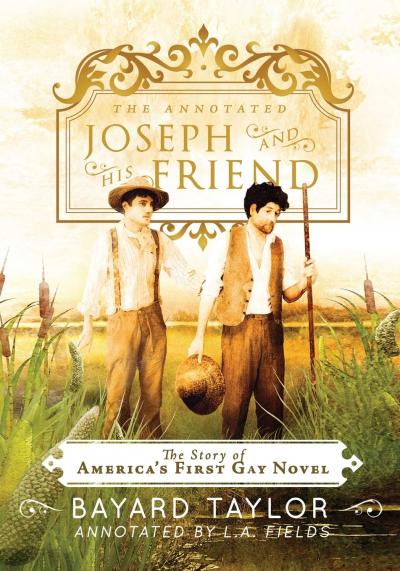 For us introverts, post-COVID King County is a peculiar time and place to explore questions like: Are we still queer without the physical acts of sex? Who have we been this last year without bars, parades (Seattle Pride is going virtual again this year), bathhouses, potlucks, drag balls, and all the other wonderfully colored inks in our fantastic palimpsest?

So, at the silent reading party at the Sorrento Hotel or while hiding behind a book on the shady side of Madison Beach, you can explore these topics with the Unite Seattle summer book list.

Those on the list are hardly new, though. Before Gide and Vidal, before the 1918—1920 Spanish flu pandemic, writers were exploring these ideas. And often the identities of those writers are at least as interesting as the books themselves. Here are five:

Joseph and His Friend: A Story of Pennsylvania [c.1870]

The modern reader has to do some reading between the lines of what has long been regarded as the first "gay" novel in the US. Author Bayard Taylor later described the action in his book as "cryptic forces" that were necessary to understand if readers were to have any interest in the novel.

The story revolves around the titular Joseph, who marries a wealthy, manipulative woman just as he discovered his deeper feelings for his new friend, Philip. In essence, it describes an era before unsolicited genital close-ups on Grindr.

I recommend the annotated edition from Lethe Press (www.lethepressbooks.com). (Note: I do not receive any form of remuneration for this.)

The Hermaphrodite [c.1846—1847]

The first queer American novel in existence (though unpublished) may very well be The Hermaphrodite by the writer, composer, and poet Julia Ward Howe.

If her name sounds familiar, it is because she wrote "The Battle Hymn of the Republic" ("For mine eyes have seen the glory of the coming of the Lord..."). Along with being a fierce abolitionist, Howe was also an early fighter for women's suffrage and, it seems, an advocate for ideas we now think of as intersex, transsexual, genderqueer, or even asexual.

The Hermaphrodite by by Julia Ward Howe [c.1846-1847]
Howe never had a chance, or maybe didn't have the daring, to finish the novel, but about 400 pages of it were passed down and lurked in various archives until its publication in the 1970s. Fragmentary and still unfinished, it is a first-person narrative by a character named Laurence, who was raised as a man. Laurence experiences a series of confusing feelings and relationships, complicated by fluidity in both sexuality and gender.

Howe wrote the story when her husband became emotionally involved in a same-sex attraction and also when her own ideas about the place of women were being challenged by 19th-century norms.

"Fervent hearts must borrow the disguise of art, if they would win the right to express, in any outward form, the internal fire that consumes them."

Bertram Cope's Year [1918]

If you don't believe that either of the above books qualify as the first queernovel in the US, we might mark that down instead as Bertram Cope's Year. Written when the author, Henry Blake Fuller (an established novelist), was 62, the book follows young Bertram Cope as his friend, Medora Phillips, tries to get him married off to various eligible society ladies. However, Bertram is only interested in his friend and roommate, Arthur Lemoyne.

Some of Fuller's contemporaries were shocked into silence. Others claimed that had another author penned it, the novel would have been suppressed and the writer put in jail. Overall, they agreed that, like Joseph and His Friend, Bertram Cope's Year would "probably prove unreadable to one who had no key to its meaning."

The title is available as a free e-book on Amazon.com.

A Year in Arcadia: Kyllenion [c. 1805]

This is not a title from the US, but A Year in Arcadia is a strong contender for the first homoerotic novel since antiquity. The author, Augustus, Duke of Saxe-Gotha-Altenburg, was a possible bisexual, a public transvestite, and a direct ancestor to most of the 19th century's European ruling families, including the present House of Windsor.

He published only this one book, a series of love stories set against the backdrop of Greek mythology. Most notably, one of the stories involves two strapping shepherds. That particular piece was described by the Duke's contemporaries as stepping "over the bounds of manly affection into unseemly eroticism." But, when you're the grandfather of a future czar, a kaiser, and more than one king, you can get away with these things.

Unless you read 19th-century German, this book is only available in translation. Search for Year in Arcadia: A Shepherd's Calendar on Bookfinder.com. If you do read German, try the Frankfurt University website. The book is in its Goethe collection, as the polymath was a friend of the Duke. (Fun topic for the beach: some speculate Goethe was also queer.)

Maybe a few of you are looking for something a little more explicit — something a little more "Wilde." For you, dear readers, we present:

The Sins of the Cities of the Plain or, The Recollections of a Mary-Ann, with Short Essays on Sodomy and Tribadism [1881]

There is no pretense here. This novel by Jack Saul is 19th-century porn, "plain" and simple. At times the book has been attributed to Oscar Wilde or other scandalous figures of the period, but, based on its style and the titular character's ever-renewing "first time," it is likely that it was assembled from stories written by a number of different authors.

The stories purport to retell the experiences of John, an actual male prostitute of Irish birth, known as "Dublin Jack," who was involved in two homosexual scandals: the first at Dublin Castle in 1884, and then later the Cleveland Street scandal in 1889. The characters Boulton and Park may be based on an actual duo of Victorian transvestites/transsexuals who appeared as defendants in an earlier scandal in 1871.

The Sins of the Cities was privately printed in London, just a few years before the trials of Oscar Wilde and just over a decade before King County — in its first sodomy conviction — sentenced Charles Wesley to "seven years at hard labor" for "intent to know" Eddie Kalberg. Oscar Wilde himself only served two.

In 2019, the book was apparently adapted into an opera — written in the gay dialect Polari — in Seville, Spain. Maybe somebody should pitch the idea to the Annex Theater on Capitol Hill!

While reading a print copy in public would certainly get some attention, you can also find it for free in various e-book formats on Archive.org. Personally, I recommend buying a Kindle copy, as there is nothing quite as unique as hearing the story narrated in Alexa's cheerful monotone.

To find any of these books not available digitally, patronize your local bookseller, like ElliotBayBook.com.

Join us in the next issue of Unite Seattle for the recipe for the Wesley-Kalberg cocktail, a blend of flavors centuries in the making.