[ICYMI] Hot Summer Nights with Olivia Newton-John
September 20, 2021 | Randy Slovacek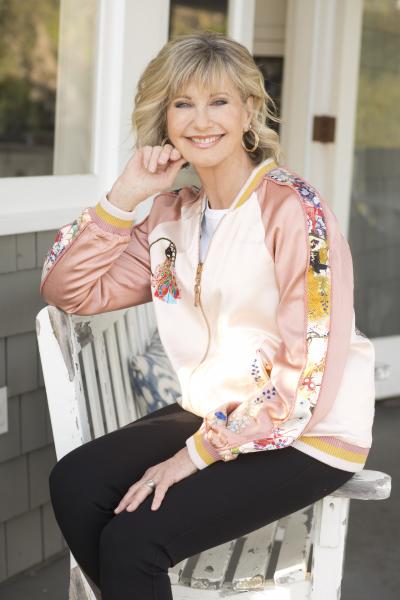 With a career stretching across more than five decades, Olivia Newton-John is still "the one that we want."

And at 72, the four-time Grammy Award winner shows little sign of slowing down.

Earlier this year, Dame Olivia released a new pop duet, "Window in the Wall," with her daughter, actress and singer Chloe Lattanzi.

"I've always loved recording duets and singing harmonies," said Newton-John. "I had no plans to record at the time, but I knew from the second I heard the song that I wanted to record it with Chloe."

Released in January, the stirring music video quickly hit #1 on the iTunes music video chart and stayed there for over a week.

In light of today's turbulence, Newton-John shared that she felt connected to the song and its message of hope, love, and understanding.

"The last thing I recorded was with Barry Gibb on his Greenfields album. That was lovely," said the forever-young performer. "But this song coerced me into singing it — there was no way I couldn't sing it...

"To be honest, I was a little nervous, because I hadn't sung in the studio in a long time. 'What if I don't hit the notes, what if it's not there?' Yeah, it took a minute," she laughed.

Trust and believe: that legendary voice was there.

Also there were Newton-John's lifelong musical instincts regarding the musical arc, build, and storytelling of "Window in the Wall" as she worked with six-time Grammy Award—winning producer Dave Cobb on the track.

"A lot of the records now, they're kind of throwing the kitchen sink early, because they want to grab attention," explained the Grease star. "But this needed to build. We worked on the bridge for a while to get that build. It was a really fun experience to do it."

"Window in the Wall" was not the first time this mother-daughter duo teamed up in the recording studio. Their 2015 debut single, "You Have to Believe," a remake of Newton-John's #1 single "Magic" from the movie musical Xanadu, with additional lyrics by Lattanzi, reached #1 on the Billboard Dance Club Play Chart.

And speaking of Xanadu... Last August, the singer's former husband (and father to Chloe, her only child), Matt Lattanzi, joined DJ Disco Vinnie for a virtual tea dance in Seattle celebrating the 40th anniversary of the movie musical.

Lattanzi, a Northwest native, not only made his film debut as a dancer in the flick but met the star... and... the rest is history.

Newton-John watched the streaming event from her ranch in Southern California and sent a video message as well. The nearly five-hour celebration raised over $1,200 for the Olivia Newton-John Cancer and Wellness Centre in Melbourne, Australia.

Around that same time, she announced the establishment of the Olivia Newton-John Foundation. The independent charity aims to fund cutting-edge research and more effective cancer treatment programs, with a focus on plant medicine.

"I have lived beyond cancer for the past 28 years, and I have learned so much about the importance of holistic care," said Newton-John in a statement at the time. "On my breast cancer journey, I have always found incredible benefit from the use of various natural therapies, particularly plant-based medicines. Even through my experiences with surgery, chemotherapy, and radiotherapy, I've always used a range of natural protocols."

"The ONJ Foundation will find and fund individuals and organizations doing exciting and life-changing research, to challenge conventional thinking, taking us closer to a world beyond cancer," she added.

But even as she steps up via her philanthropy, music still plays a central role in Newton-John's life.

This spring the superstar also recorded a duet with iconic singer-songwriter Paul Anka: a new version of his massive hit, "Put Your Head on My Shoulder." Released in May, the single went straight to #1 on the Amazon adult chart.

But wait — there's more!

Not content to sit still, Newton-John is currently planning to release an album of duets spanning her five decades in music this August, titled "Just the Two of Us: The Duets Collection." The newly remastered 32-track anthology will include some never-before-released collaborations with artists like Dionne Warwick, Jon Secada, Andy Gibb, Keith Urban, and others.

Plus, with 2021 being the 40th anniversary of her mega-hit album Physical, there are plans this fall for a special release to celebrate the milestone.

Factoid: Did you know the song "Physical" held the #1 spot on Billboard's Hot 100 chart longer than any other song in the 1980s? And the music video was one of the very first to be honored at the Grammy Awards for "Video of the Year," in 1983. That video was also considered somewhat "controversial" at the time for its ending, featuring some of the muscled hunks hitting the showers holding hands.

But that noise never bothered Newton-John. A longtime LGBTQ ally, she was famously one of the very first Australian celebrities to speak out in support of marriage equality. In 2012, she said in a statement, "With respect to marriage equality, I believe that no one has the right to judge and deny couples who love each other the ability to make a marriage commitment. Love is love."

As an actress, Dame Olivia has appeared in a number of LGBTQ-themed films, including It's My Party and the camp classic Sordid Lives, in which she played a guitar-toting lesbian bar singer "with a reputation," Bitsy Mae Harling.

"I just think of gay people as people," she says of her relationship with the queer community. "I have had a wonderfully strong gay following, and I'm very grateful for that. And they're so much fun — I like to be able to laugh a lot."