[ICYMI] Gay City and Amara "Brighter Futures through Foster Parenting"
May 25, 2021 | Victor B. De Los Santos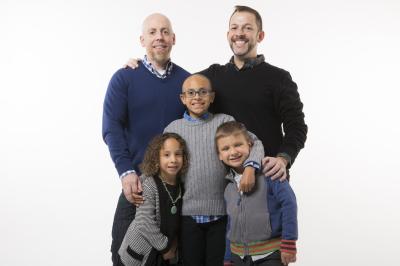 The matter of this issue's Collab+ article hits close to home...literally a few thousand feet from my family house in Yakima, Washington.

When I first found out about the passing of Verna Coleman, my family's neighbor of 41 years, the positive memories started flowing. She and her husband, the late Albert (Sonny) Coleman, were special human beings. They had the innate ability to make everyone feel loved. Sonny and Verna insisted that I call them "uncle" and "grandma." Despite the Colemans not being blood relatives, they were like my kin.

Then I began to worry and asked myself, "What's going to happen to the children Verna was fostering?" Since the early '90s, more than 15 foster children also called the Colemans family. Verna, a Native American, was a survivor of child maltreatment. It's quite common for these types of experiences to negatively impact a person's spirit—but Verna chose the opposite path. The Colemans fostered Native children of all ages, instilling in them the values of their culture.

On average, children in the system are placed in seven homes before they age out of foster care. About half experience homelessness on their 18th birthday. We can assume the numbers are far worse for queer youth.

But once children were placed in Coleman home, they stayed there until adoption or graduation, whichever came first. Not only did her children get a high school diploma but most continued their education at a trade school or college.

Verna's passing reminded me of the Gay City Facebook post about the need for LGBTQ individuals and couples to become emergency "sanctuary" foster parents for LGBTQ youth. I immediately contacted Gay City and Amara, the nonprofit foster care organization has partnered with. I was quite surprised to learn that Seattle had one of the first open and affirming foster care and adoption programs in the nation. I was further shocked to find out that fully 25% of the families that Amara works with identify as LGBTQ.


Verna's spirit smiles as I introduce you to two gentlemen that are "Vernas" in their own right: champions for children, both making the lives of foster kids brighter.

Victor De Los Santos: How did the relationship between Gay City and Amara begin? And whose idea was it?

Trey Rabun, MSW: When I started my new role in the family outreach specialist position at Amara, part of it was to go out in the community and make connections with various folks, with the end goal of recruiting more foster families. Given that Amara historically has been open to the LGBTQ community and one of the first such organizations in the country to work with same-sex couples who wanted to foster or adopt, it was kind of a natural reaction to reach out [to Gay City].

Fred is also [part of] an Amara family. That made it easier because we had an "in," I guess you could say.

I met Fred and we talked about different ways that we could partner. One idea that we came up with was to host our foster care info sessions at Gay City. And I've been doing that for the last couple of years now. It's been going really well.

Fred Swanson: The relationship between Gay City and Amara began several years ago. I think it was initiated mainly out of my involvement as a volunteer and foster parent there and their desire to reach deeper into LGBTQ communities. So I think it was really a mutual thing that we agreed on.

VDS: What organizational values drew you to each other?

TR: Yeah, I think being open, inclusive, and affirming to all families regardless of family makeup has been one of Amara's core values, and obviously Gay City is an LGBTQ organization that promotes equal rights and access for the LGBTQ communities. So it's just really a natural fit and alignment. So that drew us together, knowing that via Gay City working with us they could vouch that "Yes, this is a good place for LGBTQ families to go and feel supported and affirmed if they want to pursue the foster care process.

FS: Gay City and Amara share many organizational values: certainly a desire to meet the needs of underserved communities, and a real commitment to serving the needs of LGBTQ and other youth in child welfare systems. Those really drew us to each other. I think an overall commitment to equity and really just showing up for communities. This seemed like a perfect way to do that together.

VDS: What is your personal connection with foster care and/or adoption, if you are willing to
share that?

TR: Well, my husband and I are foster rents; we have been for three years and we've had two placements. One was a very short-term placement of a four-month-old little boy who reunited with his parents when he was about seven months. And we currently have an almost four-year-old little boy who we've had off and on since he was 15 months old. He's been with us for about two years, and we are in the process of adopting him. That should be done and finalized in the courts by May or June.

FS: I have several personal connections with foster care and adoption. My husband has two adopted sisters; I have cousins who were in the foster care system. And then my husband and I decided to become foster parents in 2008 and worked with Amara
to do that, and we subsequently adopted three children through the foster care system. So lots of personal investment and connection!

VDS: Describe a positive role model from your childhood that made an impact on your life and helped make you who you are today. What two positive character traits of theirs were most influential in your life?

TR: Hmm, I guess I would say my parents were my first positive role models. They made sure that all of our needs were being met, beyond the basic stuff: being a support to us in whatever endeavors we wanted to do, being there to pick us up when we failed—and not being afraid to let us fail as well. I think that is important, really supporting our whole selves: the good, the bad, the positive and negative, and teaching us morals and values. While we were growing up, we were [made to feel] important, and that's something that I carry today as well. My parenting and my sister's parenting are just really trying to recreate the family life that our parents gave to us growing up.

FS: One positive role model from my childhood that made an impact in my life and helped make me who I am today is my maternal grandmother. In many ways, she had it very rough, and my mother's family really struggled. They were in the Appalachians, in the hills of Kentucky, and my grandfather was a truck driver, but an accident put them him out of work. In spite of that, and in spite of having six children to raise, my grandmother always had an open home and always welcomed people in.

The thing that was really amazing to me about her was in spite of not having a lot, you really never would've known that with the generosity that she had and the way that she welcomed all people in to her home, allowing one of my uncles, for example, and his kids to live with them when he was struggling, and letting neighbors' children to stay there. She was just always there for anyone who needed something.

VDS: What are the benefits that kids get from the open and affirming foster care movement?
Do people still think in 2019 that kids will turn out to be gay if they're raised by gay or lesbian parents?

TR: Amara, as I said earlier, was one of the first agencies in the country to work with same-sex couples. I definitely think being in Seattle helped influence the culture of Amara, just given that Seattle tends to be more of a left-leaning part of the country.

I think being in Seattle's political climate probably helped the agency make that change and be accepted in the community and start working with same-sex couples before it was more common. We definitely still see today that some other states and municipalities are struggling with the idea. I know South Carolina just passed a law and got an exemption from the government that they [religious agencies] can refuse to work with same-sex couples, or couples that aren't Christian, like Jewish families or whatever it may be, if they're a Christian organization. So, definitely the fight is not over. We're very fortunate to live in a city, in a state, that has more open and accepting policies and laws in the child welfare system and around nondiscrimination in general.

VDS: Does your program try to place LGBTQA+ kids with LGBTQ+ families? And if so, how does this impact the kids' lives?

TR: About 25% of our current foster families identify as LGBTQ+, and that's been the case for several years...at any given time among the approximately 200 families that we work with. Do I expect that to increase? Probably not. Maybe at some point we'll grow to about 30%, but it just kind of depends on the ebb and flow of who's applying and what kind of demographic background they have.

We'll definitely continue our outreach to show the LGBTQ communities that we are a resource and an affirming place if they want to foster and/or adopt. But there's no expectation to see the numbers increase greatly, especially given that 25% is a pretty big number if you think about the percentage of LGBTQ folks in the community at large, which people say is about 3—10%. So we're doing pretty well, considering those numbers.

VDS: What is the one thing UNITE Seattle magazine's readers can do to contribute to the open
and affirming foster care movement?

TR: The big thing is just letting them know that there is an agency to go to in the region (we work with families across the whole Puget Sound region), that there is an open and affirming agency that would love to work with them on their fostering or adoption journeys. Or maybe they're not interested in that personally but can spread the word to their friends and families and coworkers who may be interested. They also can definitely always donate to our agency, helping us further the cause of finding homes for children, regardless of identity.

We also have a "supporting LGBTQ youth" workshop that we facilitate several times a year that they could attend or help promote.

FS: I would say from the Gay City perspective that readers can contribute to foster care by either volunteering with or supporting an organization like Amara that is invested in LGBTQ young people and LGBTQ foster parents. Maybe attend one of the information sessions to see if you might have capacity to open your home to a child who needs support and needs a loving home as well.

***

There you have it, my friends. Just another instance of the powerful impact that can be made when you unite for the greater good.

I support the more than 10,000 foster kids in Washington State any way that you can. Whether it's donating school supplies to Treehouse, volunteering your time at CASA, making a monetary donation to Amara, or attending an upcoming LGBTQ Emergency Sanctuary informational meeting at Gay City, we all have the ability and—to put it bluntly—the responsibility to be a change-maker. All you have to do is show up, engage, remain teachable, and remember that "to UNITE is a good thing"!