[ICYMI] Seattle's Top Gay Doc Gives Us Straight Talk on COVID-19: A Q&A with Dr. Peter Shalit
April 30, 2021 | Vincent Kovar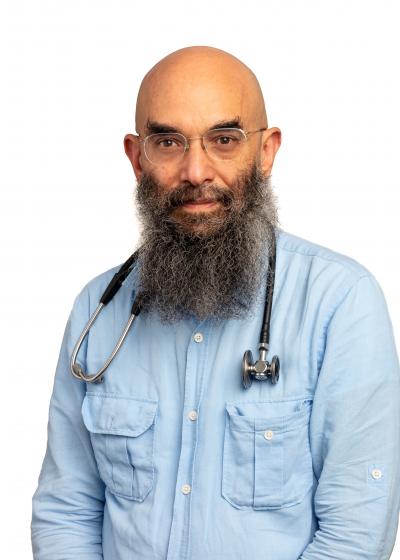 As part of our salute to the frontline workers in the fight against COVID-19, Unite Seattle Magazine sat down for a (virtual) Q&A with Peter Shalit, MD, PhD, longtime LGBTQ+ health specialist and author of Living Well: The Gay Man's Essential Guide to Health.

We discussed the similarities and differences between the early struggle with HIV and today's fight against COVID-19, how the current pandemic is affecting our community in particular, and what we, as a community, need to be doing right now.

Vincent Kovar: How can the LGBTQ+ community better support frontline workers like yourself?

Dr. Shalit: The wrong answer is by thanking us, applauding us, praising us. These are hollow tributes for us folks who are really just doing our jobs. How you can really help is by wearing masks, observing physical distancing, following state and CDC guidelines to reduce transmission, and not catching the coronavirus or giving it to other people! Our community has suffered enough death and illness from the HIV epidemic, so let's not let this new virus get us.

Also, by staying well, our community can ease the strain on frontline workers who are becoming overwhelmed by dealing with people who have become ill with COVID-19. The health care system is at the breaking point. Don't assume that if you get sick, we will be there to care for you. We may be burned out, or sick ourselves from caring for too many folks with COVID.

Kovar: How can the LGBTQ+ history inform our community about COVID-19?

Dr. Shalit: There are many similarities between the COVID-19 situation now and the AIDS situation in the 1980s. Both are deadly diseases, in both cases there is a "denier" community that doesn't "believe in" the virus or that it makes people sick, and both have been relatively ignored in their early stages by the federal government while the epidemic caught fire and took thousands of lives.

From within the medical community, now, there are major differences. Back in the early days of AIDS, the care was provided by a self-chosen group of dedicated physicians, nurses, and other health professionals, while many other health care professionals avoided the care of people living with AIDS, either out of fear or perhaps out of prejudice. Today the whole health care community is on the front lines in the COVID-19 battle, and I don't see any health care professionals avoiding working with patients affected by COVID-19. There is so much of it now, anyway, that [avoidance] would be impossible.

Kovar: Are you seeing the pandemic impact the LGBTQ+ community (outside the medical community) in ways that are different than for the mainstream?

Dr. Shalit: Not in big ways, but anecdotally COVID-19 affects the community in several smaller ways. Here are three that come to mind:

Some members of the LGBTQ+ community, particularly gender-variant folks, avoid medical care except from a few trusted care providers. Visits to the emergency room or hospital may be stressful, because of gender presentation, or same-gender partner, etc.

Bars have been a very important meeting place historically for LGBTQ+ people, and obviously they have not been able to function much at all since March. Many iconic gay bars across the US have closed for good. So even when the pandemic is over, that part of LGBTQ+ culture and history will move instead to online support-or else go extinct.

Holidays can be a stressful time for LGBTQ+ folks, and we may want to celebrate with our family of choice or our family of origin; in either case, that won't be possible (except remotely via phone or video), as we're urged to stay within our household bubble this holiday season."

Kovar: If people are HIV positive, are there special precautions they should be taking or any issues with common HIV medications that may complicate things?

Dr. Shalit: It seems that HIV infection is not a huge risk factor for a worse experience of COVID-19, but the data are mixed. There is some evidence that people living with HIV under age 50 do less well with COVID-19 than people without HIV, but that older people do the same whether or not they have HIV. The only issue with HIV medication is: these meds must be taken every single day. The pandemic may disrupt supply chains, and it may be more difficult to get refills in a timely fashion. Everyone taking antivirals for HIV, as well as other essential meds, should keep an extra supply. There are ways to do this, and it is endorsed by the CDC. Please don't be the person who takes their last pill before refilling the medication, because it might not be available for you when you need it.

Kovar: Gay men (perhaps in particular) may be more likely to keep using online dating apps or engaging in other behavior that is not socially distant. For instance, a local bathhouse was recently reported as describing the use of "glory holes" as a safer option. Even after our current lockdown ends (in Washington State), how do these activities compare to say, going out to a restaurant or entertaining at home?

Dr. Shalit: This virus is mostly transmitted via respiratory exposure, and being unmasked in a closed space for more than 15 minutes with an infected person is the easiest way to become infected yourself. Sex puts you that much closer to the person's exhaled secretions. So it would make sense that sex is high risk, but as far as I know there are no data to back this up.

Eating in a restaurant is probably one of the highest-risk activities, because people are sitting in the same space, unmasked, talking, laughing, etc. Entertaining at home (with friends outside your normal "bubble") is also one of the highest-risk activities for COVID-19 transmission, unfortunately.

It's hard to compare the COVID-19 risk of these activities to the COVID-19 risk found during sex. All are risky. I think "glory holes" are probably lower risk since the partition would protect you from the other person's exhalations.

I will say that dating apps, bathhouses, etc. are not struggling in this pandemic, nor are the bugs that cause STDs. In our clinic we are treating as many sexually transmitted infections (syphilis, gonorrhea, and chlamydia) as we were before the pandemic.

An aside to you, dear reader: scroll up to the top of this interview and reread Dr. Shalit's phrase: "By staying well, our community can ease the strain on frontline workers..." Now is not the time to load up clinic schedules with STD appointments and "it burns when I pee." Be aware. Be responsible. Support our frontline workers!

Thank you, Dr. Shalit, for this interview and for your ongoing advocacy of LGBTQ+ people's health in King County.

Dr. Shalit is board certified by the American College of Physicians and the American Academy of HIV Medicine. He is a clinical professor of medicine at the University of Washington School of Medicine and is involved in the training of health professionals students in HIV care and the health care of sexual and gender minorities. His current practice is with the Swedish Hospital network.