Local Lesbian's life remembered during Seattle candlelight vigil
February 19, 2021 | Renee Raketty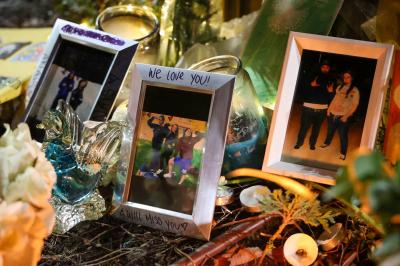 A candlelight vigil was held in Seattle's Central District on Tuesday for a 23-year-old Federal Way woman, Anais Valencia, who died as a result of a catastrophic convergence of events that cost her her life.

"It was just nice that people came and organized stuff, and cared," Justice Quiamas, her teenage maternal cousin, told the Seattle Gay News after the vigil. "It really meant a lot to our family. It's nice. It is really tragic, though. It's hard to feel too happy about something when there's such a sad undertone."

On February 9, Valencia sat in her car in the parking lot of the Urban League Village Apartments at 2300 S. Massachusetts St. in Seattle while waiting for a friend to grab his laptop from inside the building when 45-year-old Gregory Taylor walked up to her vehicle, began pounding on the window with a gun and opened fire on those inside. Her longtime friend from high school was also shot but survived her injuries. The SGN has decided not to release her name.

The Seattle Police Department released audio of a 911 call from Valencia's friend from inside the car. "My friend just got shot, me and my friend just got shot," she said. "She got shot in the face, please come, please come... We just got shot. I'm going to die, we're going to die!"

King County Chief Medical Examiner Richard C. Harruff, MD, PhD, told the SGN this week that Valencia died of "homicide" due to "multiple gunshot wounds." Her friend was taken to Harborview Medical Center, where she received treatment for her injuries. According to a GoFundMe announcement by Kerry Troeppl on Facebook, her friend was shot five times, striking her in the wrist, shoulder, back, chest and stomach.

At a briefing on the night of the shooting, the SPD had suggested a possible relationship between the victims and the suspect. However, the department later issued a written correction. "As the investigation has progressed, it now appears that there is no connection between the victims and the suspect," said a statement on the SPD Blotter.

An earlier 911 call by a resident of the apartment complex reported "a man outside in the park" prior to his attack on Valencia and her friend. Gunfire can be heard on the recording. "I think he's... shooting. I see the gun in his hand."

Taylor himself was shot and killed by responding SPD officers during a confrontation with police just moments following his rampage through the parking lot and neighboring Jimi Hendrix Park. An investigation into the deadly use of force is being conducted by the SPD's Force Investigation Team (FIT), with oversight from the Office of Professional Accountability and the Office of the Inspector General.

Residents of the Village Apartments have reported previous concerns about Taylor, who had resided on the property and did property maintenance. The apartments were developed by the Urban League of Metropolitan Seattle, but Coast Property Management manages the building.

"We follow our prescribed procedures for addressing any resident actions that violate our community standards," said Susan Pickering, chief operating officer of Coast Property Management in a public statement. "Those procedures include alerting building ownership and law enforcement when necessary. We are cooperating with the Seattle Police Department to assist in the investigation of this issue."

The SPD has released few details about the events of February 9, except to provide officer-worn body camera footage and private surveillance video.

"The investigations are still active and ongoing," a spokesperson for the SPD told the SGN. "FIT and homicide detectives are still actively investigating, so we are limited in what information we can release."

Quiamas said the family has a lot of unanswered questions. "The police aren't telling us anything right now, but I think it's probably their process or protocol they have to follow," he concluded. "I just wish I had some more answers to be a little bit more at ease. I know they're coming, and I'll have the answers soon enough. We just have to be patient."

He added that the constant media coverage of his cousin and the video that has been released by the SPD has been difficult to watch. "I think the hardest part was hearing the 911 phone call from her friend. It was just really hard," he said. "The video too was hard to watch. I hoped it would give me some closure. It didn't."

Valencia had started winter quarter of college to study veterinary medicine and was preparing to move to Bellevue to try life out on her own in the days leading up to her death, according to her cousin. "She had already packed up everything she was going to take and was ready for the road trip. She was ready to start her life and start enjoying herself," he said. "She was finally ready to live life. It is really tragic that this happened, because I knew that her life was going to be beautiful."

Quiamas said her death hit him hard because he saw her as a role model growing up. He remembered that she first came out to him in 2014 while on vacation in the Philippines.

"She was talking about how she was kissing her girlfriend," he explained. "I was nine at the time... I was shocked, but it never really mattered to me because she's still my big cousin; she's always looking out for me.

"She was authentically herself, and she always encouraged me if I wanted to paint my nails or wear girly things. She just wanted me to be happy and to be myself. She is one of my heroes because of it."

He added that Velencia looked forward to Pride each year, until the COVID-19 pandemic put a halt to in-person festivities.

Her cousin described their family as being close knit, where cousins spent time at each other's homes and gathered at grandma's house on holidays. He adds that Valencia leaves behind two brothers and a sister on her mom's side and two brothers and a sister on her dad's side. Only two are older, and the younger siblings are having a hard time adjusting to her death.

"She was just really caring. She was always trying to do nice things for people," said Quiamas. "She was just always smiling. You know? She just loved laughing - even if it was a bad situation... She just always had a positive outlook."

A GoFundMe for Valencia's funeral expenses had raised $10,000 toward a $15,000 goal as of Wednesday evening. The description says funds are being raised so that "funeral expenses are not even a thought for her family" and remembered Valencia as a special person who "knew exactly how to engrave a special place in your heart without even realizing it." To donate, visit https://gofund.me/743332c4.