History: On repeat
February 15, 2021 | Janice Athill - SGN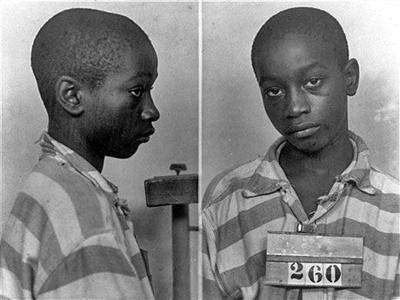 Our school system's history books have had a way of honoring our nation's triumphs while excluding its biggest mistakes. If you factor in how many times quotes like "Those who cannot remember the past are condemned to repeat it" circulate, you would think the inclusion of such mistakes would be a necessary criterion for history books. Without proper documentation of past mistakes, how can you learn?

The United States has a long history of police brutality and unprovoked violence from white civilians taking the law into their own hands. The habit our nation has of hiding its disgraces in plain sight has led to the sickening repetition of history.

One of our country's biggest legal mistakes led to the execution of a 14-year-old Black boy named George Stinney Jr., the youngest person to be executed in the 20th century. His rights as a human and American citizen were violated beyond belief. The police and legal system took advantage of his accessibility and youth in one of the most disgraceful displays of "justice" in American history.

After the murder of two white girls, Betty Binnicker, 11, and Mary Thames, 7, the community and police were more concerned with having someone to blame than catching the criminal responsible. George was home in Alcolu, South Carolina, with his younger sister Aime and older stepbrother Johnny (his parents weren't home) when white police officers came and took the two boys. They released Johnny but accused George of capital murder in March of 1944.

George was questioned without his parents or an attorney present, and the only evidence pointng toward his guilt was a confession handwritten by the arresting officer.

Unchecked racism polluted society. George was tried by an all-white jury, who spent less than ten minutes deliberating the "facts" before deciding he was guilty. A mob of 1,500 white anarchists surrounding the courthouse ensured a swift conviction of an innocent child. While witnesses watched a young boy sitting on a stack of books, awaiting the death mask of the electric chair, their reckless disregard for his life set a precedent for the treatment of black boys and men around the country.

Eleven years later, another 14-year-old boy, named Emmett Till, from Chicago, was brutally murdered by two white men in Money, Mississippi. This young Black boy allegedly flirted with a white woman days before his murder. His cousins witnessed him go into the store where she worked. He bought some candy and they heard him say, "Bye, baby" on his way out.

A few days later, Carolyn Bryant told a different story, which would lead to her husband Roy Bryant and brother J.W. Milam to kidnap Emmett. They used barbed wire to tie a cotton gin fan to his body and stripped him of his clothes at the Tallahatchie River. The two men beat him within an inch of his life, gouged out his eyes, and shot him in the head. They then tossed his body into the river, where it would be found bloated and decomposing.

After seeing what racist murderers did to her child, his mother Mamie Bradley decided on an open-casket funeral, which helped give her case national coverage.

Despite collective outrage, the trial that took place two weeks after Emmett's burial was once again a disgrace. When the two men couldn't afford legal representation, five local lawyers took their case pro bono. Carolyn claimed that Emmett had grabbed her and made sexual advances, a lie she is said to have later recanted.

Although a witness positively identified Roy Bryant and J.W. Milam as Emmett's killers, the all-white jury delivered a "not guilty" verdict in less than an hour. They claimed that the state failed to prove the identity of the body, which was found wearing the ring Emmett got from his father, with his own initials on it. Milam and Bryant were also acquitted of the separate charge of kidnapping, despite witnesses to that crime as well.

Many say that Emmett Till's death was crucial to our country's civil rights movement. It's just a shame that this part of history keeps repeating itself.

In 2012 a 17-year-old Black boy named Trayvon Martin was fatally shot by 28-year-old George Zimmerman. Although the young man was unarmed and minding his own business when he was shot, the trial still ended with a not-guilty verdict. More recently, in 2020, George Floyd was murdered at the hands of several police officers, while witnesses watched and recorded the scene.

These deaths have an uncanny resemblance to the those of George Stinney and Emmett Till, The details that make the stories different are easily countered by the identical, blatant disregard for a Black person's life.

The same way future leaders are taught the effects of radiation after a nuclear bomb, these poisonous events from our past should be discussed regularly and transparently as a way of educating future civilians on the type of behavior racism breeds into society.