Transgender cousin of Jacob Blake receives anti-LGBT threats
September 1, 2020 | Renee Raketty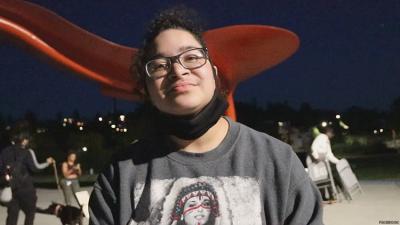 It was difficult enough for Elliot Chafetz, 20, to tell his own family he was not only Transgender but Gay as well. However, Chafetz found himself thrust before the public eye when his cousin, Jacob Blake, was shot at seven times and hit in the back four times by a Kenosha, Wisconsin, police officer, paralyzing him from the waist down. The media had come knocking, literally, outside his Seattle-area home.

His mom, the sister of Jacob Blake's father, has been outspoken about the violence that has befallen her nephew and his children, three of which had witnessed the shooting. Chafetz accompanied his mom for a press conference outside the Seattle City Hall on August 27. He addressed the assembled crowd, introducing himself as "a trans male living in the world today."

Once he returned home, Chafetz sat down to watch his remarks which were streamed by several Seattle area media outlets, including KOMO TV and KUOW radio. He was stunned by what he read in the comments.

"A lot of people, immediately — when I introduced myself as a Trans male — said, 'Trans male? What the f*ck is that? There is no such thing. No one is ever truthful when saying they are Trans,' stuff like that," he recalled.

He was also intentionally misgendered by viewers in the comments. "Throughout the rest of the comments, I got one or two [people] calling me "he" and the rest of them where, "She doesn't know what she's talking about"; "Who is this girl?"

Chafetz spoke to the Seattle Gay News at a community healing event in support of Black lives at Jimi Hendrix Park in Seattle on August 28. His mother, Nicki Blake Chafetz, who was standing next to her son, stepped in to add that "there were violent comments, too." A review of streaming comments revealed this to be true.

On one stream by KUOW, one person commented: "I wish he was protesting near my house." On KOMO TV, another wrote, "I'd kick him in the nuts," while still another said: "Wait til they outside their house!"

"Honestly, I know my mom — it affects her very deeply. I know that for a fact," Chafetz explained. "My instinct when I saw these comments was not doubt for myself but doubt for the nation because I really don't know how I'm going to educate these people. I don't know how to tell them that this is what a Trans man is over the internet because there is no way I can educate them — that to them would not sound like me enforcing my agenda.

"I know for a fact that these people are going to keep saying what they are going to say, but they are on the wrong side of history. We have a message that we are going to spread regardless of the hate we are going up against. We know that they are going to spread hate. Personally, you can think whatever you like about me, but don't talk bad about my cousin."

Cellphone video of Kenosha Police Officer Rusten Sheskey shooting Blake, 29, while holding onto his shirt as he leaned into his vehicle has been shared widely over the internet and led to riots in cities across America, including here in Seattle. The family has strongly disputed the police's version of events and alleged members of the media have sought to smear their relative's name.

Chafetz encourages others to join in the effort to end police brutality and promote racial equity. "There are several ways to get involved," he said. "Even if you don't want to get involved in physical protests for fear that it could get violent or for fear that it could turn into a riot; you can still reblog posts. You can still post on Instagram or Snapchat or anything that you have and spread the message that Black Trans lives do matter; that Jacob Blake was shot seven times in the back and he deserves a voice."