Proud Boys Terrorize Capitol Hill
July 1, 2020 | Renee Raketty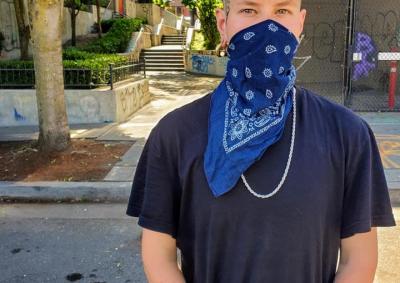 An alert on Twitter, a share to Facebook and a post to Instagram is how many in Seattle came to be aware of an alleged abduction by members of the Proud Boys, a far-right neo-fascist organization that has been labeled a "hate group" by the Southern Poverty Law Center. The social media posts stated that a six-foot transgender woman with a thick-build; blonde hair with loose shoulder length curls; and wearing a blue shirt and jeans had been abducted during the early morning hours on June 23rd outside the Capitol Hill Organized Protest (CHOP). However, Kozee Moe didn't have to read about it because he was there.

Moe, who describes himself as a woman who uses he/him pronouns, says he's haunted by what he saw that day at approximately 3 a.m. He said he was riding his friend's bike down Nagle Place, a short road that borders Cal Anderson Park, when he came across three "white looking" men attempting to get a woman into their van across the street from the basketball courts. Although she appeared to be intoxicated, he said she resisted.

"The girl did not look like she knew any of them. She looked like she might have just met them," recounted Moe. "She looked like she was not here [mentally] at that moment and didn't realize what was happening. She definitely did not like them putting their hands on her."

Moe says he acted immediately. "I got off my bike and ran up and tried to grab for her because I knew this situation was not supposed to happen," he explained. "The first time they shoved me back. I was yelling [for help] the whole time.

"They tried to grab me and that is when I decided to grab my bike and run... I am really sad because I feel like there is something more I should have done... I could have thrown my bike in front of the van or something... I need that woman to be found because she is on my mind since this happened."

He added that he agreed with the description of the victim posted online but adds he was "pretty sure" she was a cis woman. He also stated that he recalled that she may be wearing white converse-type shoes. "I've never seen the woman before in my life until the situation happened," he said. "People have been asking me if she is Trans or cis, I feel she is more 'like' cis but... she could be either or. Of course, she is not around for me to ask."

Moe said after watching the van drive south on Nagle Place toward E Pine St., he reported it to the security at CHOP. He explained that they had been unable to hear his pleas because they were "down by the playfield helping a woman and her son."

The Seattle Gay News spoke with a woman who was on-duty patrolling the CHOP that night. She asked the SGN to conceal her last name out of concern for her family's safety. She described the area where the abduction may have occurred as "more isolated" and added that "many protesters have relocated away from it..." due to recent violence. Lauren says she took a CHOP report of the incident from Moe that day.

She recalled Moe as having been traumatized by what he saw. "What I witnessed, in taking his account, was a person going through what I'd be feeling if I'd just tried to prevent an abduction and almost had been taken myself," she said. "Fear, powerlessness, rage — in a rapid cycle... I believe him."

Lauren said that she convinced Moe to speak with police in the "off chance that they might try and save the woman." However, they both describe an ordeal that resulted in a police report not being taken for more than 12 hours.

"The dispatcher instructed us to meet the SPD at 12th Ave. and E Howell St.," she said. "I waited two and a half hours and they never arrived to take the report."

Moe agreed, saying that he waited 40 minutes before going to his tent. He has been taking part in the Black Lives Matter protests for more than 17 days prior to that morning, going home only to shower and care for his cats. Lauren offered to call him back once police arrived. However, Moe grew increasingly concerned that the woman could be the victim of human trafficking and spoke to one of his friends who was an organizer at the CHOP.

"He had a detective on his speed dial for some other things that were going on," he said. "I spoke to the detective and gave him all the details that I could. I would like the police to look into more of this... I will testify in court against them."

Over a week after the alleged abduction, the SPD admits they are struggling to determine what happened. "The Seattle Police Department has received a secondhand report of an abduction or attempted abduction in the CHOP-area on June 23rd," a spokesperson for the SPD told the SGN this week. "A detective has interviewed potential witnesses and is reviewing [the] information provided to police. At this time, SPD has been unable to confirm any abduction occurred..."

Lauren stated that Moe's description matched those of known members of the Proud Boys who had been seen in the CHOP. She said that when he was shown a video of a beating on June 15th, he positively identified at least one of the men. "We knew it was 'Tiny' because he was wearing the same distinct 49ers jacket; met the physical description of him; and the van [matched]," she said. "[Tusitala] 'Tiny' Toese has been captured on video assaulting someone who filmed him — in violation of his probation. He now has an active warrant."

The SGN has learned that Toese has since been picked up in Multnomah County, Oregon, on a parole violation as a result of the earlier Capitol Hill assault.

In addition to the June 15th video, which was uploaded to Twitter, the victim had also described what happened to him in a second video. He stated that he had been following and filming the Proud Boys on his cell phone as they left the CHOP. He stated that he took pictures of a white male and female who were driving a car with no plates and he continued to follow the other members of the Proud Boys further north.

"Some of them stopped at a bus stop and . . . more kept walking. They had a white minivan, like a Ford Windstar, parked. It had its plates removed too," the victim recounted. "The back seats were out and there was a lot of stuff in the back. When I started getting closer, that is when they got aggressive. Up until that point I could just follow a half block away.

"I never struck a blow even after they started hitting me. There was the guy in the Mexican poncho. He struck first. There was the guy with the mustache and the gun in his holster. He was striking me. There were a couple people in the car. Some may have gotten out.

"The guy with the Proud Boys jacket and with his face exposed; he pulled a police baton out on me, which may or may not have been the cause of this (pointing to a welt forming on his forehead). It might have been a fist, I'm not sure. Their [modus operandi] was to knock me around a bit, get my phone — steal the phone — so I couldn't get any footage."

Moe says he thinks his identification of those in the video should be enough information to make an arrest. "Since we actually have positive identifications of the perpetrators, I would like them to be picked up immediately — if they are by themselves. If they are working with someone else, I would like both of those groups to be taken in," he said.

A shooting victim also cited the Proud Boys as possibly being behind an attempted murder. DeJuan Young told KIRO 7 News' Deborah Horne during an interview from his hospital bed last week that he was walking near 11th Ave. and E Pike St. when a group of men approached him. They allegedly uttered a racial slur before they fired upon him.

"So basically I was shot by, I'm not sure if they're Proud Boys or KKK," said Young. "But the verbiage that they said was hold this 'N*gg*r' and shot me."

Young added that the blast from the first shot pushed him onto the hood of a nearby car before they took aim and shot him again. "And they stood over top of me and continued to fire," he said. "I tried to protect myself and got shot in the arm. And they got away."

CHOP volunteer medics cared for Young and transported him in a private vehicle to Harborview Medical Center one mile away. The SGN could not reach Young for comment by press time.

The SPD provided a written statement to the SGN about the shooting. They wrote that the SPD are "working diligently on this investigation." They add that they have also brought in their Bias Crimes Coordinator to assist homicide detectives in looking for video; searching for witnesses; and following-up on tips to solve the crime.

The SPD said they continue to investigate these incidents and asked the public to come forward with any new information. The SPD's violent crimes tip line can be reached at 206-233-5000.