A TWO Production Farewell to Seattle from the award-winning artist, Sara Porkalob kicks off 2022 at Nordo
December 9, 2021 | Press Release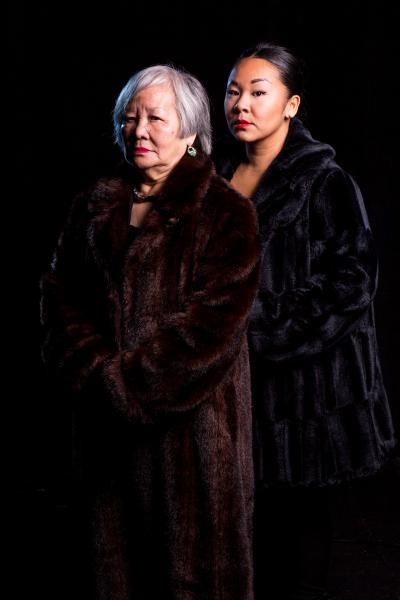 Seattle, WA (Wednesday, December 8th, 2021) ­— Nordo is delighted to jumpstart 2022 with not just one show from Seattle luminary and award-winning artist Sara Porkalob, but two! As a farewell gift to Seattle, as Porkalob leaves to perform on Broadway, running in repertory are parts one and two of Porkalob's Dragon Cycle Trilogy. The engagement begins with the Seattle premiere of "Dragon Mama" on January 21st — February 13th, followed by "Dragon Lady" on February 11th — February 27th. Tickets are available now.

"Extraordinary. An amazing piece of theater... taking you from the depths of poignancy to the heights of hilarity," said reporter Jared Bowen of WGBH after a performance of Dragon Cycle in 2018. "I was mesmerized. Stop what you are doing and get your tickets now."

Unlike Nordo's signature immersive events, the Dragon Cycle will not include a meal service during the show. Instead, patrons have the choice to add to their experience for a pre-show menu of Filipino cuisine, created by The New York Times restaurant list for 2021, Chef Aaron Verzosa of Archipelago. Dinner will be served in Nordo's second venue, The Knife Room, adjacent to The Culinarium. Beverages will be available pre-show and at intermission.

PRODUCTIONS

Seattle Premiere "Dragon Mama"
January 21st — February 13th

How does a Dragon earn her wings? Maria Porkalob, Jr., yearns for a gayer, more POC-filled life than Bremerton, WA, can offer. When presented with an opportunity to make a quick fortune, Maria must make an important decision: leave her debt-ridden mother, four young siblings, and newborn daughter Sara for the wild unknown of Alaska, or stay close to home, family, and intergenerational trauma. Traversing 25 years filled with queer love in a barren land, Dragon Mama features ghosts, Filipino gangsters, and a dope '80s and '90s soundtrack.

"Dragon Lady"
February 11th — February 27th

It is the year of the Water Dragon and the eve of Grandma Maria's 60th birthday. By the light of the karaoke machine, fueled by pork dumplings and Diet Pepsi, she shares a dark secret from her Filipino gangster past with one lucky grandchild. Traversing 50 years of faulty family memories, this timely new musical is about what it means to come to America. The Seattle Times calls Dragon Lady "Commanding and irresistible...a fierce and vibrant memoir."

PRODUCTION TEAM

Director — Andrew Russell
Sound - Erin Bednarz
Lights — Christopher Mumaw
Set — Terry Podgorski
Props & Costumes — Sara Porkalob

MUSICIANS
Composer, Band Leader, Guitar — Pete Irving
Bass — Mickey Stylin'
Trombone — Jimmy Austin
TICKETS
Single performance-only tickets start at $50*A selection of community tickets are available for each performance at $25 to decrease the barrier for attendance and make art more accessible

Upgrade your experience with a pre-show tasting menu starting at $115
*sit down to a multi-course Filipino meal created by Aaron Verzosa of Archipelago, served in The Knife Room at Nordo before the performance. Dinner is not available for all performances; see availability online.

Beverages are available for purchase pre-show and at intermission.

WHERE
The Culinarium at Nordo
109 South Main Street
Seattle, WA 98104

The Knife Room at Nordo
103 South Main Street
Seattle, WA 98104

WHEN
January 21st — February 27th, 2022

COVID policies are subject to change. Our most current policies or COVID related information can be found here >>

PHOTOS
Visit Nordo's Press Room >>

SOCIAL
www.cafenordo.com
Facebook Page
Instagram - @cafenordo
YouTube Channel
#CafeNordo

About Nordo
Nordo is committed to creating new worlds of flavor and story for Seattle audiences. Since its inception in 2009, their immersive theatrical productions have garnered critical praise and a loyal member base that has grown exponentially over time as they find a home in Seattle's historic Pioneer Square at The Culinarium (2015) and The Knife Room (2019). Fusing five senses through intriguing design elements, soundscapes, and scent profiles while dining in a performer-interactive environment with show-themed cocktails and mind-bending cuisine is at the center of this ever-expanding concept.

In the last 20 months, Nordo has done what they do best — reinvent. As venues shuttered worldwide, Nordo rose to the occasion with a 180-degree shift to serve up the fun during quarantine in various ways. One of which is their Room Service boxes, an at-home blend of interactive story and cuisine, now served to homes across the country.