SMC is Back, Live! While 'Motown and More' Really 'Moved'.
March 21, 2022 | MK Scott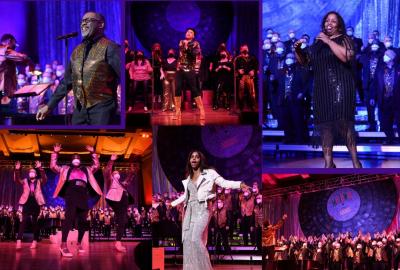 Hard to fathom that it had been 27 months since I had last seen SMC (Seattle Men's Chorus) perform live onstage. With COVID still being the issue, masks for the audience, dancers and the chorus (minus the Mother/Daughter guest artists and soloists) was a great effort from the chorus leadership.

Breathing in a mask is difficult for some people, but added with singing and dancing is a whole lot of breathing training. It also looked like the chorus had to downsize by 30% to reduce the amount on people on stage.

Conductor, Paul Caldwell was decked out with a golden jacket and matching shoes, while the chorus looked smashing in golden sequined vests.

With the theme of 'Motown and More', it captured the essence of the era with a Disc Jockey in the form of Seattle theater actress, Alexandria Henderson introducing the hits.

Act One consisted of Three songs from Diana Ross '(Home', 'Reach out and touch and Ain't No Mountain'), and ONE song each from Marvin Gaye ('I heard it through the grapevine'), The Temptations ('My Girl'), Mary Wells '(My Guy'), Gladys Knight ('Midnight Train to Georgia'), The Commodores ('Still'), Stevie Wonder ('Sir Duke') and Smokey Robinson ('The Tracks of my Tears').

Great solo work from guest artist, Robin Henderson on Gladys Knights' 'Midnight Train to Georgia'

Diana Ross' 'Ain't No Mountain High Enough' was the Act One finale with each member with pompoms as the highlight.

Act Two consisted of two songs each from Aretha Franklin ('Respect' and 'Think'), Martha and the Vandellas ('Heatwave', and 'Dancing in the street') and the Jacksons ('I want you back' and 'Blame it on the Boogie'), and ONE song each from, The Marvellettes ('Please Mr. Postman'), Diana Ross ('Do you Know?') and Marvin Gaye ('What's going on?').

'One Night Only' from DREAMGIRLS wasn't Motown, but from a show that that was inspired by Motown.

Incredible solo work from Alexandria Henderson for 'Please Mr. Postman' and kudos to our favorite SMC soloist, Rene Salinas for his solo work on 'Respect' and 'Blame it on the Boogie'.

The finale featured Aretha Franklin's 'Think' from the film, THE BLUES BROTHERS, with lookalikes dancing on the stage and solo work again by Robin Henderson.

As usual the set direction was mediocre with a large 45" record on the wall with 'Motown and More' completely unreadable to the audience.

All in all is was great to see them again, and can't wait for the Pride concert in June.