CD Review: Debbie Gibson, The Body Remembers
January 27, 2022 | Boy Mike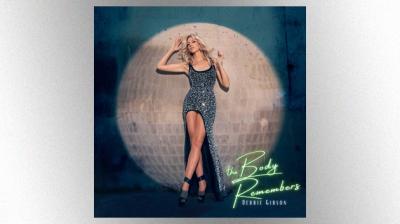 The queen of '80s pop is back with her first album of original material since 2001's M.Y.O.B. In The Body Remembers, a generous 15-track CD on Debbie Gibson's own label, Stargirl Records, she proves why she's sold over 16 million records in her long career. (Can you believe she turned 50 this year?)

She stepped one foot into the future while keeping the other foot planted firmly in the past. This CD was a labor of love for her fans that have waited two decades for this new music. They won't be disappointed.

It's really not like anything she's ever done before. Her songwriting and production skills have improved and modernized during her musical hiatus, yet the album still pays homage to her past. It's mostly a get-up-and-dance outing, with a couple of ballads thrown in for good measure, but it really runs the gamut, experimenting both vocally and musically. (It's interesting to note that all of the songs have cold endings, with no fade-outs.) It's really not like anything she's ever done before.

Debbie is the queen of catchy melodies on dance floor, with stompers such as the latest single "One Step Closer," which is climbing the charts as we speak!


Other energetic dance tracks include "The Body Remembers," "Dance4You," "What Are We Gonna Do," "LoveU2much," and "Freedom," featuring Ashba. "Girls Night Out," is a party anthem for the ladies that made it to #4 on the Billboard Dance Charts. She even tries a verse of spoken word during the ballad "Strings." New Kids on the Block's Joey McIntyre duets with her on an updated version of her 1989 number one smash, "Lost in Your Eyes."

Debbie told me, "These songs reflect a lot of life lived over the past two decades and my intense energy that got me through the pandemic. I absolutely cannot wait for my diehard audience, as well as new fans, to hear this body of work that I poured my heart into."

I asked her how important her gay fan base is to her and she replied, "Oh my god, without my gay audience, I would not have the same career! I am eternally grateful for their loyalty and love!"

With a Las Vegas stint with McIntyre under her belt, I asked her what her favorite songs to perform were. She told me, "This is like picking your favorite child! Hmmm, it varies daily. So today I'd say 'Electric Youth' because it really is about the spirit of being young. 'Foolish Beat' is also timeless for me!"

Look for Debbie to tour in support of this new album over the next two years!

For more information on Debbie Gibson or to order her CD The Body Remembers go to debbiegibsonofficial.com.