Seattle Women's Chorus continues their reign with "Revolution 2020"
February 12, 2020 | MK Scott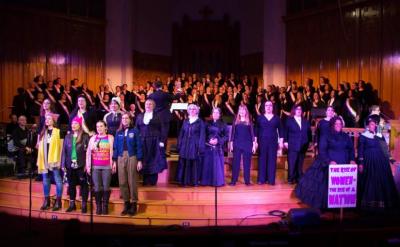 After attending my first Seattle Women's Chorus (SWC) concert in years in spring 2019 — the incredible "Legends of Rock" concert — I could not wait to see the women again. The Seattle Men's Chorus (SMC) has unfortunately been lacking creatively in the last four years, but the Women's Chorus rocks it every time, with performances both powerful and passionate. So I happily attended their one-night performance at the Federal Way Performing Arts and Event Center on Saturday, February 8 (following three other performances at Seattle First Baptist Church the previous weekend).

Act 1 stayed on theme with the Beatles classic "Revolution" and Bob Dylan's "Paths of Victory."

Then more liberation selections followed — "Vote for Sister Rhythm" and "Standing on the Shoulders" — concluding with a powerful medley of spoken word and songs: "Lift as We Climb," a new commission by Joan Szymiko, inspired by the words of suffragist Mary Church Terrell, a charter member of the NAACP. "We Shake We Shine" (part of "Lift"), with a solo by Victoria Williams, left a lasting impression in particular. A few chorus members also came dressed like early women's suffrage activists: Susan B. Anthony, Carrie Chapman Catt, and so on.

Act 2 shifted gears, with selections by the all-female a cappella group A Cappella Joy, directed by the SWC's new assistant conductor, Nikki Blackmer. These included a barbershop version of Justin Timberlake's "Dance, Dance, Dance" and ended with Aerosmith's "I Don't Want to Miss a Thing."

After that, the chorus returned with "Vote for Me," Bob Marley's "Redemption Song," and Gold" (from Camille Claudel).

The show ended with the hopeful "What Happens When a Woman Takes Power" and John Mellencamp's fun "R.O.C.K. in the USA."

I felt that the performance was dynamic and relatable. It acknowledged there were difficulties, but also showed they've been overcome in the past and will be overcome in the present. The acting parts were amazingly convincing and showed that we're all in this together in spite of our differences — that variety of people and culture is an asset.

With both SWC and SMC led by Paul Caldwell, it would be great to see the men be this good again, with balance, theme, and better song selection, and get back to the basics of creating unity through the power of music. Let's hope that the men come back in March with their own "Revolution" in "Love Beyond Borders."