A wild night with the women who rock — Heart, Joan Jett (w/special guest, Elle King) shake the Tacoma Dome
September 6, 2019 | MK Scott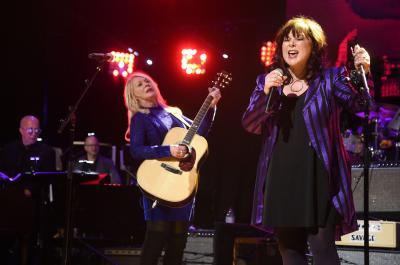 It was a cloudy Wednesday evening at the Tacoma Dome on September 4th. This being my third concert in three weeks, I was prepared to listen to three acts in one night.

Elle King, whom I kind of heard of, but wasn't sure, came out precisely at 7pm. Her sound was a mix of country and rock-a-billy with 'Baby Outlaw', 'Good for Nothin' Woman', and 'Down the Mountain'.

King, 30, then sang the Stevie Nicks/Tom Petty classic, 'Stop Draggin' My Heart Around' and her biggest hit that I actually have heard of, 'Ex's & Oh's'. Later, I checked the video on YouTube and found it to be extremely homoerotic, funny and entertaining. Hearing King live was a surprise, and an enjoyable experience.

After a brief set change, Joan Jett (with the BlackHearts) came out wearing her iconic black leather jacket to perform 'Cherry Bomb' (from her days with The Runaways), then came 'Do You Wanna Touch Me (Oh Yeah)' when a woman from the audience climbed up onto the stage and put her head on Joan's shoulder until a security guard whisked her off the stage. It could have been staged or actually real, but regardless, Jett, 60, continued with the performance and was flawless.

Other songs in Jett's set included the hits with 'Bad Reputation', 'You Drive Me Wild (The Runaways cover)', and 'Light of Day' from the 1987 film (of the same name) she made with Michael J. Fox.

Jett credited Ann and Nancy Wilson (of Heart) for making it possible for a hard rock band (The Blackhearts) to be fronted by a woman. For those who didn't support them, she sang about them in 'Fake Friends'.

More hits came with 'I Love Rock 'n' Roll', 'Crimson & Clover' and 'I Hate Myself for Loving You', and an encore that ended with 'Everyday People' (the Sly & the Family Stone hit).

This was the second time I had seen Jett and the Blackhearts, the first time was in 2012 at Snoqualmie Casino. Joan Jett is still a powerhouse.

After a quick set change, the third and final group for the night was Heart with Bellevue-bred sisters Ann Wilson, 69, and Nancy Wilson, 65. They began with 'Rockin' Heaven Down', and 'Magic Man'.

The mashup of 'I Heard It Through the Grapevine / Straight On' was clever while Nancy showed off her vocal range with 'The Boxer' (the Simon & Garfunkel song ) and 'These Dreams'.

Ann came back as lead with the always haunting, 'Dog & Butterfly' along with 'What About Love', 'Mistral Wind', and 'Crazy on You' (with Nancy's iconic acoustic guitar intro).

Their encore concluded with an amazing 'Stairway to Heaven' (by Led Zeppelin), 'Alone' and the thunderous classic, 'Barracuda'.

Even though two of their classics 'Never' and 'If Looks Could Kill' weren't included, the show was completed with a laser light show, which explained why there were no projection screens.

The combo of King, Jett and Heart brought a multi-generational crowd of mostly women (with some men) with ages ranging from their 30's to their 70's. This was clearly a show for the ladies to go wild.