Doomed and Famous: Selected Obituaries
April 8, 2021 | Terri Schlichenmeyer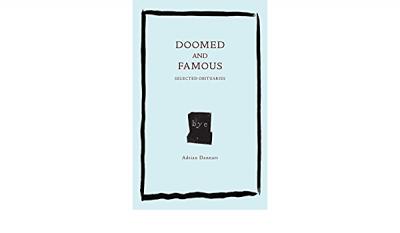 In the beginning, people said all kinds of good things about you.

You were sweet, a chip off the old block, you looked like your mommy, you were an adorable baby. Those niceties tapered off eventually, but that's to be expected: nobody is beloved forever. Even so, as you read Doomed and Famous: Selected Obituaries by Adrian Dannatt, you'll wonder what they'd say about you now.

For most of his life, Adrian Dannatt was fascinated by death - but not in a morbid, funereal way. He was interested in collecting stories of people who died knowing what they'd done with their lives. He spoke with everyone, because he never knew where the next great tale might be found; graveyards and tombstones were particularly good places to find mysteries, he says.

This lifelong interest in death led him to write obituaries.

These aren't the just-the-facts kind of obits. Dannatt wanted to share the essence of the people he spoke with. He wanted to memorialize real humans, such as the man who was sure he'd landed the main part in Taxi Driver until he met a young De Niro on his way out the door. Dannatt also wanted to remember the many friends who died of AIDS or suicide, as well as the very elderly mother-daughter duo who died a day apart.

Then there was Barbara McLean, actress, film editor, and winner of seven Oscars. There was the man about whom the Beatles wrote their hit song "Paperback Writer." There was lighting designer Abe Feder, who, Dannatt is sure, gives God advice on his thunderstorms. There's an obituary for the great-granddaughter of the founder of the Chicago Tribune, filled with thrills, chases, and family scandal.

Dannatt memorializes the man who photographed Marilyn Monroe in the subway. He tells of an actor who appeared in over thirty movies, but whose name you probably won't recognize. He remembers the only artist to have died at the Twin Towers on 9/11. And he offers his own very premature obituary, just in case...

Though it may seem odd to say this about a collection of obits, Doomed and Famous is kind of fun, in the same vein as reading the obituary page in an out-of-town newspaper is. You never know what you're going to find, but...

But authors are told to "write what you know," and Dannatt knows art, so this book is heavy in that category. It isn't overwhelming, but you'll notice it, even though there's otherwise a broad mix of people to keep things interesting. American readers should also note that this book contains the keenly sarcastic wit and drolly ornate phrasing you'd expect from a British author, which isn't for everybody.

Gentle semi-warnings aside, though, you'll be charmed by an author who seeks out everyday folks, calling them "my people," and reveling in even the tiniest tale. You have to love a book that celebrates the forgotten, so find Doomed and Famous and browse. You'll be glad you did, in the end.