Mo Rocca Talks MObituaries and More!
November 8, 2019 | MK Scott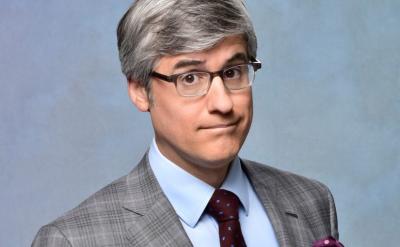 Mo Rocca has always loved obituaries. He has relished the chance to read about the remarkable lives of world leaders, captains of industry, innovators and artists. But according to Mo, not every notable life has gotten the sendoff it deserves. He sets out to right that wrong with Mobituaries, his book profiling the people who have long fascinated him — from the 20th century's greatest entertainer to a forgotten Founding Father to sitcom characters gone all too soon.

Mo shares the stories of the people who made a difference, but whose lives -for some reason or another — were never truly examined. Rocca offers us an insightful and unconventional account, in his new book, of the people who made life worth living for the rest of us, bringing these men and women back to life like no one else can. I had met Rocca in Philadelphia in 2017 and we became instant soulmate and after 2 years, it continued as we chatted by phone this past week.

MK Scott: We are looking forward to seeing you in Seattle on Tuesday, November 12th, at the newly refurbished Town Hall. It took at least a year, two years, of where they were doing it in different places all over town while they were taking this big huge beautiful hall and totally refurbished it.

Mo Rocca: You should know that I told them I am not appearing there unless it's refurbished. So all of Seattle can thank me — for being the reason that it was being refurbished, or had been refurbished.

MK: Excellent. And so I'm also a big fan of your series Obituaries. Which is now a book. How did the series and book come about?

Rocca: So, all right, so my father loved the obituaries. And it was his favorite section of the newspaper. And I think what he loved is the sweep and the drama of them. He had a real sense of the romance of life. And I don't mean that in a cute ironic way, since we're talking about obituaries. Because a good obituary really is about the life of somebody, not the death of somebody, and so I kind of think a great obituary is kind of a mov — a trailer for an Oscar winning biopic, like a movie trailer for a sweeping, you know, Oscar winning biopic. And having been on Sunday mornings, 'CBS Sunday Morning', for 13 years I've come to love doing profiles of people, famous and not famous, alive and dead. And that's really what an obituary is. And a Mobituary is my way of telling a story of a person or thing, like you can get the sendoff you deserve the first time, or really any sendoff at all.

So that's why I have a Mobituary on a station wagon, but also on the presidency of Hubert Hoover who was known as a great humanitarian before he was unfairly blamed for, mostly blamed for the Depression. You know, I wanted to do Farrah Fawcett because she died on the same day as Michael Jackson, and I don't think got the sendoff she deserved. So, and for fashions, like the cod piece, or the corset, or something called the hobble skirt. So, you know, I wanted to do death of diagnosis. Like the death, if you will, of the diagnosis of homosexuality is a mental illness till 1974 — it was in the PSM the diagnostic, the statistical manual, which was a catalog of mental illnesses. So, I mean, it's a great fun and very flexible form to play with, there's everything, every person has a beginning, a life and eventually demise.

MK: Wow. And you said that you had gotten, which is actually, I think you've already expanded to this one question; what do you find — okay, you said & what do you find fascinating about obituaries? And I think you had said, because of the fact that it's a celebration of life.

Rocca: Yeah, I think so. Hey, look, it's the most purely narrative form of journalism. Like the most consistently and purely narrative form. You're telling someone's story. And, you know, I think we're all hardwired as human beings to be interested in hearing someone else's story. And, you know, it could be for different reasons. I think sometimes you want to hear someone's story because you're looking for a point of connection. Maybe you're looking to even subconsciously ruminate, you know, reflect on the choices you make in life. Like, you know; oh, I had done what that person did when she was 37, or what he did when he was 52. I also think you could be, you might read them for competitive reasons.

You know, I think we've all read obituaries and thought; oh, my god, look what this person did by the age of 25, and I've done nothing. You know, you read about somebody like Marvin Hamlisch, or Teddy Roosevelt. And then you go; oh, my gosh, okay, well, he went to prison when he was 52, so I guess I'm doing better than he is. So, you know, but I think we're all drawn to other peoples' stories. I mean it's amazing to me that being an obit writer was for a long time seen as, if you will, a graveyard, like not where you didn't want to be now, the newspapers, you know, the newspapers are going through a rough time, but people clamor to be on the desk. So, yeah, that was really sort of my inspiration.

MK: Out of all the stories in the book, which one did you find the most fascinating?

Rocca: Well, it's hard to say, I mean, there's certainly ones that I — it depends. Some were really surprising to me. Hadrian's Wall. I have a section called Forgotten Forerunners. People that did things early that we've forgotten. So Hadrian was the Roman Emperor, who was the first emperor we know to have a beard, and might I add he was very attractive. And he was gay. And his lover, there are sculptures of him all over Europe. And Hadrian had Hadrian's Wall built, which was a wall that spanned the northern reach of Britannia, which was the northern most province in what is now Britain in the Roman Empire. And anyway, and so this was the inspiration for George R.R. Martin's Wall in 'Game of Thrones.' So that was really interesting to me, you know, that this was what I called Forgotten Forerunner.

I also love the story of Marlene Dietrich as an American patriot. I think people remember her as a great screen star, which she was, and, you know, pushing boundaries. But she was also a fearless patriot. I mean she renounced her German citizenship before Hitler invaded Poland. She had already been helping German/Jewish film technicians, she worked on Escape from Nazi Germany. But then she went to the front, the Western Front, for a year and a half where she performed for the troops and really put herself at risk. I mean, you know, Billy Wilder, the great director, joked that she spent more time at the front than General Eisenhower had. So that was a part of her story that I think has begun to fade from memory.

MK: Okay. And then moving on to 'Sunday Morning.' Do you have a favorite story? Actually, the most recent one that I really, really enjoy and I thought was absolutely hysterical, was the one on Mitzi Gaynor.

Rocca: So Mitzi Gaynor was a lot of fun to do. I have, you know, for the same reason that I love that Lisa Kudrow series, 'The Comeback', I have a real soft spot, a deep affection for the games, and gals that don't give up. And, you know, she's a real old time entertainer, and I admire that. I, look, if somebody wants to stop and retire from the public eye, I respect that certainly, but I think there's something really special about somebody who feels born to perform and gives her all like that. And those TV specials were fantastic that she did. And she really helped give Bob Mackie his start, and he gives her credit for that. And she's a real hustler, a real trooper. I mean she says about herself that she wasn't a great screen star. I think she's a little hard on herself. But she wasn't, you know, she, we all remember South Pacific, but I think she is right, that that wasn't her medium.

But instead of, you know, instead of trying and taking smaller and smaller parts, and sticking around longer, you know, past her sell by date, she went to Vegas. And she became one of the first big Vegas entertainers. And then she did these great TV specials. And she's still going. And I really admire that. And I love Angie Dickenson who blurbed the book. Angie's a fully realized person. She knows who she is. She's been through a lot. She says what she thinks. She doesn't care about people liking her or not. I love Angie, and I, we did have to cut this out, we didn't have time, but I said; how come you were never Hitchcock Blonde? And she said; I know! And she's like; it pissed me off. I wish I was. Well, why wasn't I Hitchcock Blonde? So I kind of loved that about her. But she's a really soulful person, a very special person. She's kind of remarkable. And I know that her comments about Me Too rubbed people the wrong way. But, you know, she was one of Hollywood's great sex symbols. Her point of view matters. She's heard.

MK: Okay. And also on a completely different thing, you are always on Out's Most Eligible Bachelor List. Are you still single?

Rocca: How did that happen? I think they're short staffed there, clearly. No, I'm not single. I've been with my other half, his name is Alberto. He's half Cuban, he's half Chilean. So I like to call him a Cubano, like instead of a Tilano, or a Cubano, he's a Cubano. And we've been together for three and a half years. And he is terrific. And he — listen, he has the patience of a saint, because this podcast and book project, while it's been awfully fulfilling, it is all consuming. I don't know how he's put up with this. But in the book I give him a big juicy dedication at the end and in the acknowledgments. A big shout out in the end.

MK: What is next for you? You know, are you still going to be with 'Sunday Morning'? And still do the podcasts? Is there something that you have not done that you want to do?

Rocca: Well, I want to do more live performance. So the podcasts, we started doing kind of a couple of times, like a live, in front of a live audience, the podcast. I was on Broadway in 2 — I always get this wrong — 2007 or 2008, I think it was 2007 in the 25th Annual Putnam County Spelling Bee. And I'd love to go back to performing live, whether it's Broadway or somewhere else. And my hope is that this project, 'Mobituaries', can kind of involve singing and dancing in front of a live audience. I'm not entirely kidding. So I'd like to do that

MK: And then I have a two-part closing question. On 'Sunday Morning' you went from just doing the humor, the humor op-ed pieces. And then they moved you out into the field to do different stories, and even some hard-hitting stories as well, especially with the Confederate statue piece that was incredible. Now, have you enjoyed the change?

Rocca: I really appreciate you asking this. I have. And I'll tell you, you know, I had a shrink not long ago who told me when I started, when I was figuring out what I wanted to do next. And he said, you know, it's okay to be smart. You don't have to always — there doesn't always be a punchline. There doesn't always have to be a joke. It could just be smart, it could just be intelligent, which is, you know, and & life isn't divided into half-hour sitcoms and hour long dramas. And I actually learned that when I was on the 'Daily Show' from Jon Stewart that the show could go from something hopefully very funny to a really serious interview that he was doing. And I don't, you know, that's what I want to do is do different kinds of stories, sometimes a story on professional cuddlers, which is obviously kind of zany and it's just for laughs for the most part. But then do stories on Confederate statues.

And better yet I like to do stories that seem like they're just going to be funny and goofy but end up being substantive. And vice versa I like to do stories that people think: wow, this is a heavy topic. But then they end up being accessible, maybe even funny. So I really — that's why I love being on 'CBS Sunday Morning' because I don't know where else I'd be able to do all these different kinds of stories. I'm also not interested, frankly, into doing breaking news. So I want to do something that's at least a little bit of time to think about before it goes on the air. I admire the people who do breaking news but that's nothing that I'm interested in. But yeah, so I was happy when I got moved into it. And I have an amazing boss, my executive producer at 'CBS Sunday Morning'. And he told me the same thing my shrink did. I remember once he assigned, he said; do you want to do this story? I can't remember what the topic was, and I thought, oh, I don't know if I could make it funny. And he says, it doesn't have to be. And, so anyway, it's been a good growing experience for me.

MK: Actually, I really, really enjoyed it when actually they gave you the opportunity to actually sub for Jane Pauley.

Rocca: Oh, that's been great. I love that.

MK: And that is; you love obituaries so much. Would you ever want to be an obituary writer for like, The New York Times?

Rocca: I don't know if I'd want to be an obituary writer. You know, I've gotten to know Margalit Fox who is retired from there, who was a brilliant writer, and he is a brilliant writer, but was for The New York Times. Now, I don't know, I kind of like, I like the adventure of figuring out how to memorialize things that ordinarily wouldn't get memorialized. And reassessing people who already were memorialized, so I don't know that I'd want to be an obituary writer.

See Mo Rocca in person on Tuesday, November 12th at 7:30pm (doors at 6:30pm) at Town Hall (1119 8th Avenue). Tickets are $5.00. Visit https://townhallseattle.org/event/mo-rocca/ for tickets and more information.