Rain City Rock Camp changes program name to include all genders
April 13, 2021 | Paige McGlauflin-SGN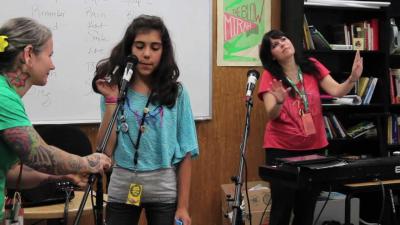 Rain City Rock Camp has formally changed the names of one its programs to be more inclusive of participants that identify beyond the gender binary.

Though all programs were already inclusive of gender-expansive individuals, the camp announced Feb. 17 that its Ladies' Rock Camp would henceforth be called Adult Rock Camp.

"That was the result of many years of having gender-diverse or non-women-identifying participants attending camp, just recognizing it as a space for them to be empowered and safe and supported outside of the mainstream boys' club of the music industry," Iris Pavitt, Rain City's administrative coordinator, told the SGN.

Rain City Rock Camp has been in operation since 2008, providing music education and gender-responsive, socially conscious programming to all participants.

"Music is really the vehicle for social change," Pavitt said. "So much of what we talk about is media impact on self-image, and understanding the music industry through a social justice lens."

The Eastlake-based nonprofit offers six programs, including youth and adult camps, all of which have been gender inclusive since 2017, according to Pavitt. Youth Summer Camp participants are given pronoun buttons to wear for the two-week duration of the program, a practice that Pavitt says encourages them to experiment with and shift their understanding of gender.

"Being very aware of pronouns and respecting a campus gender identity, or something that they're experiencing in a new way, is a really big part of how volunteers and fellow campers can support an individual's learning about gender in our safe and supportive environment," Pavitt said.

The camp's programs have been operated virtually since the beginning of the pandemic and will continue to be virtual through July. Pavitt told the SGN that in-person programming beyond that point hasn't been determined yet but will be reassessed as more reopening guidelines are implemented.

For now, sign-ups are still available for both the Adult Rock Camp this spring and Youth Camps this summer. More information on sign-ups can be found at www.raincityrockcamp.org.