Astro's keynote speech at Transgender Day of Remembrance commemoration in Seattle Nov. 20
November 23, 2020 | Astro Pittman-Seattle Collegian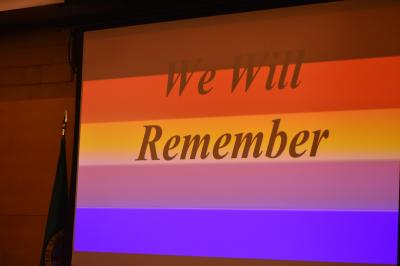 My name is Astro, and I use they/them pronouns. I am a Queer man-of-color, a social worker, a community organizer, a journalist, a student, a sex-worker advocate and a trans rights activist. I founded my own Transgender Day of Remembrance (TDOR) event 3 years ago in 2018, because, quite frankly, no one else in central Seattle was holding one, and I couldn't sleep because it bothered me so much. So, I did something about it. 3 years later, and with the help and support of a lot of amazing people, even a global pandemic hasn't stopped me from making this event happen, and I am so honored that folx decided to push through their Zoom fatigue and emotional exhaustion to join us Friday night in holding space for this solemn but necessary occasion.

The Transgender Day of Remembrance was first observed in 1999; organized by Gwendolyn Ann Smith to memorialize the murder of Rita Hester. This event has evolved from a web-based project to an international day of action. This event, which commemorates and memorializes the transgender individuals who have died as a direct result of violence against trans individuals, has grown into an international call to action from trans rights groups and allies. This day is spent honoring those lost to trans violence, making it our best opportunity to fully contemplate how devastating these losses are.

The annual event, which celebrates the lives of trans individuals lost, falls on November 20th each year, and seeks to combat trans violence, stigma, and erasure, and has for over 2 decades in a variety of different ways. Activist groups such as Trans Lives Matter, Human Rights Campaign, and Gay & Lesbian Alliance Against Defamation and many others offer education, history, and ways to get involved in ground level activism through their websites. The most important function of Trans Day of Remembrance is to restore dignity; the direct opposite of a hate crime.

Here are the statistics and other data that we have compiled to share with you regarding TDOR.

Since 2010, more than 220 transgender and gender-expansive individuals have been killed in the United States. Even in the face of this physical danger, hatred and discrimination, transgender Americans live courageously and overcome unjust barriers in all corners of our country. But until we as a country collectively address and dismantle these barriers, transgender people will continue to face higher rates of discrimination, poverty, homelessness and violence. While it's tempting and common to pursue largely reactive and temporary solutions, we must address the root causes of this violence to make our communities safer for everyone. It is unacceptable that transgender and gender-expansive people are killed simply because of who they are. It's not enough to grieve the loss of victims of anti-transgender violence. We must honor their memories with action.

2020 has already seen at least 41 transgender or gender non-conforming people fatally shot or killed by other violent means in the United States, the majority of which were Black and Latinx transgender women. We say at least because to often these stories go unreported - or misreported. As is too often the case in the reporting of anti-transgender violence, many of these victims are misgendered in local police statements and media reports, which can delay our awareness of deadly incidents.

It is horrifying to have to tell you that this is the deadliest year of trans violence since recordkeeping began. Gathered data shows an alarming trend of a gradual increase in murders of trans and gender-diverse people per year between 2008 and 2020. However, these figures are not complete. Due to data not being systematically collected in most countries, added to the constant misgendering by families, authorities, and media, it is not possible to estimate the number of unreported cases. To put it in perspective, last year's total of the names we read was 31, and 2018 was 27.

These victims, like all of us, are loving partners, parents, family members, friends and community members. They worked, went to school and attended houses of worship. They were real people - people who did not deserve to have their lives taken from them.

These victims were killed by acquaintances, partners or strangers, some of whom have been arrested and charged, while others have yet to be identified. Some of these cases involve clear anti-transgender bias. In others, the victim's transgender status may have put them at risk in other ways, such as forcing them into unemployment, poverty, homelessness and/or survival sex work.

While the details of these cases differ, it is clear that fatal violence disproportionately affects transgender women of color - particularly Black transgender women - and that the intersections of racism, sexism, homophobia, biphobia, transphobia and unchecked access to guns conspire to deprive them of employment, housing, healthcare and other necessities.

The TDoR 2020 international update reveals a total of 350 trans and gender-diverse people murdered between 1 November 2019 and 31 October 2020, representing a 6% increase in reported murders from the 2019 update. The majority of the registered murders occurred in Brazil, Mexico, and the United States (41), adding up to a total of almost 3,700 reported cases in 75 countries and territories worldwide between 1 January 2008 and 31 October 2020.

Behind the statistical representation of numbers and percentages, there are real people whose lives we value and who we, as societies, failed to protect. Aggregated data indicates that Black and migrant trans women of color are more vulnerable and frequently targeted. Social stigma and criminalization of sex work expose trans sex workers to abuse, exploitation, and violence. At the same time, those groups are repeatedly silenced and underrepresented within our communities and societies.

Although COVID-19 affects us all, social differences and inequalities are deepened by the pandemic, emphasizing gaps in lack of legislation and systemic protection of trans and gender-diverse people. The Trump administration has been responsible for over 50 different policies, laws, revocations and overturnings that directly and negatively impact the trans population, leaving them more vulnerable to systemic discrimination and abuse. Those who strongly oppose the concept of trans people - and decry their very existence - are much more likely to act upon their prejudice with violence, feeling that they have been given permission to do so by those in power.

A climate of micro-aggressions, systemic barriers, and hostility toward trans and gender diverse people is also connected to disproportionately high rates of suicide; homelessness; housing, employment, and medical discrimination; poverty; mental health issues; and substance use disorders.

I wish that it was enough to just show up to TDOR each year to love and support our trans brothers and sisters, but it is not. Love is nothing without actions. We, all of us, trans or not, must all remember that we are still here because we as a Queer and allied community stood up and fought for our rights. And we did it by being united.

Even though TDOR is a time to honor and remember those we have lost, it is also a time to honor and remember our resilience as a community, to look forward together with hope and pride, and to unite as one in the healing of our collective wounds. Our community is unbreakable because we stand together and stay true to who we are, no matter what. We must keep going. For all the other days of the year, I encourage you to evaluate the ways in which you can elevate, support, and empower our trans community members to live out loud. To each and every one of my trans brothers and sisters, thank you for being beautiful, brave, and resilient you.

To my fellow trans allies:

Outspoken, visible trans allies are more important now than ever - if you see or hear something anti-trans, speak up, speak out! Violence is a product of fear, and fear is a product of ignorance. We allies have an obligation to educate and lead by example to erase the ignorance, one person at a time. Because silence equals death. I also want to take a moment to honor the life and memory of a local trans activist powerhouse that has left us too soon, Constance Blakeley. Constance passed away in the early hours on the morning of October 2, 2020. She was a board member of the Lavender Rights Project and Black Trans Task Force, a Community Organizer at Trans Women of Color Solidarity Network, an influential leader at U.T.O.P.I.A. Seattle, a case manager at both People of Color Against AIDS Network and King County Department of Children, Youth, and Family, and much more.

Constance was authentic, calm yet fierce, humble, wise, motherly, candid, beautifully human, and colorfully nuanced. She tirelessly served trans and femme BIPOC sex workers, the homeless, and Trans Women of Color, just to name a few. She was passionate about mental health and community, and our community will miss her dearly. As Constance's friend and U.T.O.P.I.A community organizer, Fania Sipili, said of Constance's passing, "While the world has become a bit darker with her departure, there are some who bring a light so great to the world that even after they have gone, the light remains. As our spiritual guardian, her light shines brighter than ever before. We will continue the work we do, in her honor, in hope that we can touch lives the way she touched ours and everyone else's."