Family makes a pitch for inclusion in Eastside soccer league: #LetBobbyPlay
October 30, 2020 | Renee Raketty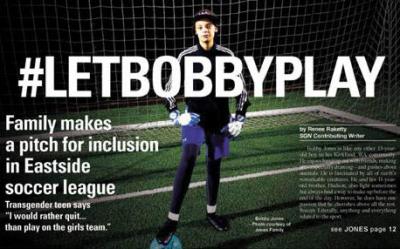 Bobby Jones is like any other 13-year-old boy in his Kirkland, WA community. He enjoys hanging out with friends, making art - especially drawing - and gushes about animals. He is fascinated by all of earth's remarkable creatures. He and his 11-year-old brother, Hudson, also fight sometimes but always find a way to make-up before the end of the day. However, he does have one passion that he cherishes above all the rest. Soccer. Literally, anything and everything related to the sport.

According to his mom, Eleanor, he has played soccer since he was two-years-old. Over the years, he's played just about every position, but currently plays the keeper and goalie positions with the Titans [Soccer] Club. Bobby added that he found the sport to be "enjoyable" and "fun." He put it this way: "I like how it's played."

Everything was as it should be or so his parents thought until one day in June of this year when Bobby, holding back tears, poured his heart out about what he had come to know about himself. He had finally seen - for the first time - himself reflected in a character on the TV show "Council of Dads." You see, like the character J.J., Bobby too is transgender. Finally, he had the words to articulate what he had been feeling inside since 2nd Grade.

"I can remember, vividly, when Bobby was four. We were preparing for a family portrait session when I asked him to wear a flower blouse and yellow sandals. He immediately broke down into tears," Eleanor recalled. "My husband Dakota and I didn't understand it at the time, but this was the first sign of things to come."

So, with their newfound knowledge of their son's gender identity and his desire to play on the boys team, the family approached the Titans. "The Club was really supportive and moved him over to the boys team. The coaches, families and players took to him immediately," said Eleanor. "However, the team warned us that although Bobby could practice with the boys team, he would have to play on the girls team on game day.

"The league that oversees the Club, Puget Sound Premier League (PSPL), has a policy in place that does not allow transgender players to play games on the team they identify with."

For Bobby, the news was devastating. "I'm not a girl," he said. "I told my mom that I would rather quit soccer than play on the girls team."

The PSPL and the Titans have similar non-discrimination statements on their websites, minus one detail. The Titans include the phrases "gender identity" and "gender expression" while the other does not.

"I'm hoping that they'll change it so that people like me feel comfortable playing," Bobby explained. "So, that I'm not playing with the gender that I'm not supposed to be. So, kids like me can be themselves."

Eleanor said she has shed a lot of tears for her son over the discriminatory policy and lack of inclusion at PSPL. "We were told by the Club that they had a similar circumstance with another player last year and that the player and their family left the sport because of PSPL's policy," she said. "All I want for our child is for them to continue to thrive in the sport that they care about and to be able to look around at their teammates and feel a part of something.

"Since Bobby came out to us, I've met so many families like ours who just want their kids to be happy and belong. We have the added fear of our children being in a marginalized group in society. As a parent, it's incredibly frustrating.

"Please, just give our son his sport and a fair chance - just like any other player." Eleanor changed her Facebook name to "LetBobbyPlay." She printed up signs and face masks for friends and allies. "I'll send them anywhere, everywhere, if it helps," she said. "We are also using the hashtag, #LetBobbyPlay, to help draw attention to the issue.

"We are so proud of Bobby and support him in this endeavor. At 13-years-old, he is advocating for himself and he is being his authentic self. We are pretty damn lucky to have him as our son.

"We only want him to be safe and happy. Transgender youth already have barriers in place and we need to help remove these for them so they can stay safe - physically and mentally."

Sunday, Bobby returned to the field for two scrimmages. The governor had lifted more restrictive requirements for soccer. However, this time, Bobby was able to play the sport as just another one of the boys.

"A week ago, the Club informed us that Bobby had been given a 'conditional waiver.' We have no timeline on when or if PSPL will change their policy. They have a track record of no communication or communication that is insensitive and unprofessional," said Eleanor. "The PSPL oversees about 60 clubs in the area. So, that's a lot of players if you consider how many play for each team. We have to change this policy before the next Bobby comes along.

"Today, I wept tears as my son took the field and played all four halves of his games. I could not be more proud of his grace, courage and boldness."