Seattle Human Services Department and Good Food Kitchens Partner to Feed People in Need
March 22, 2022 | Publisher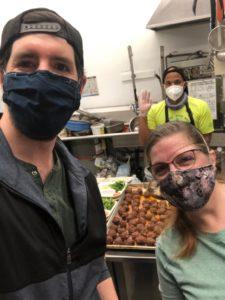 Seattle - As the Covid-19 Pandemic continues to impact daily life, a local food assistance, economic development, and food resilience program, Good Food Kitchens (GFK), partners with the City of Seattle Human Services Department (HSD) to transform the food economy.

GFK, located in Seattle's Central District, is an initiative of Seattle Good Business Network's Good Food Economy program that focuses on connecting the Puget Sound food community to strengthen the local food pipeline and build a sustainable, resilient, and just food economy. To combat food insecurity, GFK supports a diverse array of local restaurant and catering partners who are preparing free meals for community members facing food insecurity.

"Good Food Kitchens was created to address the needs of the entire local food system. It is not just a food assistance program — one that importantly ensures people in need receive fresh, nutritious, culturally relevant meals — but it is also an economic assistance program, an employment assistance program, and a local food system resilience program," said Mariah DeLeo, Good Food Economy Program Manager.

The Good Food Kitchens network includes 29 restaurants and caterers, sourcing in part from 10 local farms, and 21 different community organizations, with 97% of restaurant partners and 81% of local farms being BIPOC-owned. The restaurants and food resilience program share a goal of distributing at least 50,000 meals, 13,394 of which have been distributed through Feb 2022.

DeLeo added, "2020 stay-at-home orders and ongoing COVID-19 related impacts have had a crushing economic effect on restaurants, farms, and our communities. Food insecurity more than doubled to up to 2.2 million individuals in WA state. Good Food Kitchens is a community-led program, inspired by the work of Seattle Community Kitchen Collective and other restaurants and food businesses who stepped up to provide for their communities at a time of increased need. Many have been doing this with the help of donations or otherwise at their own expense for nearly two years now, and we're so happy to be able to support their efforts financially so that they can continue this vital work."

With the pandemic disproportionately impacting communities of color, Good Food Kitchens has prioritized partnering with organizations doing similar work in these communities, including the Seattle Chinatown-International District Preservation and Development Authority (SCIDpda), Food Innovation Network (FIN), and Wasat, and other BIPOC and immigrant-owned local restaurant and catering partners. (Click here to view the larger partner network)

Sean Walsh, Seattle Human Services Department Food and Nutrition Advisor commented, "HSD is very grateful to join in partnership with Good Food Kitchens. Our organizations share a common mission — to serve our community members during times of need and provide a safety net for those most impacted by things like COVID. Together, we're ensuring people have access to healthy meals while empowering local restaurants to remain open and supporting local farms and producers as they establish long-term local supply chain alliances that reinforce Seattle's food security."