So...what's the mask situation now?
May 28, 2021 | Hannah Saunders - SGN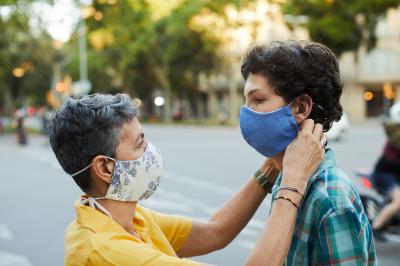 On May 13, 2021, the Centers for Disease Control and Prevention issued updated guidance for Americans on face masks. The CDC stated that it is safe for fully vaccinated people to stop wearing masks in most outdoor and indoor settings, with some exceptions

This update came as both a shock and a relief to many Americans, who have spent a whole year wearing facial coverings to keep from contracting and spreading the coronavirus, with hopes of returning to normalcy.

We, as a nation, are indeed approaching that: it is on the horizon&that is if, you are fully vaccinated.

CDC guidance
As stated by the CDC, "Fully vaccinated people can resume activities without wearing a mask or physically distancing, except where required by federal, state, local, tribal, or territorial laws, rules, and regulations, including local business and workplace guidance." (An individual is fully vaccinated two weeks after receiving their second dose of the Pfizer or Moderna vaccines, or two weeks following the single-dose Johnson & Johnson vaccine.)

Masks will still be required on "planes, buses, trains, and other forms of public transportation traveling into, within, or out of the United States, and in U.S. transportation hubs such as airports and stations."

What is known (or still unknown) about the vaccines? It is known that they are highly effective at preventing severe illness and death from COVID-19, and they reduce the risk of spreading the coronavirus. What is still unknown, and what is continually being researched, is how long the vaccines protect against COVID-19, how effective the vaccines are against coronavirus variants, and how well the vaccines protect those with weakened immune systems.

"If you have a condition or are taking medications that weaken your immune system, you may NOT be fully protected even if you are fully vaccinated. Talk to your healthcare provider. Even after vaccination, you may need to continue taking all precautions," read the guidance, which also described how those who are not fully vaccinated should continue taking all safety precautions by wearing face masks and physically distancing.

What does this mean for Washingtonians?
On May 21, the Washington Department of Health issued update guideance for face masks.

"If you are not fully vaccinated, it's important to continue to wear face coverings and practice physical distancing in public," read the statement. The secretary of health issued a general public order that requires unvaccinated residents to wear facial coverings in some public spaces; in addition, all people, regardless of vaccination status, are required to wear face masks in specific settings, including healthcare facilities, correctional facilities, homeless shelters, and schools, and while using transportation.

For the time being, businesses have the right to enforce mask wearing, whether someone is fully vaccinated or not. Under the state's workplace order, employers are required to confirm the vaccination status of their employees before choosing to relax any mask wearing or physical distancing protocols, and unvaccinated people are still required to mask up. Employers must also continue to provide masks for employees, and they must allow an individual to wear a mask if preferred. The workplace order is currently being enforced by the Department of Labor and Industries.

Additional COVID-19 worker protections to help get you vaccinated
On May 21, Gov. Jay Inslee extended the Safe Workers Proclamation to give employees more rights when navigating events surrounding the coronavirus. The extension of the proclamation protects employees who are getting vaccinated, in quarantine, or symptomatic for COVID-19. The proclamation states that employees cannot be punished for coronavirus-related reasons by terminating or suspending them, or denying them a promotion, reducing their hours or pay rate, or denying them any available paid or any unpaid leave.

If you have been concerned about scheduling your vaccination around work, don't be, as you are protected if you take reasonable time off. Visit https://vaccinelocator.doh.wa.gov/ to schedule your appointment now.

An important consideration
Often, smaller groups are frequently forgotten about, especially when we see a light at the end of the tunnel. But what about children who are too young to yet receive a vaccine? What about those with medical conditions that prevent them from receiving a vaccine? Or those taking medications that suppress their immune response, leaving them without full protection even after receiving the vaccine?

As uplifting as it is to be able to begin our return to a state of normalcy, keep these people in your thoughts. Think of them, and how your actions may impact those who remain vulnerable. Keep in mind that 20-40% of people with COVID-19 are asymptomatic.

And never forget: when in doubt, it is never rude to wear a mask.

Now go and hug your family and friends, and smile at the next person you see while walking down the street.