One year, two public health crises: Seattle LGBTQ orgs reflect on COVID-19, HIV, and the long road theirs services faced
March 23, 2021 | Paige McGlauflin-SGN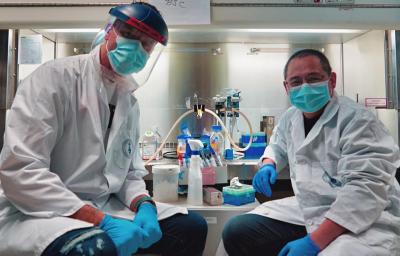 Many populations with pre-existing health conditions have spent the last year in uncertainty. Among those are individuals living with HIV.

In the wake of the pandemic's anniversary, the SGN spoke with several people and organizations with connections to HIV about the adjustments they've faced in the last 12 months.

Exact information regarding the virus's impacts on those living with HIV is limited. Current CDC guidelines suggest that HIV-positive people who are on effective treatment have the same risks for COVID as those without HIV. On the other hand, a National Institute of Health study published last June found that, when compared to HIV-negative patients, there was a "trend toward increased rates of intensive care unit admission, mechanical ventilation, and mortality in HIV-positive patients." However, the study noted that the results were not statistically significant, and that further study of COVID-19's impact on HIV-positive patients is needed.

"There's no data on how it works with HIV or other kinds of immune diseases," T.J. Elston, a member of POZ Seattle, a volunteer-run social organization for those living with HIV, told the SGN. "When I got vaccinated, the nurse said, 'You know, there's really no data, we don't know how, even if you got the vaccine, how you're going to be able to go out in the world.'"

HIV-positive status alone is not enough to currently qualify for a vaccine in Washington state, but it could qualify in a matter of weeks, as more vaccination rollout phases are implemented. The NIH has also noted that many HIV-positive people often have one or more comorbidities that increase their risk of severe sickness from the virus.

POZ Seattle Most organizations that provide HIV testing and support had to drastically reduce their services, and some temporarily closed altogether, with hopes that the now year-old pandemic will subside by May.

POZ Seattle halted in-person meetings when restrictions were implemented. Almost immediately after everything shut down, the group saw COVID-19-related fatalities.

"We lost four people right in the beginning," Elston said. "They got sick. And they passed away, directly from COVID."

Elston, who was furloughed from his job at the beginning of the pandemic, began providing assistance to community members, from delivering food (potlucks were a staple of POZ Seattle events) to now assisting with vaccination sign-ups.

"You know, daily, I have people looking at websites, and I and some other people are setting appointments for people," Elston said. "Seeing if they qualify, first off, and then setting appointments."

Gay City Gay City leads in HIV and other STI testing in King County, and saw as many as 5,000 people per year getting tested before the pandemic.

Then "[COVID-19] became a big concern for our community," Melvin Givens, Gay City's director of marketing and communications, told the SGN last week. "So, you know, our whole goal was really to make sure that we could develop some messaging, really educate our community around...best practices and the best ways to stay safe. And not just for themselves but also their families and the community."

Gay City made the decision in March 2020 to temporarily suspend many of the services its Wellness Center offers.

"We had to put a pause on those services initially, because we needed to really be able to speak with the health department, really understand the dynamics, to fully understand COVID, how it's impacting the community, because we really wanted to center the health of staff members," Givens continued.

Gay City reopened in the following months, as further guidelines were established for frontline workers. Services have resumed for four days a week, providing at-home HIV testing and other assistance to Gay City's clientele.

"When [people] come to Gay City, they're not just looking to be tested. Sometimes they're looking for other other resources, they may be looking for a medical provider, they may be looking for legal assistance, due to health inequities," Givens said. "There are so many different things that people can be looking for... And so what our testers do is they connect folks to the resources that they really need to see."

Entre Hermanos Staff at Entre Hermanos told the SGN they are seeking to provide those same services to their clients.

"We're working with the King County prevention department, and we are doing HIV testing kits, so we send the testing to homes," José Cardona, Entre Hermanos' community health educator, told the SGN. "So we mail our clients; usually they pick up here in the office, or they we have different locations around King County where we distribute condoms, but right now, the the client does call us and say, 'I need, a box, or lubes, and I need an HIV test.'" Entre Hermanos also mails PrEP medication to clients; STD tests are still conducted in person.

Despite seeing success in adjusting to "the new normal," Entre Hermanos has sacrificed several crucial services that won't be revisited until more social distancing restrictions are lifted.

"The consulate of Mexico [has] a mobile consulate, so they travel around the state. And we go in to do the testing for the population, offer PrEP to places that don't have services," Cardona said. Areas visited by the mobile consulate include Yakima and the Tri-Cities. "But with COVID, everything's canceled. So that community is still needed there."

Washington State Department of Health (DOH) data from June 2020 found that Hispanic people accounted for 24% of new HIV cases, the second-largest demographic by race or ethnicity in the state. Hispanics also account for 31% of all confirmed COVID-19 cases in the state, according to Washington DOH data updated on March 13.

Entre Hermanos also provides legal services for LGBTQ asylum seekers who have fled to the United States, many of whom receive an HIV-positive diagnosis upon arrival.

"The transgender asylum seekers from Latin America have been been through hell," Robert Foss, interim director of Entre Hermanos, told the SGN. "And so they're coming in and into detention situations where they're also treated very badly. And so people have had COVID, they get diagnosed with HIV, while they're in the middle of their immigration process. There's all sorts of things that are happening like that. So it's been a very critical time for the most vulnerable populations... For people who are just getting here, in addition to dealing with trauma and PTSD, with everything they've been through, this health crisis has just made matters worse."

Looking toward the future
As many as 38% of nonprofits in the US are at risk of closing in the next two years due to the financial crisis that's come in the pandemic's wake, according to a study released by Candid and the Center for Disaster Philanthropy earlier this month. The organizations the SGN spoke to were no exception to this reality.

"We've done pretty well, by keeping our head above water," Foss said. "But a lot of nonprofits are really hanging on the edge, and so I know for a fact that the private foundations have been stepping up with that, so that we haven't had to be in the layoff situations and all of that with regard to COVID. But...one day to the next, we didn't know what was going to happen for most of last year."

"Funding-wise, we saw a decrease, and that included the Wellness Center, which was really difficult for us to see," Givens said. "(Funding has) improved slightly, still not back to where it was, where we were able to provide more. And it's been a little bit challenging for the agency through that. But I will say, with support from our donors, from the community, we've been able to make it through."

It was also announced in August 2020 that the building Gay City operates in had been sold and would be redeveloped, leaving the organization to seek a new home.

"It definitely is stressful," Givens said of the impending move. "But, you know, we're seeing this as an opportunity to really create a new home for Gay City, a space that's very accessible and welcoming to and affirming for all of our community members."

Looking toward the future, Gay City and Entre Hermanos are both eager to expand their services. POZ Seattle hosted an outdoor, socially distanced walk in mid-February, its first non-online gathering of any kind in over a year.

"We tried a distanced walk around Green Lake, about a month ago, right before the snow," Elston said. "About ten people just got together, who hadn't seen anybody for over a year. And we walked in a group, you know, distanced, around Green Lake, and it was fun. Yeah, so do other things, outside, open-air. Just to get people out of the house."