World AIDS Day: We're Still Here!
December 1, 2020 | Tom Orr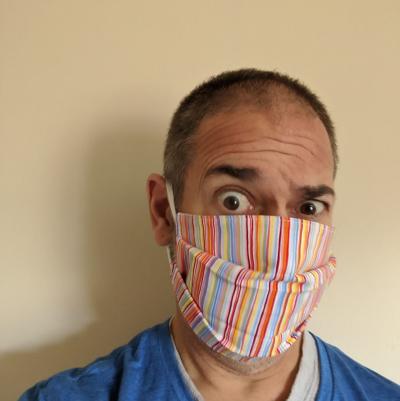 Allow me to introduce myself. My name is Tom Orr, and I'm Still Here.

I was here in Seattle once before, in 1992, an L.A. native fresh out of college and newly out of the closet, full of the naivete and uncertainty of a horny young buck finding his place in a strange new subculture & think Bambi learning to walk on thin ice, to mix my metaphors. AIDS was still scary, Rock Hudson had recently passed, Ayds diet pills had been poorly named and Ellen was straight.

I quickly found a position at TWIST Weekly, a fledgling gay paper with the dubious mission of wishing to be proudly left on the coffee table when your mother comes to visit, as it was going to be "respectable" (read: prudish), not relying on ads for phone sex, massage and/or escorts, i.e. the traditional bread and boybutter that kept most alternative publications in pink ink and newsprint.

TWIST had a decent run for a couple years and I practiced my hand at all kinds of journalism: writing reviews, editorials, calendar listings, investigative reporting, my own column. However, it folded and I moved on: becoming a contributor to NorthWest OnStage, co-Editor-in-Chief of the almost biweekly Intermission (soon dubbed Intermittent by local wags) and a theatre critic for The Seattle Times under Misha Berson.

I was also doing guerilla queer theatre at Re-bar with Dan Savage and his subversively genderbending homo pomo collective Greek Active, and writing musical comedy parodies to cure my insomnia. The parodies soon became my stock in trade, with Pimpin', Who Killed Stephen Sondheim? and the sold out SRO smash hit Dirty Little Showtunes!, an award-winning revue that ran a record-setting 26 weeks at Re-bar, plus five productions in San Francisco (winning me awards for Best Lyrics, Best Actor and Best Musical), Chicago, Houston, Minneapolis, Madison, Richmond and Rancho Mirage. I moved to SF, then on to New York City (where I missed my chance to conquer Broadway, instead learning to party and becoming HIV positive at the age of 33). I moved back to the Bay Area to be the Perky Porn Star in Naked Boys Singing! in San Francisco and later Provincetown, then spent five years in Guerneville, grieving my best friend's suicide, gaining weight, becoming celibate and further depressed, not writing or performing or producing. I had given up on myself, my career and my musical comedy dreams.

Suddenly, the presidential race of 2016 woke me from my stupor and I began to write political parodies as a coping mechanism, compiling material and planning Things That Go Trump In The Night, but I couldn't keep up with treasonous totalitarian treachery or compete with the ubiquitous Randy Rainbow.

Soon the Russian River Sisters of Perpetual Indugence sainted me ("St. Orrpocalypse & because if Tom Orr is being sainted, you know it's the end of the world!") and snapped me out of my depression. I joined Grindr and Scruff, and started having sex again. Then an Act of God saved my life and got me out of my rut: the Russian River overflowed its banks, Guerneville flooded and I was homeless, so I moved here, rebooted my life, produced The Greatest ShowQueen at Unicorn, turned 50, co-starred in a 20th anniversary gala for Showtunes! Theatre with a song I wrote for the occasion, and put on a new show singing Jim Croce's Greatest Hits in a cabaret festival. I was back in Seattle and back in the game.

Then Covid-19 hit, the world closed, and life came crashing down around us all. We've now been in a collective coma for months as we wait and wonder what will happen next. For me, it was something wonderful: an invitation to write again, here at the SGN as a contributing writer and OpEd columnist.

This week was World AIDS Day, and Facebook reminded me of a birthday song I'd written for Race Bannon, a friend, tribal elder, noted leather correspondent for the Bay Area Reporter and a hot daddy.

It is chiefly about him and his bio/resume (yes, he really was a writer for The Smurfs! Could "fiddlesmurfs" and "smurflesticks" be his handiwork?) but also an extrapolation for his generation of gay men who largely died off in the AIDS epidemic that wiped out two decades of our brethren. As it now teeters on the brink of Armageddon, the world never quite recovered from that previous loss.

When you take away some of the best and brightest in every industry for 20 years - from art, fashion and entertainment to finance, science and academia to sports, big business and the military even - the very fabric of society begins to tear (or at least has a run in its stockings with no one there to offer clear nail polish or even know that trick). To illustrate my point, think of the worst excesses of the 1980s:

Yanni. Zamfir. Big Hair, crimping irons and the ensuing Hole in the Ozone (TM) when women were allowed to use hairspray without adult supervision. The awful tacky clothes and garish neon colors. MC Hammer harem pants on men. The success of Andrew Lloyd Webber and the rise of the theme park ride Britain-to-Broadway megamusical juggernaut left quite unchallenged when Michael Bennett, Howard Ashman and their talented ilk died en masse.

Now we're in the middle of a global pandemic that isn't striking one segment or subculture of the population, though certain demographics seem to be suffering more so than others. What will the consequences be? We've already seen the mutant monstrosity and CGI abomination that was the disturbing film version of CATS. How much worse can things get in 2021? Will we still be here?

I don't know about you, but I'm sticking around to find out. The suspense is terrible; I hope it will last.

"RACE IS STILL HERE!"
to the tune of "I'm Still Here from the musical Follies
music & original lyrics by Stephen Sondheim


Orriginal lyrics by Tom Orr
for Race Bannon, with love

Great Sex and Blah Sex!

I've had it all, front and rear ...

I'm Still Here!

Hate Sex and Raw Sex!

Plus two rednecks on a John Deere ...

I'm Still Here!

I've taken trips

And staked my turf ...

I've written scripts

For Papa Smurf!

I've spread my fair share of cheer ...

And I'm Here!



I've been through WeHo,

Chelsea and Boys' Town, my dear.

I'm Still Here!

Some guys called me "ho"!

I said, "Darling, look in the mirror!"

And I'm Here!

I can quote Scripture

And Shakespeare ...

Seduce a hipster

With "King Lear"!

In my own odd way,

I gave up a Broadway career!

I could have won a Tony,

But I'm Here!



I used to amble

Through The Ramble in Central Park!

I'm Still Here!

Grunting and squealing,

Kneeling at the shrine of St. Mark!

But I'm Here!

First you're another Doe-Eyed Twink;

Then you're a Brother of the Ink.

A Significant Other

Who thinks kink is nothing to fear.

Then it's Pit-Stinkin' Daddy ...

Drinkin' beer!



I got through my

First season on Fire I-I-Island!

Wow! What a summer that was!

I ended up

Pleasin' the entire I-I-Island!

I still recall that free-for-all buzz!



Actor Slash Model!

Mentor, Scribe and Corporate Wonk!

I'm Still Here!

Raging full throttle!

Aging like a gay Fumé Blanc!

But I'm here!

My San Francisco

Life's been rife:

Crisco and Disco!

Stress and Strife!

I keep on tryin',

A high-flyin' Queer Pioneer!

I lived through Ronald Reagan,

And I'm Here!



I've cruised the last row ...

Gee, The Gaiety was so good!

I'm Still Here!

Watched as the Castro

Became a largely straight neighborhood ...

But I'm Here!

Conquered Chicago,

More or less,

Dressed head to toe

In Mister S!

I've blown longshoremen

And many more men on the pier!

I saw Bette at the bathhouse!

And I'm Here!



I've lived to see

All fifty states get Gay Mar-ar-arriage!

What a miraculous feat!

Who guessed there'd be

Pups pushin' a baby car-ar-arriage

As a couple down Folsom Street!?



Great Sex and Blah Sex!

I've had it all, front and rear ...

I'm Still Here!

Against-The-Law Sex!

(Which was hotter, let's be sincere ...)

But I'm Here!

Marched in parades!

Been drenched with Rid!

I remember AIDS

When it was GRID!

Too many friends dead

And I've shed too many a tear!

Still I know they're always there ...

And I'm Here!

Look Who's Here!

I'm Still Here!



Tom Orr is a Poet, Playwright, Producer, Performer, Protestor and Provocateur, A Musical Comedy Cabaret Porn Star best known for his satirical parody lyrics in I Feel A Thong Coming On, The Devil Wears Nada and Dirty Little Showtunes!