Lady Bunny to appear at the Leo Party
August 10, 2022 | MK Scott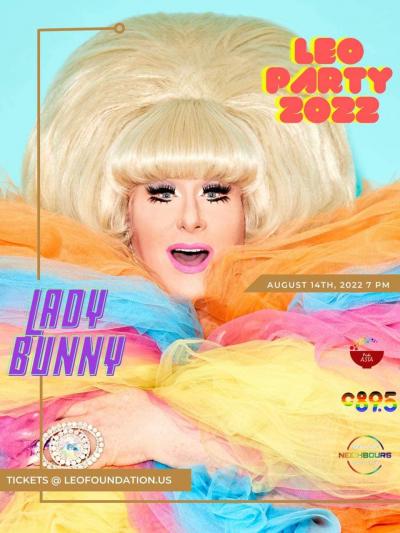 Lady Bunny is back in Seattle to celebrate her 60th birthday and to appear as a guest DJ at this weekend's Leo Party.

Here is part of our conversation from 2017;

MK Scott: Hello, Lady Bunny! Finally, I have a chance to talk to you! I have seen you in town for Seattle Pride. What do you like most about Seattle?

Lady Bunny: Pike Street Market. I'm on a diet. Well, not exactly. I'm on a diet only because Trump killed Meals On Wheels. But I drool just thinking about the fresh seafood, those crumpets and those enormous, mouthwatering berries of the Northeast. I have also loved DJing at The Cuff several times, and will be back to do Tacoma Pride with their sister club on July 8th.

MK: What has been the funniest thing to happen to you during one of your shows?

LB: Bianca Del Rio canceled and the show improved immeasurably! My relationship with Bianca reminds me of that TV show 'Feud.' Not because we fight, but because she looks like Mamacita! In truth, I performed at a club with a low ceiling. I'm tall and wear high hair. The crowd lost it when the sprinkler snagged my wig and I couldn't get it loose. They howled!

MK: You lost not one, but two pals this year. What do you remember most of Alexis (Arquette)? Lady Chablis?

LB: Alexis was more of an acquaintance than a pal, and I hadn't seen her during the last 15 years of her life. I was somewhat puzzled to read all of the glowing remembrances on Facebook about what a nice person she was. While I'm sad that she passed, one thing Alexis was not was a sweetheart when I knew her. Ask the people whose faces she threw drinks into.

I met Lady Chablis when I was 13, sneaking into a gay bar in Chattanooga, Tennessee and was a fan of her act long before she hit it big with Midnight in the Garden of Evil. She was one of a kind and had such magnetism and wit that there truly was no one like her. I toured with her and we became great friends. She called me 'Country Cunt' because I'm from down south. She also like to say that 'Bunny, you remind me of a...what is it..a Saltine?..no, a Ritz?, no, a Triscuit?, no&.oh that's it! A cracker!' We were close enough to joke about anything and no one had a mouth like her. I did attend her funeral in Savannah in full mourning drag complete with a veil to show my respect to one of drag's greats.

Interestingly enough, Chablis came from a time when she 'did drag' with wigs and lots of make-up, but Chablis was trans and had lived as a woman named Brenda on and off stage for decades. We came from a time when different segments of the community stuck together. Now, with Facebook offering 56 different gender variations you can pick from, I worry that we are putting each other into boxes and infighting rather than bonding to fight the very real enemies within the new administration. I do not dismiss anyone's individual concerns, since all of our concerns are different. But does an anti-LGBT administration seeking to roll back hard-won LGBT rights deserve more focus than whether you identify as gender queer, gender fluid or non-binary today? To me, it does.

MK: As a pal of RuPaul, and working nearly 40 years in the biz, are there any queens that have star quality or longevity?

LB: I think you know the ones from 'Drag Race' who have staying power. Dame Edna is a genius who may be retiring. Frank Marino has been ruling Las Vegas for decades. Christeene, the slutty, trashy rapper drag from Austin is so demented that she flips my wig. And Seattle's own Dina Martina is a riot who is totally unique who packs houses nationwide.

MK: What is your best advice for LGBTQ youth?

LB: As far as advice for youth, there is no blanket advice for youth because they all have different issues. RuPaul is my old pal, and she's the one who is the mentor with positive messages of self-acceptance, blah, blah, blah. I'm her twisted sister who never claims to be a role model, although I am modeling a few rolls out the top and bottom of my girdle! I like raunchy humor for those who like that sort of thing. But as someone who grew up in a smaller city in the Bible Belt where folks were not very accepting, my advice would be to get away from hateful people. It worked for me. Except for Bianca. Can't seem to shake her. You know, there really wasn't anyone on 'Drag Race: as mean and vicious as Bianca - in Season 8, Season 9, or even ISIS for that matter!

LEO Party 2022 | Sunday, August 14 Hosted by Joe Torres x Aleksa Manila
Neighbours Nightclub | 1509 Broadway, Seattle
Benefitting C89.5 Public Radio x Official Pride ASIA
Featuring the triumphant return of Seattle Drag Legend, Mr. SEAN PAUL of Boylesque and Julia's Le Faux! Gogos galore from Las Vegas and San Diego! World-class talent from the Northwest! Raffle prizes & MORE!
VIP Experience!

TIX via https://www.eventbrite.com/.../leo-party-2022-tickets...