Tucked in Tukwila: "Drive 'N Drag Saves 2021!"
May 20, 2021 | MK Scott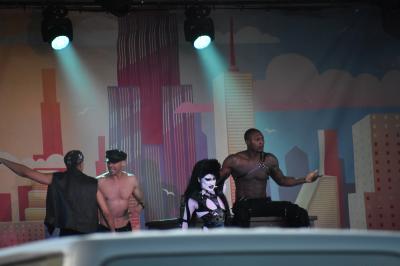 It had literally been 15 months since I'd covered any event that wasn't virtual, so I was excited to attend the RuPaul tour's live drive-in event. Rescheduled from its original September 2020 date, "Drive 'N Drag Saves 2021!" turned out to be the best RuPaul tour show ever.

I went to the 7pm Friday night show at of Tukwila's Westfield Southcenter mall parking lot right in front of Nordstrom, where you could either sit in your car or plunk down on top of it on a blanket. There was a stage and large screen (though not as big as an actual drive-in screen).

Asia O'Hara, the hostess with the mostest, did a fine job and performed as well. Then came the incredible she-hulk Kameron Michaels, the dazzling Naomi Smalls, the winged warrior Plastique, the seductive Violet Chachki, the spicy Vanjie, and a surprise addition, Kim Chi, playing "The Great Kim Chick."

Also joining them were season 13 favorites Rosé and Gottmik. Rosé is a gifted vocalist and even took last-minute requests from the audience. Gottmik, in a dominatrix outfit, was fierce, lip-synching to Joan Jett. Backing them all up was the spicy all-male dance crew.

I confess I was a little burned out from having seen the previous live tour shows, but this time it was all built around a superhero theme, which made it a lot of fun.

I also went to see out the promotional tie-in with the upcoming film In the Heights. I was really expecting more than just a trailer and a tiny replica of the George Washington Bridge, perhaps at least a production number live or on the screen.

But overall, the show arrived at the right moment, as we head out to more fun live events in the remainder of 2021 and beyond.