COVID-19s disproportionate impact on LGBTQ people and Seattle's response
January 8, 2021 | Eve Kucharski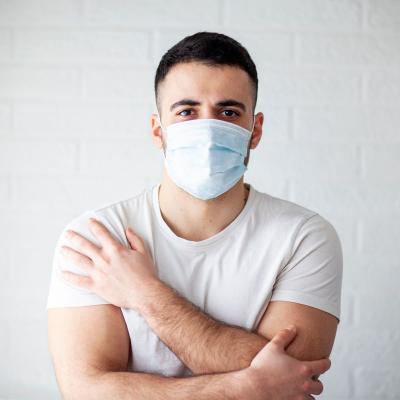 As the United States passes the somber milestone of 300,000 deaths from the novel coronavirus, it's clear that the pandemic's impacts on all aspects of life will be felt far beyond the release of a vaccine. While it's unlikely that we can have a full understanding of what COVID-19's legacy will be while we're still going through it, it is possible to take stock of what it has meant for our community so far.

For Seattle's LGBTQ population, it's clear that it has highlighted - and in some cases amplified - existing inequalities in the realms of health care and social services. Despite this reality, in some instances the steps taken to ameliorate these discrepancies have brought about positive change.

What follows is a snapshot of COVID-19's disproportionate effect on the American LGBTQ community as a whole and how that has translated to the city of Seattle.

Why the LGBTQ community has a heightened risk
As of 2019, the Public Religion Research Institute - a nonprofit organization dedicated to taking nonpartisan public opinion polls - found that roughly 5.1% of Americans identify as having an LGBT identity. (Given the US population of 328.2 million people at the time, this would translate to roughly 16 million.) A 2015 Gallup poll found that Seattle had the fifth-highest number of LGBTQ citizens in the US.

Studies point to LGBTQ people being disproportionately at risk for contracting COVID-19. Ithaca College Director of LGBTQ Education, Outreach, and Services Luca Maurer says that this heightened risk stems from a variety of sources, and the fear of discrimination is chief among them.

"LGBTQ folks are very likely to delay or avoid routine health care, even if something is urgent or an emergency, because they have had negative experiences because of their sexual orientation or gender identity with health care providers in the past, or because they fear that they will in the future," Maurer said. "The data shows that this is far too common still today in 2020." And because of the Trump administration's rollbacks of explicit protections for LGBTQ people, accessing health care during the past four years has become even more difficult than before.

This, unfortunately, translates to an increased risk of cancer and HIV - both diseases that suppress one's immune system and therefore increase the risk of getting COVID-19.

Also, on average, LGBTQ people tend to exhibit a much higher rate of smoking tobacco products, which the World Health Organization tied to a higher likelihood of developing severe disease if COVID-19 is contracted.

Maurer has published a publicly accessible resource page

www.ithaca.edu/center-lgbt-education-outreach-services/
resources-and-services/lgbtq-people
-and-covid-19

to educate both students and the public about these risk factors.

Economically, too, the LGBTQ community has been hit hard during this pandemic. In a report titled "The Lives & Livelihoods of Many in the LGBTQ Community Are at Risk Amidst [the] COVID-19 Crisis," the Human Rights Campaign (HRC) found that LGBTQ people also have "higher economic sensitivity" to the crisis, because they tend to work in the industries most impacted by the pandemic.

"[The] HRC Foundation's analysis of data from the 2018 [General Social Survey data] found the top five industries in which LGBTQ adults in the United States are most likely to work," the report said. "Making up about 40% of all industries where LGBTQ people work, the top five are...[restaurants and food services], [hospitals], [K-12 education], [colleges and universities], and [retail]."

That means that LGBTQ people are more likely than their heterosexual and cisgender counterparts to make use of social services like meal-delivery services and unemployment benefits, among others. Maurer points out that because of a "unique confluence of interpersonal stigma," just as LGBTQ people tend not to take care of their health outside of a crisis, they're just as likely not to feel comfortable using social safety nets during this pandemic. He used elders as an example.

"We know that LGBTQ elders report that they don't feel that they would be welcome by everyday, mainstream elder service programs. They report experiences of not [feeling] welcome [in] senior centers and other programs that [support] our elders," he said.

It's realities like this, Maurer said, that have shone a "really stark, bright light on the impacts of oppression that were already embedded throughout our society." "So, even without COVID-19, all of the things that I'm describing still existed in the background and still impacted LGBTQ people differently," he continued. "But it really brings to mind the existing public health crisis that springs from this [inequality]."

Local support efforts
In the face of these statistical predispositions to contracting COVID-19, LGBTQ people across the US have continued to navigate the pandemic with a resolve and resilience that Maurer has called "incredible."

"We're only here because of those LGBTQ ancestors who were able to do things when life was incredibly even more difficult. So, we owe it not just to them but to ourselves to live as long as we possibly can. And that does mean, when we can, taking care of our health needs," he said.

Local programs have been created to aid the LGBTQ population in just that effort, through the work of organizations like Gay City, Seattle's LGBTQ Center. There, people can find aid in the realms of health, legal, and educational COVID-19 resources.

Director of Marketing & Communications Melvin Givens echoed Maurer's concerns about the local LGBTQ community's increased risk factors for contracting the virus. That's why, in addition to providing in-person health services, Gay City works to direct the public to services it doesn't directly provide and hosts a variety of virtual events to foster community at a distance.

"If you say you need a service that we don't provide, like an outside therapist, we can connect you," Givens said. "Carewise, we are still doing health care appointments and signing people up for health insurance plans that best meet their needs. So, we sit down and talk with community [members] to really understand what are the things that you need, what are the things that you're hoping to have covered, are there any procedures that you're hoping to have in the future, and how can we find a plan that will be responsive and supportive."

More specialized care can be found locally, too. For instance, the Ingersoll Gender Center, a not-for-profit organization that has been aiding transgender and gender-nonconforming people since 1977, has COVID-19-specific programming. There, community members can access financial assistance programs, job boards, support groups and more.

And Lambert House is currently offering fully virtual support for LGBTQ youth, its target demographic.

For a more comprehensive list of potential LGBTQ service providers, the University of Washington Bothell & Cascadia College Campus Library has compiled most citywide and regional resources

https://guides.lib.uw.edu/uwbcc-lgbtq-resources/puget-sound-regional-resources

Virtually fighting seclusion and unexpected community-building
Givens said that one of the biggest local challenges he has faced in his work has been staving off isolation due to quarantine measures put in place to fight the pandemic. Said Givens, "Studies say that prolonged isolation can be lethal and the equivalent to smoking 15 cigarettes a day."

"Not every city and every place that our community is in is very welcoming and accepting of LGBTQ people, or even just understanding about our community," Givens added. "So, a lot of times, they can't necessarily express their full selves, because maybe they're not out or [don't] necessarily [have] the affirming space they need."

Givens went on to say that much of his job lately has been working to change the mindset of the local population about the current social distancing requirements.

"One of our campaigns has been to teach the community...to look [at restrictions] not just as a constraint on their lives but...a way to create a safe environment for themselves and their community. And to realize that we can still be resilient and center our health throughout the pandemic," he said. "Stress may look a little bit different during COVID-19, and maybe that's due to the fact that you can't go out and hang out with friends or grab a meal with a loved one and spend that quality time with them...so we've been able to encourage folks to find new ways of doing things that they love. And not only that but to share it with their community [virtually]."

A virtual approach has been taken on by the University of Washington's Q Center for LGBTQ students, too. Outreach Coordinator Jace Reyes says it's been especially helpful, since on-campus events have all but stopped this year.

"There's not really the chance of hanging out in the physical space, which is on campus, and meeting people. [But] we have a lot of supplementary places to meet people right now, like...a community Discord space, [and] we facilitate a lot of online Zoom [calls]," he said.

Reyes admitted that while Zoom or a Discord chat can't really simulate the experience of being in the room with other LGBTQ people, it has offered a layer of accessibility to international and disabled students not felt before on campus.

Q Center Associate Director Val Schweigert agreed: "We're really tapping into our youthful environment and building out that virtual landscape. And I hope to see that continue on in the future and be way more accessible, especially for disabled and immuno-compromised folks that I think, to be honest, we were underserving before," she said.

In fact, similarly to Maurer's efforts, Schweigert is working to publish information through the University of Washington to not only highlight the increased risk factors that LGBTQ people face but showcase how other intersections of identity can impact things, too.

"To create [this infographic], I did do some research about the susceptibility that particularly queer and BIPOC folks are experiencing, due to levels of marginalization and oppression that would contribute to us being impacted more by COVID-19, like having to navigate transphobia in the health care system, anti-Blackness and racism, and the disproportionate effects of being HIV positive," Schweigert said. "That is the legacy of neglect that comes out of the AIDS crisis. People were disregarding attending to the needs of queer and trans folks and especially queer and trans communities of color. We see that happening as well now."

Maurer agreed, saying that as compounded as things are right now, "this isn't new."

"It's a new presentation, but this isn't new. We are living [with] the results of rampant, pervasive structural racism, misogyny, homophobia, and transphobia. And when you add COVID to the mix, that gets all the more deadly," Maurer said. "I really think that part of the solution to this is [answering the question], 'How do we build different structures that center the people who are the most marginalized?' We know that if we do that, everyone else will be served as well."