Capitol Hill in 2020 - Pandemic, protests, and small businesses
January 18, 2021 | Egan Orion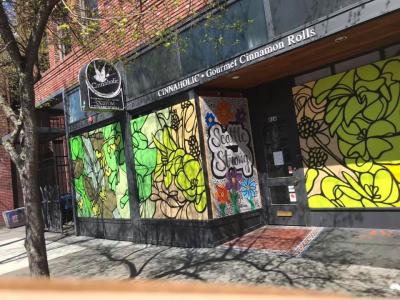 For small businesses on Capitol Hill and across Seattle, two dates in 2020 symbolize the story of this oh-so-bad year: Monday, March 23, when Gov. Inslee announced a two-week shutdown of all nonessential businesses to curtail the spread of the coronavirus; and Saturday, May 30, when violence between police and protesters erupted on the streets of downtown Seattle in response to the police killing of George Floyd in Minneapolis. The first told businesses if and how they could be open; the second started months of protests on Capitol Hill that put them on the frontlines and for some, in the crosshairs.

2020 was perhaps the hardest year in a generation to run a small business on Capitol Hill, as owners swam upstream against a tide of government mandates, fear of the virus, a loss of profits, Paycheck Protection Program (PPP) shortages, boycotts, vandalism, largely feckless municipal and national governments (with a few exceptions), and most of all, uncertainty.

There were bright spots, too: businesses helping their community; patrons stepping up to support their favorite shops, restaurants, and venues; a long overdue racial reckoning; and Seattleites who did the right thing to protect each from the virus.

As 2021 starts with new federal assistance and a vaccine rollout, small businesses - like all of us - are happy to see 2020 in the rearview mirror. But it's worth remembering how we got here.

The pandemic arrives
Even before Gov. Inslee's first stay-at-home order, late winter saw COVID on the march in Western Washington. The fear of contracting the virus kept most people out of their favorite restaurants, shops, and salons. So when the shutdown of all nonessential businesses came on March 23, the economic impact on small businesses had already begun. The order was set to expire at midnight on March 31 but was extended several times as the United States, along with countries around the globe, shut down to try to stop the rapidly expanding pandemic.

Some businesses closed down altogether to ride out the crisis, while others limped along and tried to figure out how to survive. On Capitol Hill, many areas - especially the nightlife-heavy Pike-Pine district - became a ghost town. At first, there were just empty boards covering the windows of businesses, but within weeks, artists were out all over the Hill, turning those boards into murals. At E. Pike and Broadway, a massive mural on Frame Central featured a person in a mask with the words "Stay Home, Stay Healthy." On the Broadway Market, a space-themed mural with the requisite rainbow told everyone we'd see each other again "When We Land."

Businesses begin to adapt During the first few months of the pandemic, businesses - especially restaurants and bars - had to pivot quickly, testing both their creativity and resilience and the loyalty of their customers. Some, like Olmstead (in the old Broadway Grill space) and Star Fusion at Broadway E. and E. Mercer had been open only a matter of months, so they were still introducing themselves to the community when the lockdown began.

It was an incredibly challenging time. Even outdoor dining was banned during the lockdown, and not every restaurant or bar was set up well for takeout service alone.

Some benefitted from PPP and Economic Injury Disaster Loan (EIDL) funds through the CARES Act, but this was just a temporary bandage. What they needed was to have outdoor dining and at least some limited indoor dining options.

Business owners had to get creative - fast. With only 25% of indoor seating capacity allowed and many restaurants not comfortable with any indoor seating, tents popped up around Capitol Hill; outside Caffé Vita on E. Pike and Poquitos just across the street, at Harry's Bar and Rione on 15th E., and in front of Barrio on 12th and Spinasse and Artusi on 13th, among many others. As fall came, restaurants added heaters to their outdoor seating areas to extend the season as long as possible, which was a lifeline once the governor again closed all indoor dining in November.

Hallie Kuperman, owner of The Tin Table and Century Ballroom, started the pandemic by simply shutting down altogether. When The Tin Table reopened for business in May, Kuperman had been thinking long and hard on how to distinguish her takeout service, which had an intrinsic challenge since her restaurant was on the second floor.

"So I got a basket and some rope, and I would go out on the fire escape, put your stuff in, lower it down to you, say 'hi,' and bring it back up," said Kuperman. "It was a very good photo opportunity ... it also gave us a chance to wave 'hi' to people."

Later, once indoor dining was allowed, she used the vast Century Ballroom dance floor to space out tables, separating them with tall, sheer curtains, with air circulation provided by the many windows lining the space. Her customers quickly filled the tables to capacity. She was even able to hold small dance classes. After months of struggling, this was a bright spot - until, of course, indoor dining was shut down again.

Ian Eisenberg, owner of the pot shop Uncle Ike's, was not subject to the governor's restrictions. "Overall we've been very fortunate because we're an essential business," said Eisenberg, "and we've been able to keep our staff employed ... in a safe environment - that's the most important thing." Though statewide pot sales went up, Eisenberg said Seattle didn't follow the trend. "It could be that people aren't coming in to Seattle and getting their pot here because of lockdowns," he said. "We're seeing our local customers come in, but not the ones that live outside the city."

Protests begin On May 29 Gov. Inslee announced his Safe Start plan to reopen the economy - just one day before protests (and some accompanying violence and vandalism) descended on downtown Seattle and just three days before they spread to Capitol Hill. The Black Lives Matter movement was supported universally by the small business community, but the protests themselves over time would prove challenging to businesses trying to reopen and survive, right as COVID restrictions began to be eased.

During the protests in June and in and around the occupied zone that followed, pandemic art yielded to racial justice art. Portraits of Breonna Taylor and George Floyd popped up on the streets of Capitol Hill, along with ubiquitous tags of ACAB ("All Cops Are Bastards") and its numeric equivalent, 1312. A giant BLACK LIVES MATTER mural was painted on E Pine St. between 10th and 11th Aves. The signal boxes along Broadway were painted with the faces and names of local and national victims of police violence. In countless residential and business windows, there appeared "BLACK LIVES MATTER" posters or hand-drawn signs. Art was at the center of so much of the expression in Capitol Hill's occupied zone. Graffiti - on businesses, on walls, on barricades - expressed the justified outrage and sadness of Black and Brown communities and their allies.

Many small businesses on Capitol Hill were in the thick of the action. Vermillion set up a mutual aid station outside its doors, with snacks and hydration for protesters. The nonprofit PrideFest joined with the Broadway Business Improvement Area and Seattle Central College to provide portable restrooms. The outdoor dining area of Rancho Bravo at 10th and E. Pine served as a staging area for volunteer medics. Neighborhood businesses, both publicly and on social media, proclaimed their support for the protesters and Black Lives Matter, and many joined in the subsequent marches for the cause that culminated on June 12 in the largest BLM march Seattle had ever seen, with an estimated 60,000 participants.

These public displays of support persisted even during the days of the Capitol Hill Autonomous Zone (CHAZ, aka CHOP - Capitol Hill Organized Protest). However, behind the scenes, nearby business owners were growing weary of the lack of action by the city. One, on condition of anonymity, told me: "It was like we were on our own. Smashed windows, graffiti, shootings, and even deaths, plus growing encampments ... with little to no access to emergency services and no help from the city. And none of us felt safe to say a word publicly, out of fear of retribution from protesters. I believe in the Black Lives Matters Movement. This was no longer that. We were eager to get our neighborhood back."

Aftereffects of the protests The end of the protest zone on Capitol Hill didn't mean the end of protests, which, though much smaller, often had follow-on, more radical participants in them that left graffiti and shattered windows in their wake. Small businesses boarded and unboarded throughout the year, trying to anticipate these sporadic protests.

Rancho Bravo - which had a front-row seat to the protests - stayed open most of 2020, but some days opening the restaurant was impossible. "We wanted to keep serving the folks in the neighborhood," said owner Freddy Rivas, "but some days there was too much going on and it wasn't practical."

Outlets of large multinational companies on Capitol Hill put up their boards early and for the most part never took them down, as Starbucks, Amazon Fresh, chain drug stores like Rite-Aid and Walgreens, and banks were regular targets for the more destructive protesters.

But protesters also turned their ire on another local small business, Uncle Ike's. The popular pot shop has three locations on or near Capitol Hill and has been a target for protesters for years for, in part, making money off the same Black and Brown people in the CD who were once busted on that same street corner for pot sales and possession. Protesters made escalating claims about Eisenberg in 2020, but he wasn't clear why he was being targeted.

"I have a whole list of all the things I've been accused of over the last six months," he said. The most outrageous claim, according to Eisenberg, accused him of sex trafficking. Representatives claiming to be from King County Equity Now and Engage Now demanded that he give a percentage of his profits to them, with the implication that that if he didn't, "bad things would happen." He didn't give in to the demands - and bad things did indeed happen to his shops: windows were smashed, and his staff were threatened, though by whom isn't entirely clear. There was even an attempt to burn down the E. Olive St. location just before it was slated to open. "It almost reached a point during the protests that it didn't matter who the money from Ike's was going to. If it wasn't going to the groups represented by the protesters, they weren't happy."

Still, Eisenberg has continued his long-standing commitment to give back to the community. Currently, 5% of all profits are going to the Seattle Foundation's Black Future Co-op Fund and The Last Prisoner Project. In September, with help from partners, Uncle Ike's raised nearly $30,000 to help bail out protesters through the Northwest Community Bail Program. And every Friday, through Uncle Ike's Emergency Food Program, they distribute free groceries to anyone who needs it, at both their 23rd & Union and White Center locations.

Century Ballroom's Kuperman, who opened and closed regularly based on government mandates and what was going on in the neighborhood, said that long after the protest zone was cleared, people who didn't live in the neighborhood stayed away, saying that "People are still worried about going to the Hill, I think, or were for quite some time, even though it wasn't dangerous." Businesses on Broadway, far away from Pike-Pine, would get calls, even months later, asking, "Is it safe to come to Capitol Hill?"

Financial challenges and closings As the year wore on, there were many other challenges for small businesses - and specifically for restaurants. For many, the openings and closings due to the decrees or the protests took their toll. Some, like 15th Ave. E.'s Wandering Goose, the Volunteer Park Café, Bill's Off Broadway, and Hana, had to close for good.

The number of guests most restaurants can accommodate on patios or tents isn't sufficient to stay afloat, but for most, takeout alone isn't enough, and many are just limping through until more federal aid is released and the vaccine efforts starts to yield larger capacity for indoor dining.

Enter the remedy for many businesses in 2020: GoFundMe. Century Ballroom launched a fundraiser in the fall with the goal of raising $240,000. "I am in awe of the community support," said Kuperman. "We were able to hit our first goal [raising over $120,000] in about two days. That said, it's going to get harder now, since the second half of the money is a projection of what we believe will be our shortfall until we're back in business. The Tin Table cannot support us. Classes and dances are where are actual income is made, and I don't see public dances happening until the summer (if we're lucky), though some classes, maybe with no more than 10 people, will probably start earlier." Community, she concluded, was undoubtedly her bright spot of 2020. (The GoFundMe currently has raised $164,000.)

Seattle's only Lesbian bar, the Wildrose, also spent long stretches of 2020 closed. The front of the business was boarded up early on and painted with the words "We could be heroes." It also turned to community to try to stay afloat, launching a GoFundMe campaign in April. "The last thing we want to do right now is ask of folks, when so many are struggling, but we've been left with virtually no choice," wrote owners Shelley Brothers and Martha Manning on their GoFundMe plea. "The rent, insurance, and other costs continue to accumulate, while revenue does not. The [possibility] that we may not be able to serve our community is devastating to us. Our hope is that if you cannot contribute, perhaps you can share this far and wide. There is nothing more that we would love than to welcome our staff and the community back when we get through this, together." The community stepped up and they've raised over $55,000 so far, just over the $50,000 goal. Still, depending on how long the pandemic drags on, it may not be enough to save this Capitol Hill institution and one of the last Lesbian bars anywhere in Washington state.

Joey Burgess, owner of two queer bars and clubs on the Hill, closed Queer/Bar in March and has been operating The Cuff Complex according to the governor's mandates. "LGBTQIA+ bars and venues serve as safe spaces, community centers, living rooms, and identity points for a population across the spectrum of sexual and gender identities, age groups, race and socioeconomic status," said Burgess. "Even in the best of times these businesses struggle and often disappear, and without targeted help many may not recover from this devastating crisis. Since our mandated closures, we've been as creative as possible in finding ways for our community to stay connected and for our staff and performing artists to have income, but our opportunities are limited, and we're reaching those limits now." He credits his team and landlords for helping keep his businesses afloat. "Thankfully, these relationships and partnerships are strong, and we have every intention of reopening."

Charity efforts Terra Plata, owned by Chef Tamara Murphy and her wife Linda di Lello Morton, was the headquarters for a charity food program called the Food Is Love Project, which started in March to get restaurants back to work by making meals that are then delivered to food-insecure families and people living outside in encampments. Restaurants across Capitol Hill participated in droves, including Ian's Pizza, Rancho Bravo, Marjorie, Olmstead, Star Fusion, Pagliacci, and of course Terra Plata. To date, restaurants participating in the Food Is Love Project have made over 30,000 meals.

"We started Terra Plata with the simple motto of 'food is love,'" says Morton. "And during the pandemic, the need for food and love is needed more than ever. We're happy to be cooking, and especially happy that some of the meals we cook go to people who need it."

Rancho Bravo's Freddy Rivas was also happy to make meals for the project. "The surrounding area really has an amazing and diverse community," he said, "and we feel that it's important to be a supportive part of that. Makes us happy to contribute in any way we can."

Indeed, when it comes to both food and shear survival, the pandemic's impact has been felt the hardest by those living outside. The diminished capacity of shelters due to COVID and the economic collapse also brought encampments to Capitol Hill, causing more tension around issues of safety between small businesses, residents, and activists.

Cal Anderson Park Cal Anderson Park had been a central organizing area since the days of the CHOP, and not long after being swept in July, activists and houseless residents began to set up camp in the park again. However, since the park was closed, the restrooms were shut down and garbage service curtailed or stopped by park staff, due to alleged access issues.

Over several months, fires, emergency access problems, rampant graffiti, and increases in human waste and needles in and around the park forced a difficult conversation between city leaders and many small businesses and residents in the area. Many business owners around the perimeter of the park felt that it had become unsafe. One of the largest providers for the homeless community and food-vulnerable people on the Hill, Community Lunch, had to leave its home at Central Lutheran during the protests, returning for a short time in August before conflicts on the Hill drove it back to All Pilgrims Church on Broadway, since conditions weren't safe for the community it served.

A petition was circulated to reopen the park and take down the barricade at the SPD's East Precinct. Pressure mounted on the mayor and city council. Finally, on Monday, December 14, city workers distributed notices to the people living in Cal Anderson Park that they would have to leave by Wednesday, December 16 at 7:30am. Outreach workers had already been at the park for three weeks and by the time of the mandated vacate order, according to KUOW, of the 60 campers who had been at the park, 51 had gotten space in a hotel room or tiny house village. By Wednesday morning, activists outnumbered campers, but the city crew didn't show up on Wednesday. This didn't happen until just before dawn on Friday, December 18, when workers, with protection from the SPD, cleared the park, saved items for people to reclaim later, and proceeded to clean the park of all other debris, garbage, needles, and human waste.

Business owners who had asked the city to reopen the park for safety reasons (along with a demand to find housing for those living outside) felt like they were looking out for their community and their customers, but more extreme activists allegedly targeted those businesses. One was Café Argento at 12th & E Olive St., owned by Faizel Khan, a queer, POC business owner. On New Year's Eve it had many of its windows smashed, allegedly in retaliation for signing the letter to the mayor about the park. "This right here is really hard to come back from," Khan told KOMO following the vandalism. "Stuff like this isn't helping anybody."

In the same piece, black community activist Victoria Beach said she'd had enough: "We're going to take a stand [against] these terrorists; they're not protestors, and I'm going to stand up to big bullies." Beach also said the focus on BLM has been lost. "They've hijacked the Black Lives Matter movement. Now they jumped on the homeless; we don't need their kind of help."

Other businesses on Capitol Hill, including Bakery Nouveau, have landed in the crosshairs of activists. A call to boycott the bakery showed up on poles around the Hill in late December.

"It's a bit like the mob," said one Capitol Hill business owner who wanted to remain anonymous. "Either stay quiet or give into our demands or fear boycott or having your business vandalized. We are hanging on by a thread as it is, and now this?"

Looking ahead Despite the deep and ongoing challenges of 2020, there is hope ahead for small businesses on Capitol Hill in 2021. Distribution of COVID vaccines has begun in Washington state, and that means, eventually, an easing of public health mandates and an end to the pandemic. But it will take some time and community support for businesses to return.

Whether it's by ordering takeout, getting gift cards, shopping local online, or giving to the many GoFundMe campaigns that have been set up, there are myriad ways to ensure that cherished community businesses are still around when the pandemic ends.

Lobbying efforts like Seattle Restaurants United need support, too, as do groups like the Washington Nightlife Music Association, whose efforts were recently rewarded with a $15 billion nationwide investment in music venues and independent theaters through Congress's latest COVID relief bill. In that same bill, there is additional funding for the Paycheck Protection Program, which local businesses will be able to apply for in the coming weeks.

Even as boards covered with pandemic and racial justice art throughout the neighborhood begin to come down, permanent murals have begun to pop up. One, on Broadway's Olmstead restaurant, features the word that Hallie Kuperman said got her through 2020, and the one that promises to guide Capitol Hill residents and business owners alike in the year ahead: COMMUNITY.

Egan Orion is a Seattle writer and the executive director of the Broadway Business Improvement Area and PrideFest.