GSBA President & CEO Louise Chernin - community activist and community leader extraordinaire - retiring after 28 years of service
December 24, 2020 | Louise Chernin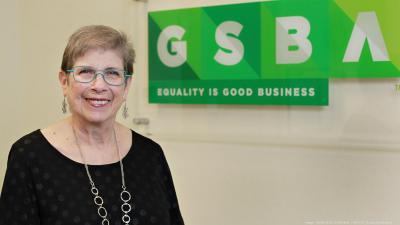 Words from 2020 I never want to hear again: pivot, pandemic, and social-distancing. But one word that never gets old is community. Forty years ago, it was the small LGBTQ business community that launched GSBA and today it is this same community that is buying those gift cards, doing curbside pickup, eating out in chilly rainy weather, all to support our locally owned small businesses.

Another word, transition, is on my mind, as I prepare to retire from GSBA. By now this is old news to many, but it is still something I am working towards accepting. How do you prepare to fill the hours in a day that for over 28 years (19 as President & CEO), was all about appointments, calendars, lunch dates, board and staff meetings, and events? What new worries will replace my worrying over budgets, hiring, preparing presentations, and the middle-of-the-night realization that the outfit I was going to wear at Saturday's event is the same one I wore to the same event last year. It's amazing how many small and large worries crowd your brain when you feel the weight of responsibility of ensuring the sustainability of an important organization.

The importance of GSBA was not clear to me in 1992, since I had no idea how much a community and an economy relied on thriving, diverse small businesses. I came from an activist background, always fighting for civil rights, women's liberation and gay rights. Business to me was part of the problem, certainly not the solution. It was a shock to my progressive system, to meet the small business owner. The generous, creative people behind our storefronts and small offices who employ the local community, donate to our nonprofits, create our gathering places and the character of our neighborhoods.

Times are tough and our small businesses are in a precarious position, hoping to survive. I still believe it is our community, our LGBTQ and progressive business community, that will help us get through these times of upheaval. I believe our members and community understand the role GSBA plays in retaining a strong, diverse small business culture. I am confident we will continue to invest in GSBA so that GSBA is able to continue to support those with fewer resources. GSBA and our sponsors stepped up their support this year so that the Ready for Business Fund was able to invest $200k in BIPOC, LGBTQ, and women-owned small businesses. GSBA came through for our students, investing in over $600k in their education and providing emergency support to help with food and housing insecurity.

GSBA was founded on the principle of advancing equality in business and is ready to center racial justice in our continuing work to create a more just world. GSBA is at a crossroads of broadening its impact to address two important crises, that of racial and economic inequality. As I transition from employee to volunteer, I look forward to remaining an active member and donor of GSBA. I am forever grateful to our extraordinary members, Board and staff and confidently pass the reins on to Mark RosÚn, our Acting President & CEO. I hope you will join me and renew your membership in GSBA and, if you are able, invest in small businesses with a gift to the Ready for Business Fund, or support a student with a donation to the GSBA Scholarship Fund. Together, as a community, we will prevail.

As we end year 2020 and prepare for the challenges and opportunities of 2021, I wish each of you a safe, healthy, and peaceful holiday. I hope you find comfort and support from your family, be they your birth or chosen family. As movers and shakers, we have much work ahead of us in 2021, but there is no community more resilient and ready to fight the good fight.