EQUALUX 2020, a rousing success!
December 7, 2020 | Stephanie Dallas-GSBA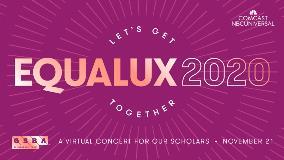 EQUALUX: A Virtual Concert for Our Scholars, successfully brought together our community across the country and as far away as Germany. It was an evening of hearing from our amazing scholars and enjoying wonderfully moving performances. In a year like no other, it was heartening to see and feel the outpouring of support for our future leaders. Amidst so much uncertainty for our country and community, one thing that's certain is the knowledge that when we come together, we can accomplish much - and that is exactly what happened. To all of you, we say thank you!

If you missed the event, you can watch it at

https://www.equalux.org/

A huge thank you must first go to our Entertainment Partner, A Sensible Theatre Company and our producers, Jared Michael Brown and Paul Flanagan, who worked closely with GSBA Programs Manager Carlos Chavez, GSBA Sr. Development Officer Jeff Boyer, and our EQUALUX Co-Chairs, Incoming GSBA Board President Jay Petterson and his husband Michael Mattmiller, whose calm leadership and passionate support kept us focused on our mission. We couldn't have done this without our wonderful EQUALUX Committee who worked hard to reimagine EQUALUX as a virtual event. We couldn't be prouder and more thankful for their dedication.

We were reminded of the impact your investment has on our scholars, when Washington State Supreme Court Justice Mary Yu talked with GSBA Scholar Astro Pittman about what it means to be a young Black activist and student in 2020, and his hopes for a brighter and more just future.

What a joy to meet other GSBA Scholars including Ro Boyce, Manny Lopez, Anna Rink, Nick Takahashi, Bryant Allen, Isa Jolie, Casey Williams, and Kendrick Jackson. They are already making a huge impact on their campuses and in their communities, and we can't wait to see the difference they continue to make after earning their degrees. These scholars were introduced by supporters of the Fund Shay Thoelke, Jorge Peraza, Dana Savage, Kristi Maldonado, M Abeo, Felipe Lenz Carvalho, and Kyle Rapiñan.

Only this appreciative GSBA Board and GSBA Deputy Director Mark Rosén would know the perfect way to honor our outgoing President & CEO Louise Chernin, and that was to announce the creation of the Louise Chernin Scholarship Fund. To honor and celebrate the legacy of Louise's 19 years of passionate work and achievements in leading GSBA, an annual scholarship award will be given out each year in her name. If you missed the opportunity on Saturday, you can still be a part of the Louise Chernin Scholarship Fund founding donors by donating on the GSBA website at

https://thegsba.org/scholarship-home/support-our-scholars/scholarship-donation-form

and in the comments box, note that your donation is designated for the "LC" Fund.

The night was perfect from the start, kicked-off by our emcee, award-winning actor and Seattle celebrity Timothy Piggee, who carried the evening with such warmth, as we celebrated our scholars through a series of truly magnificent performances. Alex Newell opened the show with an energetic performance of "Keep It Moving." Then, Rheanna Attendido, Olivia Hamilton, Aviona Rodriquez Brown, Arika Matoba, and Cassi Q Kohl, sung an acoustic rendition of MUNA's "I Know a Place," while Lauren Du Pree sung a moving take on "Stand Up" by Cynthia Erivo later in the night. We were enthralled with a routine by two of Seattle's acclaimed contemporary dancers Nahshon Omari and Dustin Durham who, in collaboration with Devin Marie Munoz, brought X Ambassadors' song "Unsteady" to life through movement. World-renowned singer Jimmie Herrod also sung a passionate take on "Tomorrow." The night came to a powerful conclusion with a memorable piece by the genius of Darnell White, a multi-faceted Harlem-based composer and activist, who was joined by fellow New Yorkers Nathan Tolliver, Burgundy Williams, Josh Walker, Kwame Remy, and David LaMarr - reminding us again, that indeed, a New Day is Coming!

Though we didn't have the traditional paddle raise moment, several donors raised their virtual paddles with significant donations including Co-Chairs Jay Petterson and Michael Mattmiller, The Beeks Foundation, Glenn Johnson and Michael Melancon, and Kevin Spratt. The GSBA Board once again stepped up with 100% participation to create a Leadership Match, which was instrumental in helping double guests' donations.

The success of the GSBA Scholarship Fund wouldn't be possible without our outstanding Board of Directors that I've had the honor of leading these last two years. A special thank you goes to Carrie Carson for her magnificent leadership as Scholarship Fund Chair. Of course, much appreciation to our sponsors, including Title Sponsor: Comcast NBC Universal, Student Empowerment Sponsor: Symetra, Science & Innovation Sponsor: Fred Hutch, and Evening Sponsors: Alaska Airlines, Amazon, Carter Subaru, DML Insurance, JPMorgan Chase & Co., Kaiser Permanente, Morgan Stanley, and Sound. We'd also like to thank our Main Stage Sponsor: ArtsWest, Voice of Scholarship: InterChange Media Arts, Mask Sponsor: Brand|Pride, and Print Sponsor: Girlie Press.

A very special thank you to the GSBA Development and Scholarship Staff, with the vision of Mark Rosén leading the team of Jeff Boyer, Taylor Briggs, and Carlos Chavez in making this evening possible, with special assistance from Toraya Miller, Gabe Neuman, Rachel Chernin, Cade Schmidt, and the rest of the amazing GSBA staff.