LGBTQ ally and author battles Amazon and wins
February 14, 2021 | Tim Peter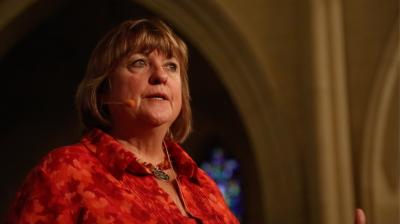 Kathy Baldock puts a giant A in LGBTQIA.

Baldock, of Reno, Nevada, is a Christian author, blogger, public speaker, and straight ally of the community. Her first book, Walking the Bridgeless Canyon: Repairing the Breach Between the Church and the LGBT Community, was published in 2014. Her next book, Forging a Sacred Weapon: How the Bible Became Anti-Gay, is due out later this year. She also posts frequently to Facebook and blogs at www.canyonwalkerconnections.com.

In order to write and speak effectively on the issues facing LGBTQ Christians, she reads extensively - books both for and against homosexuality - and writes reviews of those books on Amazon. Until recently, that is.

Late last year, Amazon began blocking her frequent book reviews without reason. She said she called and wrote to the company multiple times, trying to find out why she was blocked and to get reinstated. They never responded to her, so she began a petition on Facebook asking her friends and followers to contact Amazon and voice their support for her.

On Thursday, January 28, she posted on Facebook that those protests were successful. "We won... Amazon reinstated my reviews" in big letters as her cover photo. "Two reporters, Hemant at Friendly Atheist and Frank Mullen, also pressured Amazon PR people on the inside. The story was going to get national coverage, it had 'legs.'

"Amazon assured one reporter they were going to connect with me with their decision to reinstate. I waited and got this non-apology, non-accountability, non-explanation response, and the reinstated reviews. Still, I am asking Amazon for direct contact and want an explanation. I will keep you all posted. In the meantime, WE WON...together."

On Sunday, January 31, she posted an update to her blog, "Two Perfect Storms on My Missing Amazon Reviews," one storm being the more than a foot of snow that was dumped on the Sierra Nevada Mountains last week, and the other being a combination of all the negative books reviews and subsequent complaints by their authors.

As it turns out, this is not the first time Amazon has shut her down. "About three years ago, there seemed to be a notable lag time between submitting my reviews and seeing them post. One half-hour had become a day, then three days, then six days."

That was because there were "almost 30 official complaints from Christian authors and publishers about my reviews." Her friend Brody Levesque, who was a reporter, contacted Amazon on her behalf and got her reviews reinstated.

"Then, in November 2019, I hit another blockade. I read and reviewed Christopher Yuan's Holy Sexuality and the Gospel. Yuan is a major player in the 'gay' conversation in the evangelical and conservative church worlds. Per the usual, I submitted the review and waited for it to post so I could share it across my social media platforms. One, two, five days passed. Finally, it posted one night at 11 p.m., but by 8 a.m., it was gone.

"Brody to the rescue again. We found that Yuan and his publisher had engaged Amazon directly to remove my review. Two days, one fired employee, and a long conversation with a VP of the book's parent publishing company later, the review was restored.

"'Well, that will never happen again,' I thought. Until Christmas morning. I received an email from the Amazon Community Guidelines division. It informed me that I had violated standards and that all my reviews had been removed, along with my ability to review any further products.

"'Not this again; haven't we done this already?' I was frustrated."

Brody tried his magic, but his Amazon contacts were no longer there. Then Frank Mullen, an investigative journalist for the Reno Gazette-Journal, saw Hemant's posts and contacted Baldock to offer assistance.

"And that became the magic that was needed," she said.

Mullen contacted Amazon and began conversations with Craig X in the PR department, who told him that there was a team looking into the matter, and it was likely that her reviews would be restored, with an apology forthcoming.

In the end, Craig told her the reason for the latest removal of her reviews had nothing to do with homosexuality and Christianity. It was because of her review of Mary Trump's book, Too Much and Never Enough, about her uncle Donald.

"While I am very conscious about not attacking people or authors in my primary field of focus, I am less careful when it comes to my thoughts on Donald Trump. I am his non-fan."

She wrote a very negative review of him and called him a "conman." That word set off red flags across Amazon.

"The use of 'conman' was the grain of sand that tipped my scale to 'banned.' Though I had submitted that review during the summer and it did not post, I didn't worry about it. It was not essential to my work."

It was that, combined with all the complaints compiled against her over the years, that got her banned. But after many phone calls, emails, and the help of friends, her reviews have been restored. So now you can find her books and reviews on Amazon.com. Happy reading everybody!