Buttigieg confirmation to Biden's Cabinet makes LGBTQ history
February 5, 2021 | Paige McGlauflin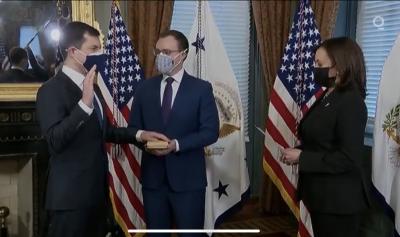 Pete Buttigieg was confirmed as Transportation Secretary on Tuesday, making him the first openly Gay cabinet member confirmed by the Senate.

The former 2020 presidential candidate and South Bend, Indiana, mayor was nominated to the position by President Biden following an announcement on December 15.

Buttigieg was sworn after on an overwhelming 86-13 vote. He is the second openly Gay cabinet member, following Richard Grenell, who briefly served as acting Director of National Intelligence in 2020.

GLAAD President and CEO Sarah Kate Ellis was among several national LGBTQ advocates commending the historic moment for the LGBTQ community.

>"Secretary of Transportation Pete Buttigieg is making history and moving our country forward as the nation's first openly LGBTQ Senate-confirmed cabinet member," Ellis said in a press statement Tuesday. "The role of Secretary of Transportation requires an innovative thought leader, someone who understands all Americans' needs and has the courage to create and form the road ahead. Secretary Buttigieg's vision will improve all Americans' lives and navigate toward needed change to serve communities on the margins."

Buttigieg will preside over the Department of Transportation, which employs over 55,000 people and controls a budget of over $80 billion. He has pledged to utilize President Biden's infrastructure vision to help revitalize the economy and address racial and economic disparities that have been undermined by past transportation policy.

"I believe that good transportation policy can play no less a role than making possible the American Dream," Buttigieg said at his January 21 confirmation hearing. "But I also recognize that at their worst, misguided policies and missed opportunities in transportation can reinforce racial and economic inequality, by dividing or isolating neighborhoods and undermining government's basic role of empowering Americans to thrive."

Buttigieg also took a moment to introduce and thank his husband, Chasten, who was with him at the hearing. "I'm proud to have him by my side, and I want to thank him for his many sacrifices and his support in making it possible for me to pursue public service," Buttigieg said.

The introduction of Buttigieg's husband alone was lauded by advocates as well. Ellis referred to the introduction as a "milestone for LGBTQ acceptance and representation."

"The image of Pete at his confirmation hearing, with Chasten looking on, will be remembered in history books as a seminal moment in our movement to build LGBTQ political power," the Victory Institute wrote in a press statement Tuesday. "His elevation to the president's cabinet will be an inspiration to LGBTQ youth and is proof that LGBTQ people can reach the highest levels of government and serve in any capacity."

Buttigieg made history last year as the first openly LGBTQ candidate to win the Iowa caucuses. He came out in 2015 while running for re-election as mayor of South Bend, where he served from 2012 to 2020.

"I'm honored and humbled by today's vote in the Senate - and ready to get to work @USDOT," Buttigieg tweeted following the confirmation.