LGBTQIA+ Civil Rights pioneer, Roger Winters, remembered as a "visionary" leader
November 19, 2020 | Renee Raketty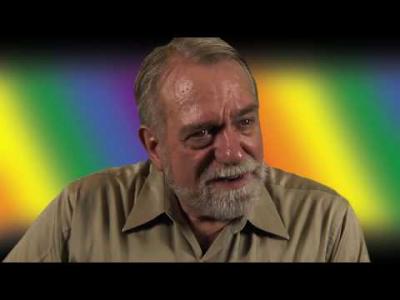 Roger Winters, a civil rights pioneer for the Lesbian, Gay, Bisexual and Transgender community, passed away this week at his Shoreline, WA home. He was 75-years-old.

"The Seattle community - and the world at large - lost a true champion for Gay rights with his passing," said Krystal Marx, Executive Director of Seattle Pride, organizers of the annual Seattle Pride Parade and publisher of Seattle Pride Magazine. "Roger's decades of advocacy and political savvy helped to propel LGBTQIA+ rights forward in a way we would not have had without his involvement."

The scope of his work to further equality for the LGBTQIA+ is breathtaking, according to Susan Priebe, who met Winters in 2002 and became close friends. She agreed to handle his affairs on behalf of his family.

"Roger was an insanely involved person, politically astute, a creative soul, and a very devout atheist," she recalled. "In the LGBT arena alone, Roger was involved with many groups from 1977 through the rest of his life."

Former Seattle City Councilmember Tom Rasmussen agreed. "Roger was a go-to leader and pioneer who helped pave the way for LGBTQ equality," he said.

In 1977, Winters became the office manager for The Dorian Group, a statewide LGBTQIA+ rights organization. That same year, he traveled to Olympia, WA, to testify in support of what later became known as the Anderson-Murray Civil Rights Bill (in recognition of Senator Cal Anderson's and Senator Ed Murray's work on the bill), which extended legal protections to members of the state's LGBTQIA+ community. The measure was finally passed in 2006.

Winters also co-chaired the first candidate evaluation committee for the Seattle Metropolitan Elections Committee (SEAMEC), when it was formed in 1977. The organization rates a candidate's knowledge, actions and understanding of the concerns of the LGBTQIA+ community. After a couple of years as the Steering Committee co-chair, he took several years off before returning again this year to evaluate candidates ahead of the 2020 elections.

In 1978, Winters helped to form Citizens to Retain Fair Employment, which - along with other groups and allied politicians - helped to defeat Initiative 13, which would have eliminated new employment and housing protections for the LGBTQIA+ community in Seattle. The initiative was defeated by a notable 63.5% "No" vote.

Winters went on to help form the "Police/Gays Task Force," in the 80's. The effort aimed to reduce Police violence against gays in Seattle and to improve relations with the police.

In 1985, Winters joined the Board of the Pride Foundation, where he worked to grow the organization's capacity to improve the lives of the LGBTQIA+ community in the Pacific Northwest. Today, the foundation continues to provide scholarships to LGBTQIA+ students and awards grants to LGBTQIA+ organizations and projects, among other initiatives.

Winters also co-founded the Legal Marriage Alliance of Washington in 1995 to further the cause of marriage equality for LGBTQIA+ Washingtonians. State Senator Jamie Pedersen said he "worked closely" with him in the mid-90s while serving on the Legal Marriage Alliance of Washington board.

"He was way ahead of the times - a visionary - who had been through the wars on LGBTQ civil rights from Dorian Society times onward. I will miss him," he said.

Dave Kaplan, a political consultant and former mayor of the City of Des Moines, added that "Roger was special and one of a kind."

"He provided thoughtful leadership to so many of our organizations over the years," he said. "I had friends who remembered him from the Dorian Group, who talked about his early work there as inspiring. Roger's dedication and determination laid the foundation for most of the legal protections we have today and his efforts with the Pride Foundation ensured that LGBTQ folk across the region, in towns large and small, were supported and didn't feel isolated and alone.

"While his passing is yet another huge loss for our community in the span of the past year, it is his life's work that will be remembered in the history of Queer Seattle."

According to Priebe, who has been going through his extensive personal collection of local LGBT historical memorabilia and copies of his written accounts of local LGBTQIA+ history, he also took part in many other efforts.

He had been appointed by Seattle Mayor Charles Royer as a Commissioner of the Seattle Women's Commission. In 1988, he co-founded the Gay and Lesbian Association of King County Employees. In 1990, he was the treasurer of Seattle Gay Democrats. He served as a volunteer coordinator for the Tacky Tourist Club's "Queen City Cruise" - where Roger was the only paying attendee who had been a participant of the Cruise every year since the beginning in 1981. Roger also assisted the Northwest Lesbian and Gay History Museum Project in conducting interviews with longtime LGBTQIA+ community members. More recently, he assisted in the development of a board structure for the Lavender Rights Project.

Winter was also a popular guest during efforts to record the oral history of the LGBTQIA+ people in Washington. In 1997, he was interviewed by the Northwest Lesbian and Gay History Museum Project. In 2014, he was again interviewed by the Seattle Civil Rights and Labor History Project at the University of Washington. The Legacy Project uploaded their interview with Winters to YouTube just six months ago.

Dave Horn, an attorney who once chaired the Legal Committee for the Legal Marriage Alliance and held the position of President of The Privacy Fund, took the time to remember Winters. "I got to know Roger 25-years-ago when we were both active in the Legal Marriage Alliance of Washington. He was one of the founders, along with John Wilkinson, Jamie Pedersen and others," he recalled. "Roger was wicked smart and held strong opinions but was always kind, gentle and soft-spoken in manner. I'm sure he felt the same anger the rest of us did at discrimination against LGBTQ people, but Roger fought fire with logic and could remain calm and cool in any discussion. He also exuded a warmth that always made me feel welcome.

"Roger seemed to possess a vast store of documents and photos from the [LGBYQIA+] civil rights movement and often posted excerpts on Facebook. He made history and kept track of it at the same time."

His accomplishments extend beyond the LGBTQ community. Winters was the Electronic Court Records Manager for the King County Department of Judicial Administration (Superior Court Clerk) in Seattle. Before his retirement in 2008, he was instrumental in the implementation and development of techniques and standards for court filing and storage. He was involved in several work related organizations and had previously served as President of the American Records and Management Association. In 2007, he was among a group at King County that was awarded the "Innovation in American Government" award from Harvard University. Recently, Winters took a job as a supervisor at the U.S. Census.

Winters grew up in a conservative Christian household in Indianapolis, IN, and spent time on farms during his youth. He attended Indiana University and went on to attend Harvard University on a fellowship where he became a Senior Tutor at Dudley House on campus and, later, graduated with honors in Political Science. He became an Intern for Senator Birch E. Bayh, Jr. In 1972, he became Assistant Professor of Political Science at Central Washington University. He became involved in Seattle politics as he traveled from Kittitas County to attend board meetings of the American Civil Liberties Union of Washington.

Winters is preceded in death by his father Donald E. Winters; his biological mother Edna Pauline Winters; his mother Halcyon Eileen Winters; and his older brother Larry D. Winters. He is survived by his sister Deborah Eileen Winters and several cousins.

In lieu of flowers, the family asked that donations be made in his honor to the Pride Foundation.